It's estimated that nearly 40% of Kenyans borrow from digital lenders. That is 18% more than India and 20% more than Pakistan, according to the report, which is alarming and explains the overwhelming number of loan apps in Kenya.
Another report by theafricareport.com even shows that 62% of borrowers first turn to digital lenders before considering their close friends and family. Kenyans, especially the youth, are becoming entrapped by these mobile lenders and can't break free.
While most of these lenders used to only lend to borrowers with good credit histories, some no longer care, and you wonder why.
Well, that's because they have devised devious antics to force the borrowers to pay even if they are already on CRB's wrong side. It's business for them, and no business guarantees monstrous profit like lending at high interest.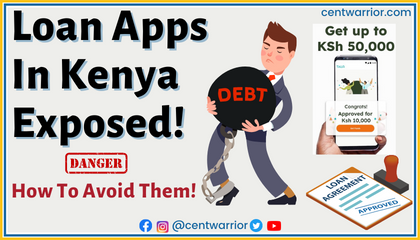 How about you? Are you always looking for the next mobile loan app to borrow from?
I'll expose you to the dangers of such a move and why you should avoid these digital lenders like the plague. I'll also give you 10 workable ways to avoid this debt cycle trap and attain your financial freedom.
In a rush? Below are Kenya's 30 most popular loan apps, their loan limits, and their interests.
30 Most Popular Loan Apps in Kenya with Low Interest
| | | | | |
| --- | --- | --- | --- | --- |
| – | Loan App | Loan Limit | Interest | Loan Tenure |
| 1. | Tala | Ksh 2,000 – Ksh 30,000 | 15% of the loan | 14 days |
| 2. | Direct Cash | Ksh 1,500 – Ksh 50,000 | 36% per annum | 91-365 days |
| 3. | Hustler Fund | Ksh 500 – Ksh 50,000 | 8% per annum | 14 days |
| 4. | Meta Loan | Ksh 1,000 – Ksh 80,000 | 4% of the loan | 91-365 days |
| 5. | Branch | Ksh 150 – Ksh 100,000 | 2-18% of the loan | 62 days |
| 6. | Zash | Ksh 500 – Ksh 50,000 | 25% per annum | 91-365 days |
| 7. | Utunzi | Ksh 500 – Ksh 50,000 | 12% per annum | 21 days |
| 8. | Bayes | Ksh 1,000 – Ksh 50,000 | 30% per annum | 90-180 days |
| 9. | Opesa | Ksh 1,500 – Ksh 50,000 | 16-29% of the loan | 14 days |
| 10. | Okash | Ksh 500 – Ksh 50,000 | 36% per annum | 91-365 days |
| 11. | Lion Cash | Ksh 2,000 – Ksh 70,000 | 16% per annum | 91-365 days |
| 12. | Patron | Ksh 200 – Ksh 15,000 | 365-1825% per annum | 91-365 days |
| 13. | Pesa Pap | Ksh 1,000 – Ksh 50,000 | 6.62% of the loan | 30 days |
| 14. | iPesa | Ksh 500 — Ksh 50,000 | Up to 72% per annum | 91-180 days |
| 15. | Asap Kash | Ksh 1,000 – Ksh 12,000 | 18% per annum | 91-365 days |
| 16. | Apesa | Ksh 500 – Ksh 8,000 | 18% per annum | 91-365 days |
| 17. | KashWay | Ksh 500 – Ksh 60,000 | 72% per annum | 91-180 days |
| 18. | Fadhili | From Ksh 500 | 24% per annum | 91-365 days |
| 19. | Credit Moja | Ksh 2,500 – Ksh 25,000 | Up to 50% per annum | 91-365 days |
| 20. | InstaPesa | Ksh 3,000 – Ksh 80,000 | 8-20% of the loan | 91-365 days |
| 21. | KCB MPESA | From Ksh 1,000 | 8.64% of the loan | 30 days |
| 22. | Fuliza MPESA | Ksh 1 – Ksh 70,000 | Ksh 2 – Ksh 25 per day | 30 days |
| 23. | Timiza | Ksh 500 – Ksh 100,000 | 1.083% of the loan | 30 days |
| 24. | NCBA Loop | Up to Ksh 3 million | 2% facility fee + 10% excise duty | 6-36 months |
| 25. | Eazzy Loan | From Ksh 1,000 | 13% per annum | 1-12 months |
| 26. | VOOMA Loan | Up to Ksh 300,000 | 5-91% of the loan | 30 days |
| 27. | HF Whizz | Ksh 1,000 – Ksh 50,000 | 10% of the loan | 30 days |
| 28. | MCOOP Cash | Ksh 1,000 – Ksh 50,000 | 8% per month | 1-3 months |
| 29. | Pesa Pata | Ksh 500 – Ksh 20,000 | 10-30% of the loan | 30 days |
| 30. | Zenka | Ksh 500 – Ksh 30,000 | 9-30% of the loan | 61 days |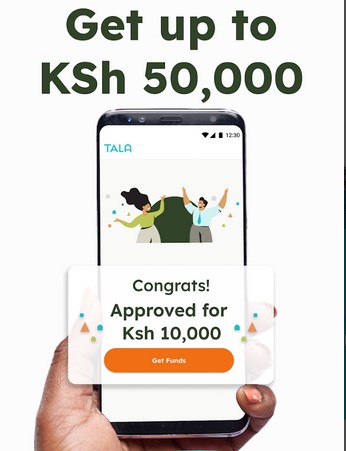 Leading Loan Apps in Kenya Without Registration Fee and CRB Check
Loan Apps in Kenya Without Registration Fee
While some mobile lenders require you to pay a sign-up fee, others don't have such charges. They aim to attract borrowers who are conscious of spending money before they can have it.
Some of the leading loan apps in Kenya without registration fees are:
Tala
Direct Cash
Meta Loan
Branch Loan
Zash Loan
Utunzi Loan
Bayes
Opesa
Okash
Check out the loan limits, interest, and loan tenure of the above loan apps in the table shared earlier.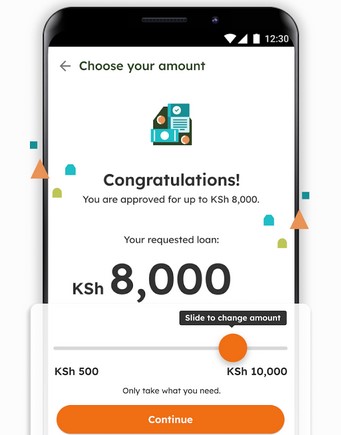 Loan Apps in Kenya Without CRB Check
So many online apps nowadays offer credits without looking at the lender's credit history. That makes it easy for borrowers on the CRB's watch list to procure a loan.
Some of the leading loan apps without CRB checks in Kenya are:
Lion Cash
Patron
Pesa Pap
iPesa
Asap Kash
Apesa
KashWay
Fadhili
Credit Moja
InstaPesa
Note that these loans have been banned from accessing CRB services. You can also refer to the table shared earlier to get their loan limits, interests, and tenures.
Loan Apps in Kenya with USSD
Some mobile loan apps also have the USSD option to cater to those without smartphones or who don't like installing loan apps on their phones. These mobile emergency loan lenders include:
KCB MPESA (*844#)
Fuliza MPESA (*234#)
Timiza (*848#)
NCBA Loop (*654#)
Eazzy Loan (*247#)
VOOMA Loan (*844#)
HF Whizz (*618#)
MCOOP Cash (*667#)
Pesa Pata (*269#)
Zenka loan (*841#)
Also, refer to the above table for these lenders' loan limits, interest, and tenure.
Dangers of Borrowing Via Loan Apps in Kenya
It's irrefutable that mobile loan apps can come to the rescue when in a financial fix. Yes, you can borrow to pay a bill or make an unplanned but probably essential purchase. They are fast and offer the convenience of having money in your MPESA wallet.
The question is, are they worth it? Should you borrow from these digital lenders? I firmly believe you shouldn't, and it's all because of these dangers:
1. Loan Apps Are Expensive to Pay
The Kenyan digital lending space is flocked with many apps because lenders are in for a huge catch. Their goal is to make money out of financially desperate Kenyans, and they lend out with outrageous interest and fees.
Essentially, here are the charges that make mobile loans expensive.
Monstrous interest – Imagine paying 16 – 25% interest per month or more if you fail to pay on time. Some lenders even charge as high as 365 – 1825% APR as it's the case of the Patron Loan App, which is just a monstrous fee.
Hidden charges – The monstrous interest is not the only concern. There are others, such as processing fees, origination fees, excise duty, and registration fees.
Hefty penalties – Another crafty way these lenders make money is through late payment penalties. They quickly slap you with a higher interest once you fail to pay the loan on time.
2. Privacy Risks
These lenders usually ask for access permission to your phone's contact list, SMS, and chats, among other private information. But do you ever stop to ask about the implication of that?
Well, it includes the following:
Harassment – Imagine someone on your contact list receiving a call from the lender asking them to ask you to pay or pay themselves because they were listed as guarantors. That's wholesome harassment, often when one fails to pay a loan app.
Extortion – Some lenders lack decency. They resort to using the customers' personal information to exhort them. And since they are rarely regulated, they can get away with such expenses.
Possible identity theft – Do you know who is taking your personal information? They could be careless with the information, and someone with bad intentions could use it for who knows what.
3. Short Repayment
I know I've indicated in the above table that loan most tenures stretch between 91 – 365 days. However, if you ask most borrowers, these lenders rarely give you more than 30 days to pay back. So, the extended repayment is only for show-off, but expect to pay the loan back in 14 – 30 days.
4. Most Loan Apps Are Fraudulent
Starting January 2023, Google plans to remove some mobile money lenders from Google play for violating CBK rules. The notice came last year, according to an NTV Kenya report.
The move by Google is to try and do away with fraudulent apps robbing Kenyans in the name of offering emergency loans.
Here's how you can identify a fraudulent loan app or lender:
The app is no longer on Google Play – You are likely to find it on the company website or through a link
Unsecured website – If the website URL lacks the padlock symbol or has the HTTP prefix instead of HTTPS, such a website is not secure and likely indicates the lender is fraudulent
So many negative reviews – If many customers complain about the lender, that's a red flag.
No contact information – It's also a red flag if the lender has no physical address or other contact information.
5. Loan Apps Are a Debt Trap
Last but not least, these loan apps are a debt trap. The lender raises your loan limit not to help you but to improve their chances of making more money out of you.
They recognize that the more they give you, the more you pay back. And since you always want to get a higher limit and possibly improve your credit score, you'll always try to pay on time.
The danger of that is that you won't stop borrowing. You don't realize that you are in a debt trap that sometimes forces you to borrow from one digital lender to pay another.
How to Avoid Falling Victim of the Loan App Trap in Kenya
Now that we've addressed the dangers of mobile loan apps, you probably are asking, then what? How do I attend to my financial emergencies?
Well, it takes financial discipline and good planning, and this is what I recommend:
1. Set Up an Emergency Fund
You must agree that financial emergencies like illness, delayed pay, job losses, injuries, and car breakdowns drive most Kenyans to digital lenders.
That, however, shouldn't be the case if you have an emergency fund (tantamount to your household's six months' living expenses). So, consider setting up an emergency fund if you don't have it.
2. Create A Budget and Stick to It
I like referring to Dave Ramsey's famous definition of a budget, where he says, "a budget is telling your money where to go and not having to ask where it went."
Most people who borrow from these loan apps have jobs or businesses, meaning they have a regular income. They, however, resort to borrowing because they can't budget for what they have.
So, a budget is necessary to avoid any debt trap.
3. Pay Yourself First
According to serial entrepreneur John Rampton, "A cardinal rule in budgeting and saving is to pay yourself first."
Generally, the personal finance principle of paying yourself first allows you to save up when you receive your income before spending it. So, the bills come after first saving.
That means you'll have money in your emergency fund to take care of the rainy day.
4. Have A Financial Plan
You must have a financial plan if you intend to stay away from borrowing. The plan shouldn't just feature your budget but also your savings plan, investment plan, and debt repayment plan. Don't forget, however, about investment.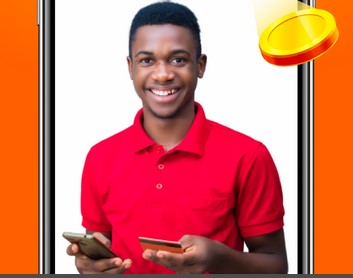 5. Prioritize Needs
You've to set your financial priorities straight. Learn to differentiate needs (what you need to survive) from wants (what you need to live comfortably).
Once you do, you'll avoid borrowing unnecessarily, and it'll become easy to stay away from loan traps.
6. Avoid Impulse Buying
Most people borrow from digital lenders because they cannot contain the excitement when seeing something nice. It could be trendy attire, a new phone model, or anything fashionable.
If you can avoid buying on impulse and first consider your priorities, you can avoid loan apps.
7. Create Another Income Stream
You can never make enough money in Kenya. There will always be more bills to pay, and that's where the aspect of having multiple income streams come in.
Besides, they provide you with financial security in case one income stream shuts or fails to pick up.
8. Start Paying Off Your Debt
It's vital to start paying off your outstanding debt as you avoid picking another.
One way to raise money for that is through asset liquidation. If you have something you can sell that won't necessarily impact your way of living, sell it.
And if you already have multiple income streams, they can generate the money to pay down your debt.
9. Track Your Spending and Stay Accountable
You can only know if you are sticking to your budget if you can track your spending. It helps you to stay accountable for every financial decision you make.
Luckily, there are numerous tools you can use to track your spending, such as Spending Tracker, Money Lover, and Mint. These tools will help you track your expenses and budget for your finances.
10. Ask for Help from Financial Experts
We all need help at some point. Just like you need a doctor for your clinical issues, you need a finance expert on money matters.
As the Cent Warrior family, we can help you avoid the financial pitfall that loan apps create. We have developed a personal finance guide that you'll find helpful in planning your finances and avoiding debt in general. Hopefully, it can be a start to your financial freedom.
Concluding Thoughts on Loan Apps in Kenya
It's undeniable that loan apps are becoming a debt trap that most Kenyans, especially the youth, find hard to break free from. That, however, doesn't mean that you have to give in to the pressure of borrowing.
As shared, you can prepare for financial emergencies by setting up a rainy day fund and living a modest life or finding ways to inject more cash flow.
If you need help to get started, talk to us on social media, and we'll be happy to walk with you on this journey. We at Cent Warrior are about promoting a generation that's financially and debt free, and it starts with breaking free from the loan app snare.
Also Read: