As Kenya's digital economy takes center stage, many lenders have joined the bandwagon, promising easy access to mobile loans. One such loan is the Zenka loan app, one of the country's fastest-growing digital lenders.
Zenka promises mobile loans starting from Ksh 500 to Ksh 30,000, depending on your credit standing, and the loans are payable within 61 days. The loans only attract a Ksh 45 – Ksh 870 one-time processing fee and an interest amount of 9 – 39%, depending on the loan size.
Each day, the popularity of Zenka continues to soar, evident in its 5 million + downloads (which does not necessarily translate to borrowers) on Google Play.
But like every digital lender, there are concerns about fees and other loan terms, which may compel you to ask if Zenka loans are worth it. So, I'll help you answer that and much more.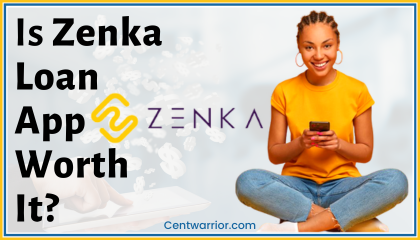 Here's what you can look forward to learning about Zenka:
What's Zenka?
How does the Zenka loan app work?
What are the qualifications for getting a Zenka loan?
How do you register for Zenka?
How do you apply for a Zenka loan?
What are the Zenka loan terms?
How do I repay a Zenka loan?
Is Zenka a good loan app?
Is the Zenka loan worth it?
If not Zenka, then what?
Let's jump in!
In a rush? Check out the Zenka loan app overview below:
Zenka Loan App Overview
| | |
| --- | --- |
| Loan Provider | Zenka Digital |
| Loan Limit | Ksh 500 – Ksh 30,000 |
| Repayment Term | 61 days |
| Interest | 9 – 39% of the loan |
| Processing Fee | Ksh 45 – Ksh 5,800 |
| Disbursement Route | MPESA |
| Penalty | 1% daily fee |
| Extension | 7 – 30 days |
| App Size | 14 MB |
| Release Date | 13th November 2018 |
| Android Preference | 5.0 and above |
| Last Update | 26th April 2023 |
| Head Office | Mirage Tower 2, 12th Floor |
| Zenka Loan Contact Number | +254(0)207 650 878 |
| Email | support@zenka.co.ke |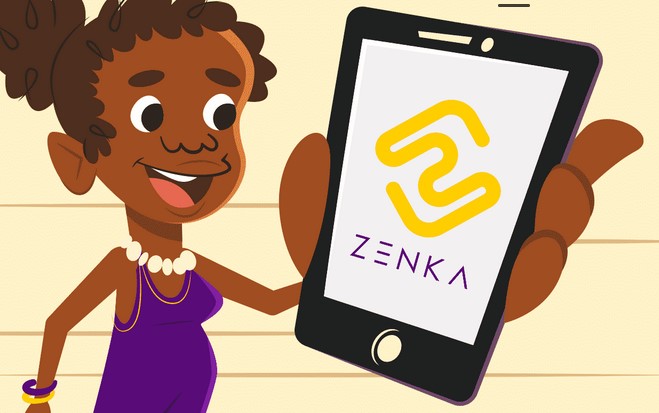 What's Zenka?
Zenka is a digital loan app by Zenka Digital Kenya, owned by Pata Mkopo company. The mobile application is available on Google Play and iOS – though it doesn't have the most impressive rating on iOS.
Zenka disburses loans on MPESA for immediate access, and you must pay back with interest within 61 days.
How Does Zenka Loan App Work?
Zenka lets you download the app, install it, and register for an account. You'll then need to fill out an application form on the app, which allows you to apply for a mobile loan.
Zenka disburses the loan to your MPESA upon approval. Upon receiving the money (less the processing fee), you'll need to make arrangements to pay it in full (with interest) before the deadline (61 days).
But unlike most apps, Zenka allows you to ask for a 7 – 30-day extension if you can't beat the timeline. You'll, however, pay a higher interest which I'll share to enjoy the interest.
Besides the app, Zenka allows access to its mobile loan services via the USSD *841#.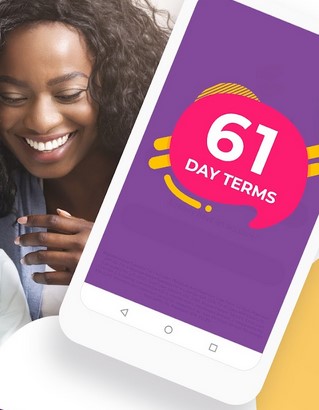 How Do I Qualify for A Zenka Loan App?
To qualify for a Zenka loan, one must meet these minimum requirements:
Be at least 18 years (you'll need a Kenyan ID to prove that)
Have an internet-enabled smartphone
Possess an MPESA-registered mobile number
Be in good CRB standing (shouldn't be blacklisted)
How to Register Zenka Loan App
Here are the basic steps for registering for an account via the Zenka app:
First, download and install Zenka on your phone. Search for 'Zenka loan app download latest' on Google Play or App Store, and the app will pop up.
Once the app completes installing, launch it and grant it permission to your phone
Tap on Register and input MPESA registered number
Enter your basic information, which includes your name, email, and national ID, and wait to set a security question
Then create a PIN and agree to the signup terms to complete the registration.
Once registered, you can return to the app to apply for a loan or use USSD, which I will share next.
How to Apply Zenka Loan
When it comes to the Zenka loan application, you can do it via the app or USSD (or SMS).
How Can I Get Zenka Loan Through SMS?
You can get a Zenka loan through SMs by using the Zenka USSD code *841# as follows:
Dial *841# on your Safaricom line
Enter your Zenka pin and send
Choose 'Continue with USSD' and then select Apply for Loan
Wait for the lender to display how much you are eligible for and select how much you want to receive
Choose the repayment period and wait for an SMS confirming the disbursement
And How Do I Get a Loan from Zenka Via the App?
Here are the key steps to applying for a Zenka loan via the app:
Launch the app and sign into your Zenka account
You'll need to enter your mobile number and pin to sign in
See how much you qualify for and tap Apply Now
Confirm the loan details and tap Get Loan
Wait for the MPESA disbursement and a confirmation SMS from Zenka
What Are the Loan Terms by Zenka?
Here's what to know about the various loan terms by Zenka:
a) Zenka Loan Limit
Zenka currently offers loans from Ksh 500 to about Ksh 30,000, depending on one's borrowing history and CRB standing. If you are a new customer, you'll more likely get a lower limit, but once you borrow several times and pay on time, your limit will grow.
b) Zenka Loan App Interest Rates
Zenka charges an interest of 9 – 39 % of the borrowed amount, depending on the loan size. However, their maximum APR (Annual Percentage Rate) is 180%.
c) Processing Fee
According to Zenka, their loan attracts a processing fee of Ksh 45 – Ksh 5,800, depending on the loan amount. This fee is deducted in advance from the money borrowed, which means you won't get the exact amount you qualify for.
d) Late Fees
Once you fail to beat the payment deadline, Zenka applies a 1% daily charge until you pay the loan in full. So, the longer you take to pay the loan, the heavier the late fees.
e) Loan Extension
Unlike most mobile lenders, Zenka has an extension program for those unable to beat the payment deadline. The extension runs from 7 days to 30 days.
You are, however, expected to pay a slightly higher interest depending on how long the grace period runs. For example, a 7-day extension attracts a 15% charge, while a 14-day and 30-day extension attracts a 22% and 29% fee, respectively.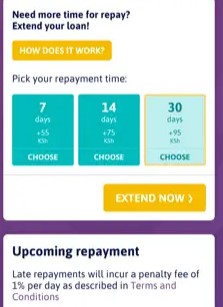 How Do I Repay a Zenka Loan?
Zenka allows you to pay for a loan via Lipa Na MPESA. Just go to Lipa Na MPESA and enter the Zenka loan app paybill number 979988 and input your MPESA number (or account number), amount to pay, and MPESA pin. Lastly, confirm the payment and tap ok.
Is Zenka a Good Loan App?
To answer this question. Let's review the pros and cons of Zenka.
Pros of Zenka
Zenka mobile loan app enjoys these advantages:
Fast signup – Zenka allows you to sign up for an account in quick steps and apply for a loan in minutes
Fast loan disbursement – Zenka disburses loans almost immediately. Everything is automated and quick.
Payment extension – Unlike most mobile lenders, Zenka allows you a 7 – 30-day extension period (though at a higher interest) to pay your loan.
MPESA conveniences – Zenka disburses funds into your MPESA line to allow you immediate access. You can pay bills, withdraw and buy stuff via MPESA.
Higher limit – Zenka promises to review your limit upwards if you continue paying on time and borrow often. (though this is a trap you may look keenly at).
Cons of Zenka
On a downward spiral, Zenka suffers from the following concerns:
Higher interest – A 39% interest, which you'll most likely pay, is too high. In fact, anything more than 10% of the loan amount is too much of an interest to pay.
Hidden fees and penalties – Zenka charges a processing fee which they deduct first before offering you the loan. So, you don't even get the amount you qualified for in the first place.
Annoying reminders – Zenka sends you several payment reminders before the deadline. The reminders can be annoying, especially when you know when to pay.
Addictive borrowing – It's hard to stop when you start borrowing from Zenka. You become too addicted and always want to get a higher limit.
Privacy concerns – When you grant Zenka access to your phone, you can no longer control what happens. Even though Zenka promises confidentiality, you can't foretell how they'll use it or who may get hold of it.
CRB blacklisting risk – Once you default to pay Zenka, Zenka can forward your name to the CRB. Currently, Zenka reports to all; the three CRBs: Credit Info, Metropol, and TransUnion.
Verdict
Though Zenka loans enjoy several advantages, such as fast disbursement, MPESA convenience, and higher limits, the downsides are depressing. It's not just about Zenka but mobile loan apps in general – they are all a debt trap and thus should be avoided.
Let's discuss that more next.
Is a Zenka Loan Worth It?
Zenka, like every other loan app, is a debt trap, as I hinted above. They offer you a loan and lure you into paying it earlier for a higher limit.
When you start getting higher limits, it becomes harder to stop borrowing. Notably, the more you borrow, the higher the interest and the deeper you get into debt.
Sometimes you even borrow for unnecessary reasons, such as having fun. Moreover, the consequences of defaulting on mobile loan payments are dire.
Some loan apps call people on your contact list that you wouldn't want them to call to shame you. The worst is that the lender can put you on CRB, which can negatively impact your credit score, and you wouldn't want that.
So, no, Zenka loans and loan apps, in general, are not worth it.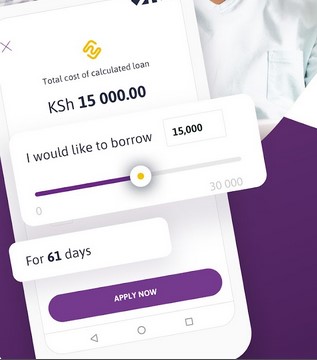 If Not Zenka, Then What?
We understand that most people borrow from the Zenka loan app and other digital lenders because of financial emergencies, and these apps offer quick loans with no collateral. But given the high interest and the fact that we don't advocate for debt, we don't endorse emergency loan apps.
Realistically, you don't have to borrow for financial emergencies. That's what an emergency fund is for. It's your safety net when an unforeseen cost like a medical bill, an unplanned travel, or an unexpected bill hits you.
But before you can even set up your emergency fund, there are several things you must do, such as establishing a money plan, getting life and medical insurance, and paying off your debt.
And even after the emergency fund, you'll still need to save up for retirement and your kids' college and probably buy a car and home.
All that is possible with our Cent Warrior 10-Step Financial Plan, which we highly recommend if you ever want to get out of debt and achieve financial freedom and peace this year. You can grab your copy now.