'More Cash, More Life!' That's the tagline that the Berry loan app goes with, and even more interesting is its punchline; 'Simple, Swift Loans at Your Fingertip'.
While there's nothing wrong with the punchline (which is genius!), you have to pause briefly on the tagline and think. Yes, more money may translate to a better life, but what money are we discussing? That's right! We are talking about a loan.
So, the question is, do more loans mean a better life? I don't think so. Perhaps a life of destitute and constant worry trying to pay up a loan and never having enough to accomplish your money goals.
But is that all bad? Perhaps not! This post will enlighten you on everything you should know about the Berry mobile loan app. In the end, you'll decide whether to get a loan from them or any other mobile loan app in Kenya, for that matter.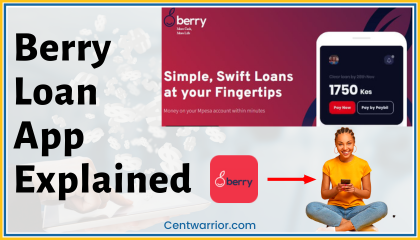 Here's what I'll cover about the Berry mobile loan app:
What's the Berry Loan App?
How does it work?
What are the requirements for a Berry loan?
How do you apply for a Berry loan?
How do you repay a Berry loan?
Is the Berry mobile loan app legit?
What are the various pros and cons of the Berry mobile loan app?
Should you get a Berry Loan?
If not the Berry mobile loan app, then what?
Let's dive in!
In a hurry? Below is a Berry mobile loan app overview to quickly check:
Berry Mobile Loan App Overview
| | |
| --- | --- |
| Provider | FinBerry Capital Limited |
| Website | Berry.ke |
| Release Date | 20th November 2018 |
| Loan Limit | Ksh 500 – Ksh 50,000 |
| Loan Term | 30 – 120 Days |
| Extension Period | Seven days |
| Interest | 8-15% of the loan amount |
| Facilitation Fee | 9-25% per month |
| Penalty | 10% of the loan amount |
| Android Preference | 5.0 and above |
| Size | 7MB |
| Last App Update | 18th May 2022 |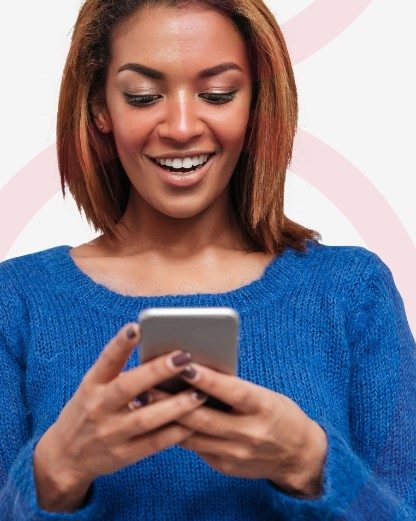 What's the Berry Loan App?
The Berry loan app is a mobile loan app by FinBerry Capital Limited that promises loans from Ksh 500 to Ksh 50,000, depending on one's credit history and MPESA performance.
This app was launched on 20th November 2018 to provide fast MPESA loan disbursement. The lender promises a repayment timeline of up to 120 days, but if you are a first-timer, you'll likely get 30 days and a 7-day extension period if you miss the deadline.
Though the lender doesn't specify the interest rate on the app, it's about 8-15% of the loan amount, according to most users. What the lender stipulates, however, is the monthly facilitation fee which is 9-25%.
Berry charges a 10% penalty for missed deadlines.
How Does the Berry Loan App Work?
The Berry app works like every other mobile loan app. You must download and install the loan app on your phone and sign up for an account.
You can apply for an eligible loan upon signing up, and Berry will disburse it to your MPESA wallet.
During the signup, Berry requests access to your phone to allow them to determine if you are eligible for a mobile loan and how much you should get.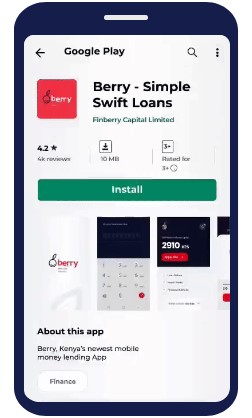 What are the Requirements for Obtaining a Berry Loan?
Here are the eligibility requirements for a Berry loan:
Have an Android smartphone (Berry is available on Google Play)
Possess a national ID (be at least 18 years)
Have an MPESA-registered line
Allow the Berry App access to your phone
Provide MPESA statements for the last 12 months
How Do I Apply for A Berry Loan?
You can apply for a loan once you meet the Berry app eligibility requirements. Here are the three steps to do it:
Step 1 – Berry Loan App Free Download
Go to Google Play with your Android smartphone, search for the 'Berry Mobile Loan App', and download it. Then allow it to install on your phone.
Step 2 – Account Signup
Once the app completely installs, open it and sign up. Register with your personal information and wait for an OTP, which auto-enters. Then set up your PIN and proceed with the rest of the signup process.
Step 3 – Loan Application
Once the signup is complete, you can relaunch the app and apply for a loan. Sign in if you have signed out and tap the 'Apply Now' red button on the app. Then follow the steps to apply for a loan.
If it's your first time getting a Berry loan, you may need to upload MPESA statements for the last 12 months.
How Do You Repay a Berry Loan?
Berry, as I mentioned, gives you 30 -120 days to repay your loan and here are the steps to do it:
Go to MPESA menu and then Lipa Na MPESA
Select Paybill and then Business Number and enter the Berry loan app paybill number 977888
Select the account number and enter your MPESA-registered number
Enter the amount to repay and the MPESA pin
Confirm the details and press OK
Alternatively, you can use the Berry app to make the payment. Go to the app, tap 'Pay Now', and then follow the steps.
Is Berry Loan App Legit?
Berry mobile loan app is a product by FinBerry Capital Limited, a member of Digital Lenders Association of Kenya. So, the app is not a scam. It's legit.
Besides, you can easily reach out to their customer desk using the following Berry loan app contacts:
Email – support@berry.ke
Social media (Facebook and Twitter) – @berryappke
The contact form on the website (berry.ke)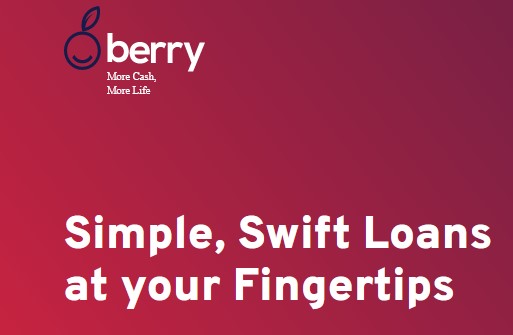 The Pros and Cons of a Berry Mobile Loan?
Berry mobile loans have both advantages and disadvantages. Let's highlight them.
The Pros
Swift loan application – Provided you meet the requirements, applying for and getting a Berry loan is generally straightforward. There is no paperwork per se, and that makes the application swift.
Convenient MPESA reimbursement – Berry sends the loan to your MPESA wallet for convenient usage. Thus, you can use the money for any of your MPESA transactions.
No collateral – Berry doesn't require any security to get a loan. All you need is a good credit score and meet the minimum eligibility requirements.
Slightly longer repayment period – Unlike most loan apps with 14-21 days, Berry offers up to 120 days, with the shortest tenure lasting 30 days.
Extension period – Though the extension period for late payment is only seven days, very few loan apps have that. So, this is a plus.
The Cons
High interest – Though Berry loan app interest rates are not clearly stated, as I mentioned, they are about 8-15% of the loan amount, which is pretty high. Moreover, Berry charges a 9-25% monthly facilitation fee, which again is too high.
Late payment penalty – Berry imposes a 10% penalty for late payments. That's pretty high, considering you must also pay the loan plus the accumulated interest.
Higher rejection rate – Most customers are frustrated by the higher loan rejection rate. The fact that you've to provide MPESA statements makes it hard for most applicants to get a loan.
Privacy concerns – Though Berry promises to keep your information safe, there's no assurance. No one can tell how they'll use the information; sometimes, it may fall into bad hands.
Annoying reminders – It's annoying to wake up to an SMS reminder every morning that you should pay a loan whose due date is still a few weeks away. That happens with Berry and most loan apps.
CRB Listing – Berry clearly states on its website that it'll forward your name to CRB when you default payment. They report to Metropol and Credit Info. The implication is that it ruins your credit record, making it hard to obtain credit from banks and other lenders.
Poor customer service – There are a few customer complaints on the app about customer service. It seems that it's poor, and that's concerning.
Should You Get a Mobile Loan from Berry Loan App?
Yes, Berry loans have several advantages discussed above, but the question is, are they worth overlooking the negatives? My answer is no!
Just forget about the concerns I have mentioned above and look at the mental implication of loans. The fact that you've to beat a deadline means a stressful moment, and the stress doubles when you default and have to deal with annoying reminders, threats, and debt shaming.
How about your money goals? It just becomes hard to pursue them. For example, saving up and doing any project becomes tricky when worrying about a loan.
And how about CRB listing? It negatively impacts your credit score and makes it hard to get credit from other lenders, and it may also be hard to get CRB clearance when applying for a public service job.
What's more, there is an over-dependency on the loans. It's just hard to get out of it once you start borrowing. The more you borrow and pay back, the higher your limit grows and the deeper you get into debt.
Last but not least, loan apps are not a permanent solution. They only 'solve' your financial emergency for a while. But once a few days or weeks pass, and you've to pay back the loan, you'll have to deal with another bigger financial mess.
Clearly, Berry or any other loan app is not worth it.

If Not the Berry Loan App, Then What?
Now that we are not advocating for the Berry loan app or any other, you may wonder what the best solution is. Let's first address the root of the problem.
Why do you or most people borrow? The answer is likely to be a financial emergency.
Well, what if you had an emergency fund? Its job is to cater to an unforeseen event like a medical bill, unplanned travel, a car breakdown, or any other emergency. If you've one, you wouldn't have to borrow for an emergency and here's a guide to help you set it up.
The other reason people borrow money is because they don't budget. Failure to budget for your money may mean spending it on unnecessary expenses, only to be left with nothing, and you can't help but borrow.
It may also help to shop with a list, especially when you want to avoid impromptu purchases. Just setting up a budget is not enough. You've to act it, and a shopping list may help you.
But what if what you are making is enough? What if you cannot cut the expenses? Then you should find ways to make more money. Perhaps you can get a job or start a small business or side hustle, and there are many opportunities to try.
We created the Cent Warrior 10-Step Guide to Financial Freedom to help people like you who struggle to get out of debt. The guide will help you escape debt, build lasting wealth, and attain financial independence. So, check it out and start changing your financial course!