According to a 2022 Cytonn Report, the Madison money market fund is the 5th highest-yielding money market fund in Kenya, with an effective annual rate of 9.3%, which is about 0.4% above the industry average. 
The report also ranks Madison 10th among the biggest money market funds by share, with a 1.9% market share. That shows Madison is a high-yielding money market fund and dominant in the Kenyan unit trust spectrum.
Launched on 17th November 2011, the Madison money market fund (Madison MMF) enjoys a fund size of Ksh 2.9 billion (as of December 2022). It takes a minimum investment of Ksh 5,000 to sign up and a minimum of Ksh 1,000 to replenish your account. 
The pooled funds attract a 2% annual management fee, and the investment is allocated to various assets such as cash and equivalents, T-bills, T-bonds, fixed deposits, and commercial papers.
Madison MMF enjoys a conservative, moderate risk profile, unlike most money market funds, and has an average 91-day T-Bill benchmark. The distribution is monthly, but the interest earned is daily.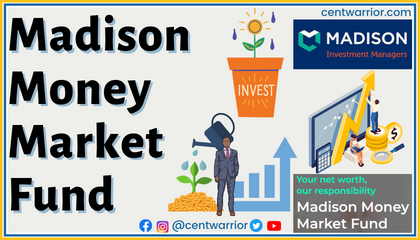 Here's what we'll cover about the Madison MMF:
What's Madison MMF?
How does Madison MMF work?
Who should join Madison MMF?
Why join Madison MMF?
What are the downsides of the Madison MMF?
How do I join Madison MMF?
Let's jump into it!
In a hurry? Then check out the Madison MMF fact sheet below!
Madison Money Market Fund Fact Sheet
| | |
| --- | --- |
| Launch Date  | 17th November 2011 |
| Structure Type  | Unit Trust  |
| Fund Size  | Ksh 2.9 Billion |
| Fund Manager  | Madison Investment Managers Ltd |
| Custodian  | Equity Bank Kenya  |
| Trustee  | Kenya Commercial Bank |
| Regulator  | Capital Markets Authority (CMA) |
| Auditor  | Deloitte & Touché LLP |
| Minimum Investment  | Ksh 5,000 |
| Minimum Top-Up  | Ksh 1,000 |
| Effective Annual Yield  | 9.3% (as of Dec 2022) |
| Annual Management Fee  | 2% |
| Risk Profile  | Conservative to moderate  |
| Benchmark Return  | Average 91-day T-Bill |
| Income Distribution  | Monthly  |
| Withholding Tax | 15% |
| Asset Allocation  (As of Dec 2022) | Fixed Deposits (64%), Commercial Paper (18.8%), T-Bonds (13%), T-Bills 3.4%), and Cash & Equivalents (0.8%) |

What is the Madison Money Market Fund?
The Madison money market fund is a collective investment scheme by the Madison Group that invests in short-term but high-yielding money markets investments like fixed deposits, treasury bills, commercial papers, treasury bonds, and cash & equivalent.
The investment earns daily interest, but the income distribution is monthly. As of December 2022, the effective yield rate was 9.3%, but at the time of creating this post (27th January 2023), the daily yield was 9.06%, and the effective annual yield was 9.48%. 
During this period, the asset allocation was as follows:
Fixed Deposits (64%)
Commercial Paper (18.8%)
Treasury Bond (13%)
Treasury Bill (3.4%)
Cash & Equivalents (0.8%)
How Does Madison Money Market Fund Work?
The Madison money market fund works as a savings account and investment plan that allows members to earn high interest from their savings. 
This collective investment scheme by Madison has a better yield than customary savings accounts because of the money market instruments like fixed deposits, T-bills, and commercial papers, which are higher yielding. 
Madison allows you to withdraw earned funds on short notice (up to 3 days). Its ecosystem features a fund manager (Madison Investment Managers Ltd) whose job is to develop the assets investment portfolio, advise the investors, and invest the funds. 
The other ecosystem member is the custodian (Equity Bank Kenya), whose job is to hold the investors pooled funds, awaiting the fund manager's directive. 
The third member of the ecosystem is the trustee (Kenya Commercial Bank). A trustee performs an oversight job, ensuring the fund manager does not perform malpractice. 
And the final member of the ecosystem is the auditor (Deloitte $ Touché LLP), whose job is to review the financial records and generate reports. 
Madison MMF requires investors to invest a minimum of Ksh 5,000 when signing up and a minimum top-up of Ksh 1,000. Annually, the account attracts a 2% management fee, and as its standard, the interest earns a 15% withholding tax.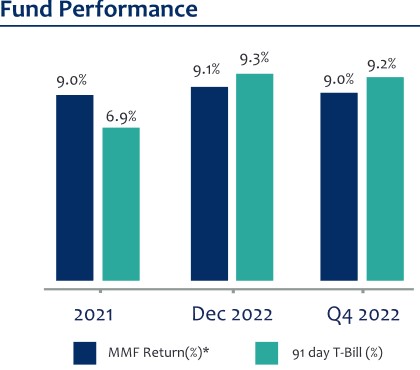 Who Should Join Madison MMF?
Madison money market fund is ideal for two sets of investors:
Individual investors – include those looking to save up for short-term projects like school fees, business capital, mortgage deposit, and travels, those who plan to set up an emergency fund, and those whose goal is capital preservation 
Corporates – Includes those looking for high liquidity, cash flow, and capital preservation
Why Invest in Madison Money Market Fund?
Here's why joining Madison MMF as an investor is worthwhile:
High liquidity – Madison allows you to withdraw money at any time and have it processed within 2 – 3 days. 
Competitive yield – The Madison Money Market Fund Interest Rate has been impressive recently. For example, the yearly rate was 9.38% in December 2022 and about 9.4% on 27th January 2022.
Interest compounding – Money market funds run on compound interests whereby the interest earned also earns interest, and that's what Madison promises. 
No entry/exit fee – Though you pay an initial investment of Ksh 5,000, there's no entry fee, and neither is there an exit fee. 
No withdrawal penalties – Since the investment isn't term based, it doesn't attract any withdrawal limit, which makes the process seamless. 
Professional management – Madison's fund managers are CMA-approved, highly competent, experienced, and supportive. 
Financial training – Madison assigns a manager to each of their investors to help them understand the market dynamics and make the correct investment decision. 
What Are the Downsides of Madison MMF?
As good as Madison MMF is, a few concerns come with the money market funds. They include:
Top-up limits – While most money market funds in Kenya have no top-up limit, Madison allows you to top up at least Ksh 1,000. That puts a restriction on the flexibility of topping up at any time. 
Interest unpredictability – No one can predict how a money market fund will perform. For example, though the yield rate has averaged 9% and above in recent years, 2017 saw it drop to 8.70% per annum, a drop from 2016's 11.56%. 
How Do I Join the Madison Money Market Fund?
Madison allows you to sign up for their money market fund using any of these two ways:
Option 1 – Using The USSD Code *828#
Just dial *828# on your mobile and follow the appropriate steps to sign up for the money market fund.
Option 2 – Filling Out the Online Account-Opening Form 
Get the Madison Unit Trust account-opening form online and fill out and then send it to Madison using the email address madisoninvestment@madison.co.ke or Box number 20092–00100.
The account opening form generally requires you to provide the following:
Applicant details – Include relevant information about yourself, such as name, ID/passport no, email, mobile number, postal address, date of birth, and title. There's also an option for another applicant and corporations/groups. 
Bank details – This section requires you to provide the client account number, name, bank name, and bank branch. 
Occupation details – The section requires you to specify if you are employed or self-employed, among other occupational information.
Source of funds – The section requires you to indicate where you'll be getting the funds you are investing from. The options include savings, business, gift/inheritance, employment, and lottery proceedings. 
Other details include the quarterly expected account activity, beneficiary information, risk assessment, income distribution, and risk profile. You'll then need to accept the terms, append your signature, and fill out your physical address, among other information. 
Some of the copies you'll need to accompany the application include the following:
Copy of ID/passport
Utility bill (less than three months old)
Bank details proof 
KRA copy
Passport size photo
Proof of funds (in case you want to invest over Ksh 1 million)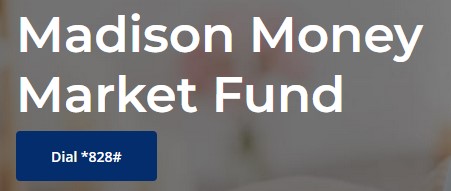 Madison Insurance Money Market Fund Payment Avenue 
Madison expects you to make payments via the MPESA pay bill number 653039, whose account number is your member number. Alternatively, you can pay via bank using these details:
Bank name – Equity Bank Ltd
Branch – Equity Center
Account name – Madison Money Market Fund Collection Account 
Account number – 0810296649521
Madison Contact Details 
Head office – Madison insurance house, upper hill 
Box number – 20092–00100
Telephone – +254 741 135 660 / +254 202 721 340
Email – madisoninvestment@madison.co.ke
People Also Ask 
1. Are Money Market Funds Worth It?
Money market funds are worth it for individuals and corporates looking for cash flow, capital preservation, and high liquidity. The interest is high, and the investment is low risk. 
2. Is MMF A Good Investment?
Yes, an MMF is a good investment. It's low risk and pays a better interest than a savings account. Unlike savings accounts which only earn simple interest, MMFs earn compound interest. 
3. What's a Money Market Fund?
A money market fund is essentially a unit trust investment (or collective investment scheme) that invests in short-term conservative interest-bearing instruments like T-bills, t-bonds, fixed deposits, and bank accounts. It generally earns you compound interest, which has a better return rate than simple interest. 
4. Can I Withdraw Money from A Money Market Fund?
Yes, you can withdraw money from a money market fund. Most money market funds in Kenya allow you to transfer funds to MPESA or bank within 1 – 3 days. 
5. What Are the Disadvantages of a Money Market Fund?
The biggest disadvantage of money market funds is the yield rate unpredictability. There's no assurance that the daily or effective annual rate will always be better. It could drop anytime to prevent you from making money. 
6. Which Is the Best MMF in Kenya?
Some of the finest money market funds in Kenya based on yield rate include:
Closing Remarks 
There is no doubt that the Madison money market fund is one of the leading money market funds in Kenya. Its yield rate curve has been rising steadily, which makes it a good investment. 
At Cent Warrior, we educate people on making the right investment choices, including choosing the right money market fund. So, talk to us on social media if you want clarification on this money market fund or any other, and we'll be happy to help!
Meanwhile, check out this free personal finance guide to enable you to kick-start your journey to financial freedom.