According to the Standard, 12% of Kenyan borrowers default on loan payments, and about 19 million have been blacklisted by the CRB (Credit Reference Bureau). That, however, has not stopped Kenyans from borrowing, especially following the rise of loan apps without CRB check.
These loan apps allow you to borrow anything from Ksh 500 to Ksh 2,000 without a credit check at an interest rate of 16 – 25% or more.
And now, there is the Hustler Fund, a government-driven lending platform that allows Kenyans with poor credit scores and CRB blacklisting to borrow money for business, pay with an 8% annual interest and rebuild their credit history.
All these lenders have one thing in common: one, their loans are short-term, and two, they attract a higher interest.
The question is, are these loan apps worth it? Should you go for them, or are there better ways of raising money for emergencies?
We shall answer these questions and many others to help you decide. But first, let's see how CRB works, what CRB blacklisting means for you, and how to check if you are blacklisted.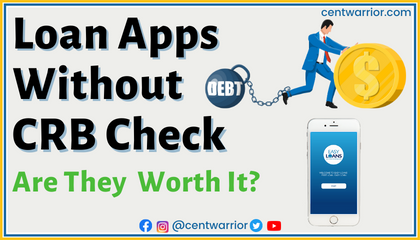 Here we go!
BEFORE YOU CONTINUE…
Allow me to show you how I reclaimed my financial life from drowning in a sea of debt and trapped in a never-ending cycle of financial despair with over Ksh 3.5 million weighing me down.
Every day was filled with sleepless nights, anxiety, and constant fear of losing everything I had.

But then, against all odds, I discovered a life-changing path to freedom which helped me shatter the chains of debt in just 1.5 years, created a solid financial foundation and started building wealth.
And now, I have packaged all this knowledge in this SIMPLE e-book called Cent Warrior 10-Steps to Financial Freedom for you because I want you to WIN with money and change your family tree.
🟢 Get It here for FREE and change your life forever.
👉⏩ I WANT IT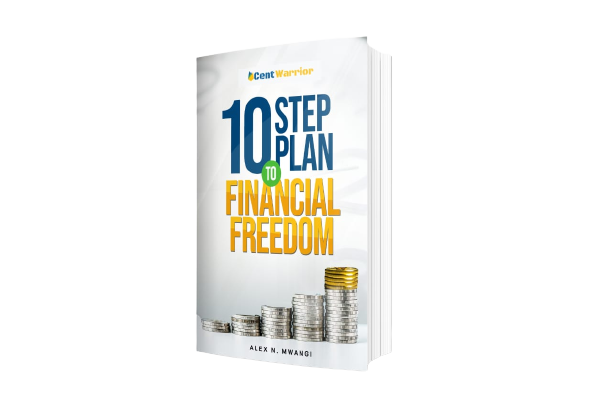 How Does CRB Work and What Does CRB Blacklisting Mean to You?
A CRB (Credit Reference Bureau) is a company that collects your credit history to determine your creditworthiness. They employ a scoring system where your score can be between 501 and 850, where the higher the score, the greater the creditworthiness.
Overall, a good CRB credit score is about 630 – 720. Lenders usually run to CRB to determine your credit score. If your credit score is below 630, the lender may decide not to give you a loan. They see such a low score as a high risk of a payment default.
That happens with most banks; they won't lend to you if you have a poor credit score. So, you are only left with lenders who don't check CRB status. The caveat is that you've to pay a higher interest and hidden fees, which I'll share later.
Can Loan Apps Put You in CRB?
The answer is Yes; loan apps can put you in CRB, but only those that the CRB approves. Just recently, the CRB barred several loan apps from accessing its services, and a majority of these loan apps have been blocked by Google, which means they are no longer available on Google Play but only on the company website.
These loan apps include:
Zenka, Tala, Branch, Okash, Okolea, Opesa, Senti, Saida, Aspira, Uba Pesa, Tajiri, Easy Loans, Kua, Kopa Jirani, Investor, Kashway, iPesa, Lion Cash, Lendi Mkopo, Flash Pesa, Zash Loan, Chap Chap, MKOPAY, Instant Cash, Duta, Mkopa, Pezesha, Tuma Pesa, and Fintech Loans, among others
Note, however, that these loan apps are not allowed to access CRB because a bank doesn't back them. So, loan apps backed by banks in Kenya are likely to put you on CRB if you default on payment. They include the following:
Timiza by Absa
Eazy Loan by Equity Bank,
PesaPap by Family Bank
MCO-OP Cash by Cooperative Bank
VOOMA by KCB Bank
NCBA Loop by NCBA Bank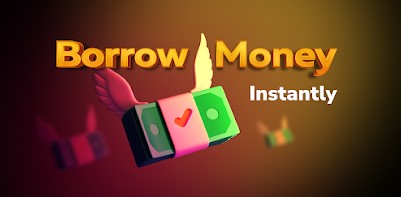 How Do I Know If I'm Blacklisted by A CRB Check?
There are different ways you can check if you are CRB-blacklisted, and they include the following:
a) Via Metropol
Metropol lets you view your credit report, know if you are blacklisted, and obtain a clearance certificate once you clear your loan. You can go directly to the company website, use the Metropol Crystobol mobile application or dial the USSD code *433# to access the services.
Note that you'll need to pay Ksh 50 to sign up on Metropol, and if you want a clearance certificate, you'll have to pay Ksh 2,200 after paying up your debt.
Other charges on Metropol include Ksh 250 (if you want to know who blacklisted you) and an equal amount (Ksh 250) to obtain your CRB report.
The commonest route for checking CRB blacklisting, however, is the *433# USSD code route that requires you to:
Dial *433# on your mobile
Enter your ID followed by the agent code 222000
Confirm the details and go to MPESA to pay for the service using pay bill number 220338
Enter your ID as the account number, and the amount should be Ksh 100
Put your MPESA pin and then select send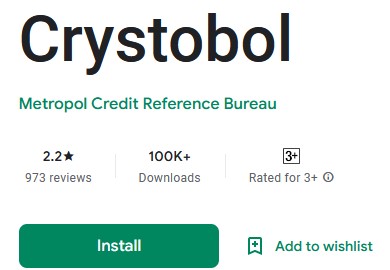 b) Via TransUnion (or CRB Africa)
TransUnion is another credit record checker you can use to find the status of your credit score online. You can either visit the website, use the TransUnion mobile app or apply the SMS number 21272.
If you opt for the SMS route, you'll need to forward your name and the ID to 21272 and select credit status.
The credit report will cost you Ksh 650 on TransUnion, while the clearance certificate will cost you Ksh 2,200, just like on Metropol, and the pay bill number is 212121.
c) Via Credit Info
Credit Info allows you access to your credit history report, and you can even tell the identity of the lender that blacklisted you.
Can You Get a Loan If You Are Blacklisted in Kenya?
While it's not easy to get a loan from banks and SACCOs if blacklisted, you can get them from loan apps and other lenders. Here are your options when it comes to getting a loan without a credit score:
1. Loan Apps Without CRB Check and Registration Fee
Some loan apps offer credit limits without checking your credit score or asking for a signup fee. The only issue is that you've to pay a much higher interest.
Here's a summary of the leading instant loan apps without CRB check or registration fees:
| | | | | |
| --- | --- | --- | --- | --- |
| Loan App | Loan Limit | Interest Rate | Loan Tenure | Service Fee |
| Hustler Fund | Ksh 500 – Ksh 50,000 | 8% per annum | 14 days | – |
| Tala | Ksh 2,000 – Ksh 30,000 | 15% of the Loan | 21 – 30 days | 4 – 14% |
| Branch | Ksh 150 – Ksh 100,000 | 2 – 18 % of the loan | 30 – 62 days | – |
| Lion Cash | Ksh 2,000 – Ksh 70,000 | 16% APR | 91 – 365 days | – |
| Timiza | Ksh 500 – Ksh 100,000 | 1.083% | 30 days | 5% |
| Zenka | Ksh 500 – Ksh 30,000 | 9 – 30% of the loan | 61 days | – |
| Meta Loan | Ksh 1,000 – Ksh 80,000 | 4% per month | 91 – 365 days | – |
| Utunzi | Ksh 500 – Ksh 50,000 | 12% APR | 21 days | 12 % |
| iPesa (Leja) | Ksh 500 – Ksh 50,000 | 25.36 % | 14 days | – |
| Opesa | Ksh 1,500 – Ksh 50,000 | 16 – 29 % of the loan | 14 days | Ksh 100 – Ksh 600 |
2. Loan Apps Without CRB Check but with Registration Fee
Some loan apps don't have credit checks but require you to deposit a small fee as part of the registration. That is the case with Utajiri and Upazi loan apps.
Both loan apps, for example, need you to register with Ksh 250. Seriously, why would you pay registration to get a loan? It beats me!
3. Other Loans Without CRB in Kenya
Other than the loan apps mentioned above, you can get a loan without CRB using any of these options:
Unsecured personal loans – Applicable to salaried employees
Logbook loans – Provided you have a logbook, you can secure a loan from most online lenders.
Payday loans – Also known as weekend loans, payday loans are for those awaiting a paycheck at the end of the month.
Title deed loans – A title deed loan can be an option for those ready to put their land as collateral.
Two lenders that offer the above loans are Mwananchi Credit and Platinum Credit.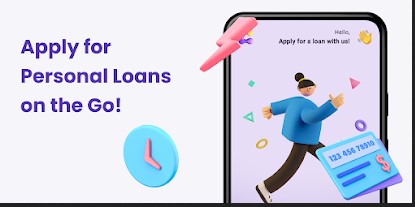 Are Loan Apps Without CRB Check Worth It?
It's undeniable that loan apps are quick, and the fact that most of them require no credit check means anyone, even those blacklisted, can apply. It's also true that they allow you to borrow without collateral.
But let's face it; what are you giving in return? Let's look at the risks that come with borrowing from loan apps.
a) The Fees Are Quite Astronomical
If we can start with the interest rates, the fact that you pay at least 16 – 25 % of the loan amount every month as interest is midday robbery. Banks don't charge that. Except for the Hustler fund that charges 8 % per annum, loan apps generally rob you of your hard-earned money.
And if you think that the interest rate is the only cost, you should think again. There are many hidden charges, such as maintenance fees, service or facilitation fees, and even penalties for defaulting in payment. Plus, you won't even receive the exact amount you applied because of the deductions.
b) Harsh Collection Request and Demand
Imagine your in-laws, parents in the village, the Mama Mboga next block, or your esteemed pastor receiving a call or SMS claiming that you listed them as guarantors for the loan.
It's just shameful, right? Well, that has happened to many who have defaulted or delayed paying their loans.
c) It's Addictive
If you ask most mobile loan app users, they'll tell you they have multiple loan apps or borrow from one to settle the other. The more they do it, the more debt they accumulate, and it's painful to pay back.
Some borrow for unnecessary reasons such as betting, buying credit, or going for a date or trip. That's just careless borrowing, in my view.
d) Debt Burden
Lastly, the more you borrow from loan apps, the more you sink into debt. The high interest and fees you pay mess you financially. It becomes harder to invest, let alone invest, since you've to allocate a chunk of your earnings to debt repayment.
But how do you avoid the loan app debt trap? Let's answer that next.
e) Reduces your Creativity to make money
When you know that cash is always available , your mind plays a trick on you and it becomes hard for you to critically think of great ideas where you can make some cash to meet your emerging needs.
How to Avoid the Loan App 'Debt Trap'?
A debt trap is when you cannot control your borrowing behavior and are forced to borrow to cover another. It's indeed hard to break out of the habit of borrowing from mobile loan apps, especially those without credit checks.
That, however, does not make it impossible. Personally, these tips have helped me avoid them:
a) Set Up an Emergency Fund
A large percentage of borrowers borrow from loan apps because of financial emergencies. That includes illness, car breakdown, unanticipated travel, funeral cost, and dried cash flow, to name a few.
Well, that's what an emergency fund is meant for. You can avoid borrowing when an emergency strikes by setting up one (which should be equivalent to your household's 6-month expense).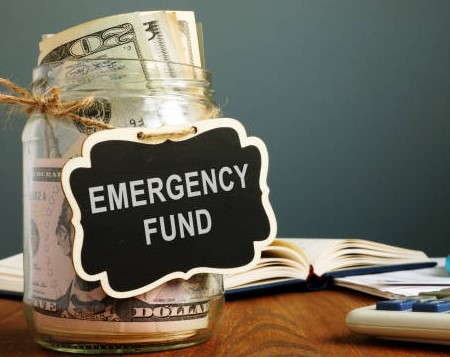 b) Prioritize The Needs
Knowing how to differentiate the needs from the wants is the key to living within your means. Most people borrow because they want to buy things they don't need and cannot afford.
So, if you can focus more on your needs, you will manage what you are making and avoid unnecessary borrowing.
c) Make Lifestyle Behavioral Changes
It's time you avoid keeping up with the Joneses and live your life. If you cannot afford something at a time, you don't have to borrow to get it. And if it means cutting down on some lifestyle or behavior which involves spending more than you make, then do it.
d) Budget! Budget! Budget!
You are likely to buy on impulse, overspend and fail to save up for emergencies because of failing to plan for your finances. Well, that's where a budget comes in.
It enables you to set priorities in your finances and account for every cent that goes out of your pocket. So, it's time you start budgeting.
e) Increase Your Income
One way to meet your ever-increasing needs and avoid stretching your paycheck is by finding a way to make more money. It may mean getting a part-time job, starting a side hustle, or taking a new investment.
Do what you must do legally to infuse more money into your pocket.
Do You Need Help Getting Out of the Loan App Debt Trap? We Can Help You!
At Cent Warrior, we promote a tribe of financially responsible and debt-shy individuals. We help you learn how to avoid all debt, live within your means, and pick the correct investments.
Our perception of debt is that there's no good debt; all debts are bad debts since you've to pay an interest that robs you of the opportunity to save or invest.
So, we do not advocate for loans or even loan apps without CRB check. Once you avoid all loans, then you'll avoid debt, and once you avoid debt, you can enjoy true financial fitness and independence.
Join the Cent Warrior Family on social media to get help on how to live debt free and financially fit using any of these handles: Twitter, Facebook, Instagram, YouTube, Instagram, or LinkedIn.