The increased popularity of online writing jobs in Kenya does not come as a surprise. One national survey by the Kenya Private Sector Alliance (KEPSA) shows that at least 1.2 million people in the country are working online, averaging Ksh 20,773 monthly.
So, while digital marketers lead the pack with a population of 461,523 people, the online writing space comes second with a working population of 266,402 (for academic writers) and 168,022 (for web article writers).
A report by The Standard shows that most Kenyans, especially the youths, get into online writing because of the lack of formal employment. For others, especially college students, it's an easy way to earn the extra buck and keep things going on campus.
Such people don't mind doing assignments for others in the name of academic writing to earn some quick dollars. However, some take online writing as a serious profession like any other.
They look for genuine online writing gigs and deliver top-notch content, and for them, writing pays their bills. That's the category that I'll focus on today.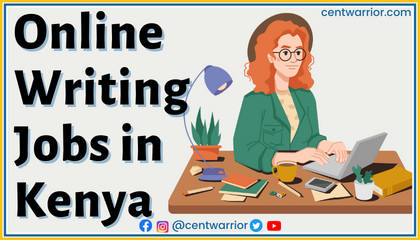 Here's what I'll talk about on matters of online writing:
What's online writing?
Types of online writing
Benefits of online writing
Disadvantages of online writing
What do you need to get started on online wiring?
How much do online writing jobs pay in Kenya?
How to get into online writing
Tips for getting online writing jobs
Online writing sins to avoid
Here we go!
What's Online Writing?
Online writing, as the name suggests, is an online-based job that involves creating content for blogs, online magazines, websites, social media accounts, and media outlets, among other information resources.
Your content as an online writer may range from web pages and blog posts to sales copies and reports. But overall, the content delivery depends on the types of online writing jobs (discussed next).
Types of Online Writing Jobs in Kenya
While most people think of academic writing (which is often cheating) when they hear of online writing, it's more than that. There are many legit online writing jobs, and it's not just about doing assignments for some lazy rich kids in the UK, US, and Australia.
Here are the most typical types of online writing jobs in the country:
1. Technical Writing
Technical writing involves writing complex pieces such as white papers, reports, user manuals, eBooks, how-to articles, and technical literature in a layman's language (easy-to-understand formats).
2. SEO Writing
SEO Writing is about writing content for websites to help them outrank others on search engines. That includes blogs, web pages, and product descriptions. In general, you need good SEO skills to do it.
3. Ghostwriting
Ghostwriting involves writing for someone and not getting credit for the job. So, the only thing you get is the agreed payment. Ghostwriters write eBooks, books, e-guides, resumes, blog posts, email content, lyrics, and newsletters.
4. Feature Writing
Feature writing involves creating human interest stories on topics like politics, food, technology, lifestyle, culture, and travel, among many others. So much creativity is required here, and examples of pieces you can write include columns, poems, short stories, blogs, satires, and op-eds.
5. Report Writing
Report writing involves writing detailed research-based reports and case studies. The writing job requires good research skills and communication.
6. Script Writing
Script writing, also known as screenplay writing, is all about writing scripts focusing on the words in the dialogue and the actions and expressions.
7. Copywriting
Copywriting is writing content that promotes a product or service. So, the goal is to encourage sales through writing, and it involves creating web copies, scripts, banners, slogans, emails, and product descriptions.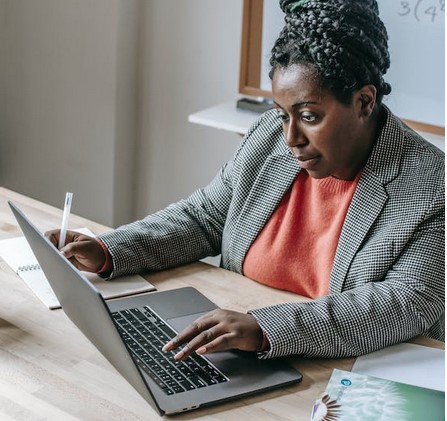 8. Online Academic Writing Jobs in Kenya
Also known as scholarly writing, academic writing ideally means doing assignments for others (which I advise against as it's outright cheating).
9. Journalism News Writing
Journalism news writing involves penning down the daily happenings before the information gets to the public. So, it's a fast-paced form of writing that best suits journalists.
10. Business Writing Jobs in Kenya
Business writing, sometimes known as communication writing, deals with creating write-ups like memos, sales pitches, emails, and speeches for business. You need to be up to date with the trending news in the business world to do it.
Others
Other types of online writing include Press Release Writing, Social Media Writing, Grant Writing, Legal Writing, Medical Writing, Course Writing, and CV Writing.
Benefits of Online Writing Jobs in Kenya
Now that you know what online writing is, why should you pursue this field? Essentially, online writing comes with these advantages.
Work freedom – With online wiring comes the freedom to choose where to work (even if it means going to the village) and what time to work (even if it means waking up at midnight). So, no paying office space or commuting expenses.
Well-paying gigs – Once you build a reputation online and the jobs start flowing, the pay usually is good. So many online writers, including myself, pay bills through online writing.
The option of earning passive income – Some online writing jobs allow you to earn passive income, which means you don't have to write all the time. They include blogging, eBook wiring, and course writing.
Get paid in dollars – Most online writing sites pay in dollars, and as you probably know, the dollar's value is at its highest ever. So, if you do the exchange, you'll have some good returns for your hard work.
High liquidity – Gone are the days when you had to wait weeks for your money after doing an online job. Nowadays, it takes days; some jobs pay via MPESA and PayPal.
Work as much as you can – With online writing, you can work with as many clients as you want and pick as many jobs as you can, which translates to more money. You can even have a team of writers working under you, enabling you to take a much bulkier load.
Learn every day – Online writing involves research. It's not always that you speak your mind. You must do research, enabling you to learn something new each time.
Disadvantages of Online Writing
Like every other job, especially online-based, online writing comes with a few downsides, such as:
Laxity – It's easy to over-relax and procrastinate when you control your work schedule. Unless you have the self-discipline to take online writing like any profession, you may become less productive, affecting your income.
Boredom from fewer interactions – Online writing converts you into a loner. You mostly spend most of your time locked indoors, denying you the opportunity to interact with real people. So, you quickly become bored.
Many distractions – Unless you lock yourself somewhere, which again may not be productive, you quickly get distracted working online. From kids (if you are a family person) to social media and home entertainment, distractions are everywhere, and it takes discipline to bypass them.
Internet dependency – Without the internet, you can't work online. That's the sad reality. So, you may be forced to move to enjoy reliable and affordable internet.
Burnout risk – The money can be tempting, and since you are likely to make more from working, you could suffer from exhaustion. You must have some breaks and do other things to attain a work-life balance.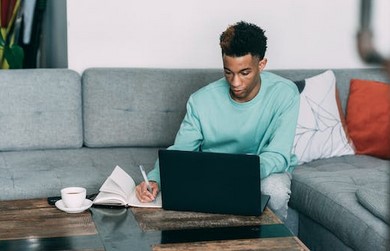 What You Need to Get into Online Writing
Though online writing is flexible and a free market, it's not for everyone. There are specifics that you've to comply with to get started, and they include the following:
Basic skills – You need good writing, computer, and research skills to become an online writer, and your grammar should be top-notch.
Essential tools of work – You at least need a computer, preferably a laptop, to work with. And if possible, you should have a dedicated workspace with an office chair and a desk.
Good internet – Besides having a computer, you need good internet to find clients online and do your research.
Additional tools of work (recommended) – Thanks to technology, a writing tool like Grammarly, can help you proofread your work and check for plagiarism. Its alternatives include the Hemingway App, Writing Aid, and PenStars.
Payment requirements – You need at least PayPal and bank accounts to get paid as an online writer in Kenya. And, of course, some jobs pay via MPESA, so you may also need to sign up for the mobile money service.
Other skills – You also need good financial or money management skills to thrive in the online writing sphere. Without good money management skills, you could waste away the money you earn, and that's where we come in as Cent Warrior. We can help you plan for your finances and avoid panic during the low seasons.
How Much Do Online Writing Jobs Pay in Kenya?
The amount of money you can make as an online writer depends on several factors, such as job type, hourly or fixed rate, and writing experience.
According to Paysacle.com, freelance writers in Kenya earn an average of Ksh 398.03 per hour, and according to Glassdoor.com, full-time writers in Kenya earn Ksh 55,000 – Ksh 70,000 per month.
But again, the more experienced you are, the more money you can ask for as a writer. And if you consider something like bogging, then you can make up to Ksh 10,000 or more.
How Can I Start Writing Online in Kenya?
Online writing is not as easy to penetrate as most people assume. So many try it but often give up along the way from frustration. Well, here are vital steps to entertain this challenging sector:
Step 1 – Learn to Write
You don't wake up one day and get a $100 writing job. You must learn the ropes, and that requires some effort. Sign up for a writing course; there are so many out there, others free, like what our Kenyan writer Walter Akolo from Freelance Kenya offers.
You can even get free online writing courses on Udemy, Coursera, Alison, and UDX. It's essential to insist that you may need to pay something to get more value as the free courses are primarily basics.
Step 2 – Choose The Type of Online Writing Job
As I shared earlier, there are many online writing jobs, and it's not just academic writing. Here's a list of the options I shared earlier:
Technical writing
SEW writing
Ghostwriting
Academic writing
Feature writing
Report writing
Scriptwriting
Copywriting
Journalism new writing
Business writing
Course writing
Legal writing
Medical writing
Grant writing
CV writing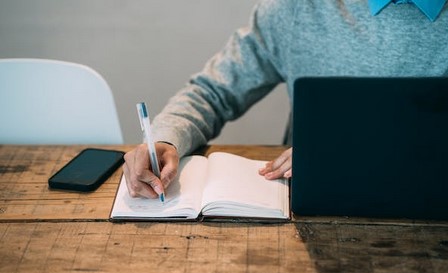 Step 3 – Pick A Niche
What area are you most knowledgeable about? What stuff are you interested in writing about? That should be your niche, and here are some ideas:
Health
Legal
Fitness
Real estate
Sports
Tech
DIY
Finance
Business
Fashion
Science
Parenting
Spirituality
News
Travel
Gardening
Step 4 – Create Your First Samples
How do you convince a client that you can write without a referral or website? That's by creating a few samples, at least 5.
That will give the clients an idea of your writing style, and if they like what they read, they'll hire you. You can even publish them on a free platform like LinkedIn or medium if you still don't have a website.
Step 5 – Set Your Rates
As a beginner, you should price yourself as expensive, and neither should you be cheap as the clients might think you are a low-quality writer. So, try to be in between. Most beginner writers start from $10 an hour and increase their prices gradually.
Step 6 – Look for Clients
Now that you have the skill and sample, you can start looking for work. Here's what to consider in your client searches:
Content mills – We are talking about online writing job sites here. Some of the best online writing sites in Kenya include Upwork, ProWriters Time, Falcon writers, Hire Writers Kenya, People Per Hour, and Textbroker.
Social Media – Social media platforms like LinkedIn, Facebook, and Twitter typically have online writing jobs if you search carefully. You can join writing communities there to network with writers and prospective clients.
Job boards – Some notable local job boards with online writing jobs include Brighter Monday, Career Jet, and Career Point. In contrast, international ones are Flexjobs, ProBlogger, Mediabistro, and Blogging Pro.
Cold Pitching – Cold pitching involves directly emailing prospective high-paying clients to sell your service. Though the rejection rate is higher because of the bulk of applicants, it's the easiest way to land a big buck client. You are more likely to succeed with a convincing portfolio and some referrals. And, of course, you must identify a problem you can solve.
Step 7 – Deliver Gold
After landing your first client, it's time to prove your worth by producing top-quality content. When creating high-quality content, you will most likely retain a client or get a referral.
And even if you don't, they will probably leave you good feedback, boosting your credibility when searching for the next client.
Additional Tips on How to Get Online Writing Jobs in Kenya
Remember three tips if you want to succeed as an online writer in Kenya:
Keep honing your writing skills
Sign up for jobs at multiple job sites and job boards
Leverage the power of social media (network with other writers) and blog if you can to create passive income
Read wide so that you can continue producing gold
Don't buy a writing account – You are more likely to get scammed. Instead, build one up.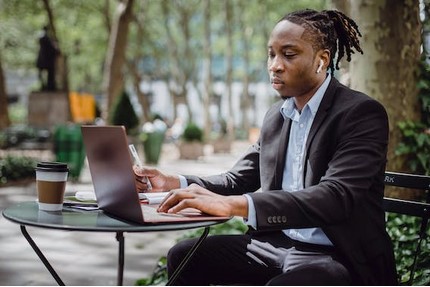 Online Writing Sins You Shouldn't Commit
Let's now talk about where it could all go wrong for you as an online writer. Here are the debaucheries you shouldn't commit:
Deliver plagiarized work – This is just unacceptable! Strive to produce 100% original work; you can use a tool like Grammarly (premium) or Copyscape to ensure that's the case.
Poorly written work – Your grammar should be top-notch, and avoid cheap spelling mistakes. Read everything to ensure that's the case, and use a tool like Grammarly to fix the errors you might have missed.
Miss deadlines – Most clients hate it when you miss a deadline, no matter how good of a writer you are. So, try to meet the deadlines, and if you can't, tell the clients in advance, at least before picking up the job.
Ignore clients' instructions – Clients also hate it when a writer can't follow instructions. They expect you to do it as they want, and if you need clarification from the client, make sure you get it before starting to work.
Use AI (Unless the client asks you, which is quite unlikely) – Now that we've artificial intelligence writing software, you may be tempted to use one when you are too lazy to write. That is a big mistake, as most clients can tell. After all, if they wanted to use AI, then they wouldn't have hired you.
Is Grandsky Writers Kenya Legit?
So many writers have come across the name Grandsky writers and wondered if they are legit. From my research, many red flags are associated with Grandsky writers, indicating they aren't legit.
For one, you need to pay $4.29 to activate your account, which doesn't make sense to pay to get a job/ only scammers ask for a fee beforehand.
Secondly, the website lacks an SSL certificate which shows it's unsafe and untrusted. Moreover, it has the lowest trust rating on scam-detector.com, proving they are not legit.
Closing Remarks
There is no denying the tremendous growth of online writing jobs in Kenya. There's also no denying this multi-million sector is a true economy, as many rely on these jobs to make a living.
Even though some are yet to take writing as a serious profession, it's probably a matter of time before they do, especially with this fast-paced economy and a youth-rich nation with a low employment index.
Also Read: