So, you've heard about online money-making opportunities and are wondering how to make Kshs 10,000 with your phone in Kenya? Well, all it takes is a problem-solving idea.
Just think about a common problem, research its solution if it's something you can solve, and go for it if it's profitable. That's how all businesses start, and you can do it with your smartphone.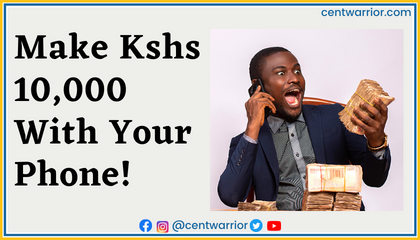 According to a Standard Media study, at least half of Kenyans now own a mobile phone, and the Communication Authority of Kenya confirms that the mobile penetration rate in Kenya is 133%.
Meanwhile, another research ranks Kenya 56 out of 190 globally among the best places to do business.
If we combine these studies, we can conclude that Kenya is a great land to do business and not just any business but an online business, which you can do with your phone.
But how do you start an online business in Kenya with your phone? What are the most lucrative online business ideas you can start with a smartphone?
Let's start with the first question.
BEFORE YOU CONTINUE…
Allow me to show you how I reclaimed my financial life from drowning in a sea of debt and trapped in a never-ending cycle of financial despair with over Ksh 3.5 million weighing me down.
Every day was filled with sleepless nights, anxiety, and constant fear of losing everything I had.

But then, against all odds, I discovered a life-changing path to freedom which helped me shatter the chains of debt in just 1.5 years, created a solid financial foundation and started building wealth.
And now, I have packaged all this knowledge in this SIMPLE e-book called Cent Warrior 10-Steps to Financial Freedom for you because I want you to WIN with money and change your family tree.
🟢 Get It here for FREE and change your life forever.
👉⏩ I WANT IT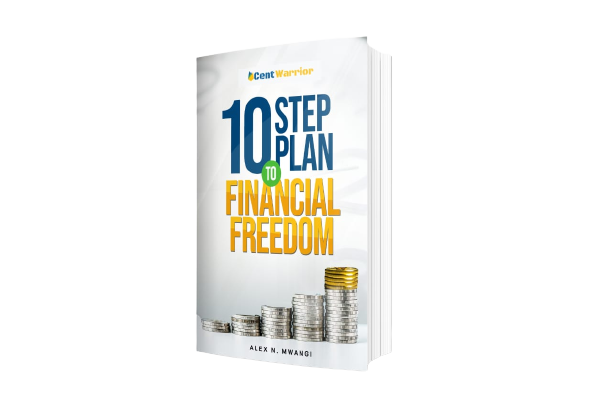 How to Come Up with an Online Business Idea That Can Make You Kshs 10,000 with Your Phone in Kenya
To develop a business idea that you can run with your phone, you've to ask yourself these sets of questions:
What are most people (especially Kenyans) complaining about or that they see as a problem?
Are the complainants many?
Is the problem something you can solve? Do you have the skill set to do it?
Has anyone addressed the problem satisfactorily?
How much will it cost you to solve the problem?
Can you turn it into a business?
What if things don't go to plan? Do I have a fallback plan?
Every business idea starts with identifying a problem (what people complain about). If many complain, that could become a business opportunity if you can solve it more than others (if any) and turn the solution into a business.
Don't forget to have a fallback plan just in case things don't work your way (and I'm not saying that things won't go to plan). Every business is a risk, no matter how lucrative the idea looks.
Let's now talk about the ideas.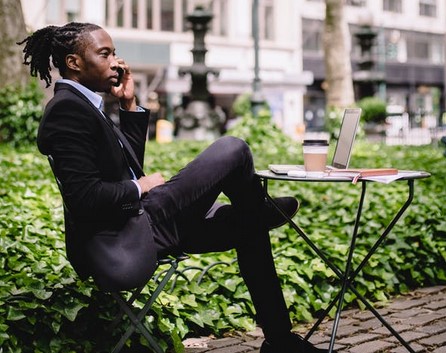 In a rush? Here's a quick Summary of the 20 online business ideas.
A Summary of Ways of Earning Money Online in Kenya (Up to Kshs 10000 or More) Using Your Phone
Ride-sharing driver
Food delivery rider
Blogging
YouTube channel
Online tutoring
Online influencer
Affiliate marketing
Dropshipping
Airbnb hosting
Virtual assistance
E-Book selling
Sell crafts
Online Marketing
Social media management
Stock photo selling
Selling secondhand items
House agent
Stock trading
App testing
Online research
20 Ideas on How to Make Kshs 10000 With Your Phone in Kenya
Perhaps you are not sure what business ideas to start with. If so, below are 20 online jobs in Kenya using smartphone:
1. Share a Ride
If you have a car you don't ride at all times; you can sign up with a ride-sharing service like Uber, Bolt, Little Cab, or Swvl and get to make your Ksh 10K in a week or two part-time.
Generally, Uber drivers make an average of Ksh 30,000 – Ksh 70,000 per month, depending on location and how often they drive. However, other platforms like Little Cab and Swvl pay slightly more.
2. Deliver Food
Perhaps you don't have a car, but you have a motorbike. If so, then you can sign up for food delivery. Platforms like Glovo, UberEATS, Yum Deliveries, and Jumia Foods allow you to make money by delivering food to people's doorsteps.
On Glovo, for example, you could make Ksh 35,000 on average or even more if you run extra errands. Thus, it's possible to make your Ksh10K in a week.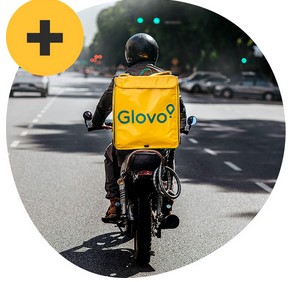 3. Run a Blog
Blogging is one of the most lucrative online side hustles if you have good content and a sizeable target market. For example, I run this blog and a few others, and I cannot regret venturing into this business.
Most established bloggers in Kenya, like Walter Akolo (of freelancerkenya.com), Robert Alai (of Kahawatungu.com), Martin Gicheru (of Tachweez.com), and Cyprian Nyakundi (of cnyakundi.com) make Ksh 250K – Ksh 700K per month.
Consider platforms like Bluehost and Name Cheap, which allow you to sign up for a domain and host your blog cheaply, enjoy high uptime, fast loading, ample storage, and top-notch security, among other advantages.
4. Become a YouTuber and Make Kshs 10000 with Your Phone in Kenya
YouTube is another platform where Kenyans with smartphones are reaping huge. Celebrities like Diana Bahati and her husband Bahati, Churchill, and Sauti Sol make up to Ksh 1 million monthly from YouTube.
Perhaps you think that YouTube is for celebrities? No, YouTube sensation Eve Mungai, for example, only became popular on YouTube. YouTube made her a star, and she's now minting millions from YouTube yearly.
Remember, it's free to sign up on YouTube, and you can create content about anything ranging from cooking lessons to DIY projects.
5. Start Online Tutoring
You don't need a laptop to tutor online. You can do it using platforms like Zoom and Google Hangouts, which is achievable with your phone.
Some best sites to tutor kids online include Preply, Tutor Me, and Skooli. Depending on the lesson and your expertise, you can make $20-$40 an hour. That's roughly Ksh 2K – Ksh 4K, and it'll therefore take five lessons at most to make your Ksh 10,000.
6. Become an Online Influencer
If you have attained 'celebrity status' or command a good following online, you could start looking for online influencer gigs. Sensational TikTok dancers like Azziad Nasenya and Moya David are milking millions from TikTok and the brands they promote.
It starts with a talent you showcase on social media, earning you followers. Once you have the followers, brands will search for you, not the other way around, and they'll pay you to endorse them.
7. Sign Up for Affiliate Marketing
If you are good at promoting products online, whether it's through social media or your website, you can earn as an affiliate marketer. A platform like Jumia pays you an 11% commission, while Kilimall allows you to receive up to 8% from every item you promote and sell.
It's usually easy when you have a large following, as you only need to post the product, and once your audience buys it, you earn your commission.
8. Try Dropshipping and Make Kshs 10000 with Your Phone in Kenya
Perhaps you would want to sell specific merchandise online, but you don't have money for the stock. If so, consider drop shipping. The model allows you to advertise products without keeping the inventory, wait for the orders, and pass them to the supplier for fulfillment.
So many Kenyans are earning that way, and their leading advertisement platform has been social media, especially Facebook.
9. Rent an Extra Bedroom on Airbnb
Do you have a spare bedroom that you rarely use? Perhaps you can turn it into a rental space through Airbnb and get to make Ksh 1,000 – Ksh 3,000 per night, according to the Business Daily.
In such a case, you could make your Ksh 10K within a week or at least ten days without doing anything special. That's another way to earn passive income.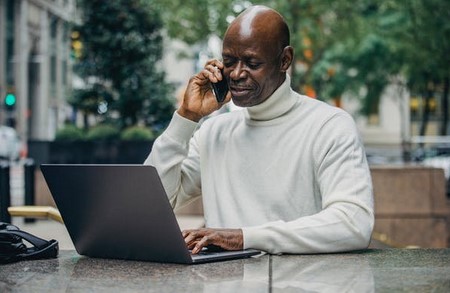 10. Become a Virtual Assistant
Are you good with offering customer support, scheduling meetings, and general secretarial work? If so, then you should try doing virtual assistance.
Platforms like Upwork and PeoplePerHour allow you to make $20 – $40 an hour as a virtual assistant, which means you can make your Ksh 10K in 3 days.
11. Create an eBook (How to Make Kshs 10000 with Your Phone as an e-Book Writer in Kenya)
Put your exceptional writing skills into creating an e-book and selling it online. A platform like Amazon Kindle allows you to keep up to 70% of the commission.
So, for example, if you sell a copy of your book at $50, you only need to sell 20 copies to make Ksh 10,000.
12. Sell Crafts Online
If you are handy and can create pottery, jewelry, miniature, woodwork, and beadwork crafts, then you can use your phone to sell them. You can do that via social media, especially Instagram and Facebook, or through a platform like Etsy.
If you are noble at what you do, it's easy to make Ksh 10K from just a few sales.
13. Get Paid as an Online Marketer
The digital marketplace continues to revolve, and very few people in Kenya understand it. Thus, if this falls in your portfolio, it's time you make money out of it.
Use social media or platforms like Upwork and PeoplePerHour to find clients looking for digital marketers and apply. You can also advertise yourself on these platforms by creating an eye-catching profile.
14. Manage Social Media Accounts and Make Kshs 10000 with Your Phone in Kenya
Most celebrities in Kenya don't have the time to manage their social media accounts. Others don't even understand how things go on such platforms and need someone with the know-how to help them.
So, if you are tech-savvy and know your way in and out of Facebook, Instagram, and Twitter, consider looking for social media account management jobs. Some clients pay as much as Ksh 50K – Ksh 100K or more.
You can reach out to celebrities directly and apply for the job.
15. Sell Photos Online
Are you good with taking photos with your smartphone? Can you take beautiful and unique images of people, animals, tourist attractions, and nature? Then you put your phone to better use and start selling these photos on stock sites.
Platforms like Shutterstock, Getty Images, Alamy, and Dreamstime allow you to earn royalties or commissions when clients buy your photo. So, it's a brilliant idea to make passive income.
16. Sell Secondhand Items
Most people prefer to buy home appliances and furniture secondhand since they cannot afford new ones. So, you can tap into that and start selling to them.
You don't have to have all the items, but you can buy them, improve them if necessary, and sell them at a profit. That's possible on Facebook and Instagram marketplaces, PigiaMe, Jumia Deals, and Jiji.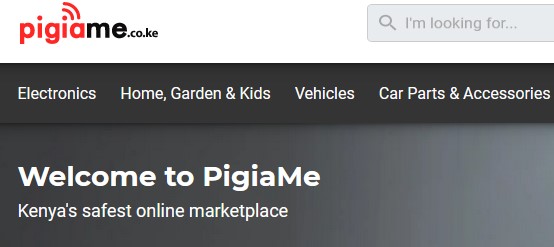 17. Become a House Agent
People are always looking for the next available house or business room. As a house agent, you can help them find the most available rental spaces at a fee.
I know of local house agents who charge a viewing fee per client, whether you take the house or not, and a commission after you like the space and are ready to move it. Plus, they also get a commission from the property owner.
While you may need to register your business eventually and have a permanent establishment from which you can run it, that can come later once you start making money. So, this is something you can run from home in the meantime.
18. Trade Stocks Online and Make Kshs 10000 With Your Phone in Kenya
If you understand how the stock trade works or are prepared to research and learn, you can try online trading through a platform like Olymp Trade. The platform allows you to try it before investing in actual cash.
Also Read: CIC Money Market Fund
19. Test Apps
A platform like UserTesting allows you to test apps from different clients and leave a review and get to make about $10 per test. If you do one test a day, you'll only need ten tests to make your Ksh 10K.
20. Become a Research Respondent
Lastly, you can sign up with a research platform like Respondent.io and get to make money responding to online surveys and researches. On average, you can make $10 per response, which means you need to take 10 tasks to make $1000 (equivalent to Ksh 10,000)
Closing Remarks on making Kshs 10000 in Kenya Using Your Phone
Above are some of the most lucrative ideas on how to make Kshs 10000 with your phone in Kenya. Therefore, you can research them and pursue the idea that suits your skillset the most, and one you can turn into a profitable business in your area of choice.
Remember, you are not limited only to Kenya, as the internet has turned the whole world into a community accessible by everyone with a phone. So, you can still make money from Kenya while selling to guys abroad.
Also Read: