Over the last six years, Kenya's real estate industry has seen an annual growth projection of about 6.4%, according to Cytonn. Yet, few people own physical properties, which is where Real Estate Investment Trusts or REITs in Kenya come in. 
REITs allow willing investors like you and me to invest in real estate without physically holding property and earn dividend-based income or capital gain in case the assets appreciate. 
Currently, there are 3 Capital Markets Authority (CMA approved) REITs: Fahari IREIT, Acorn ASA D-REIT, and Acorn ASA I-REIT. 
Overall, the Kenya REIT sector only enjoys 0.07% of the country's GDP, according to the Cytonn Report. The rate is much lower if compared to the US (3.4%), the UK (7.1%), and Australia (7.9%). 
But given that you can invest in REIT with as little as Ksh 1000 or less, more Kenyans are likely to hold units in the REIT sector. It all starts with information, and that's where this guide comes in.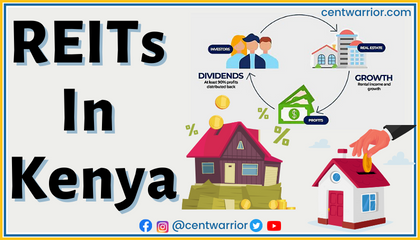 Here's what you'll learn:
What's a REIT?
How do REITs work?
Who makes the REITs ecosystem?
What's the structure of a REIT?
What are the different types of REITs?
Why invest in REITs?
What are the drawbacks of REITs?
How do you invest in REITs in Kenya?
How do you buy REITs in Kenya?
What's A REIT?
REITs (short for Real Estate Investment Trusts) are investment companies that use pooled money to buy, build, and manage real estate properties or assets and allow the investors to earn dividend-based income or capital gains. 
These companies manage apartments, office buildings, shopping complexes, storage facilities, and healthcare centers, among other real estate forms. 
Historically, REITs are known to produce higher yields than traditional real estate investments because of their diverse portfolios. And from an investor's perspective, REITs are an easy way to invest in real estate and even regular income without physically owning the property.
As I mentioned, you don't need a lot to get started; a thousand shilling or thereabout will do.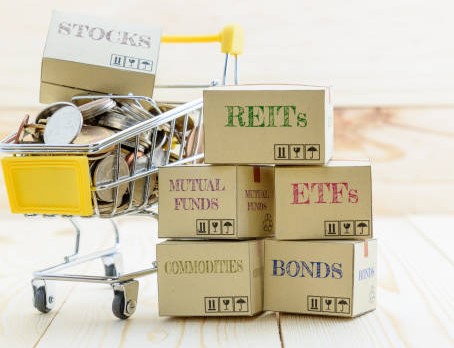 How Do Real Estate Investment Trusts Work?
Real estate investment trusts have a similar working model to mutual funds. Like mutual funds, they allow investors to buy units or shares in a given real estate portfolio.
The real estate portfolio then receives income from the property it owns or manages and distributes the interest earned or rent collected to its investors (or members) as dividends. 
So, the more units or shares you hold (representing your investments), the more dividends you receive. 
REITs Ecosystem 
Overall, the REIT ecosystem features several parties whose contribution is essential for the running and success of the investment plan. These parties are:
Promoter – The promoter sets up the REIT scheme and issues the securities. What is more, the promoters seek approval from the CMA.
Trustee – The trustee is the company or individual certified by the CMA (Capital Markets Authority) to oversee the day-to-day management of the REIT. The trustee ensures the REIT complies with CMA regulations and the Trust Deed. Additionally, the trustee appoints the REIT manager and acquires properties on behalf of the REIT investors overseas dividend distribution, among other oversight roles. 
The REIT manager – The CMA-certified trustee appoints the REIT manager to set up and manage the real estate investment portfolio. The manager acquires, manages, and disposes REIT properties on behalf of the investors. Moreover, the REIT manager appoints the service providers and property managers. 
Service providers – Service providers are appointed by the CMA-approved trustee to offer operational services to the REITs' property valuers, property managers, legal advisers, auditors, tax advisors, and structural engineers.
Project (or property) manager – The property manager, whom the CMA-approved REIT manager appoints, provides management services at a fee.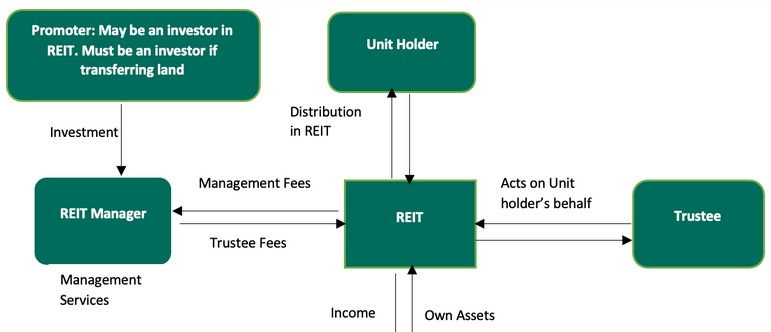 REITs Structure in Kenya
A REIT can either be an open or closed-ended structure, and it's possible to convert them from one structure to the other. 
An open-ended REIT structure allows the shares or units to be issued or even redeemed anytime, and the redemption price or investment value depends on the net assets. 
Overall, the fund size value fluctuates depending on the rate at which the investors acquire and dispose of securities.
The outstanding shares in a close-ended circuit are fixed, and the price depends on how much investors are ready to pay. So, the price fluctuates during a trading day depending on demand and supply forces.
Types of Real Estate Investment Trusts in Kenya
Currently, there are two types of REITs in the country, and they are:
1. I-REITs (Income REITs)
I-REITs purposely Invest in income-generally properties such as residential and commercial real estate. Here, investors make money through rental income, capital gain, or both, and the income is distributed at an agreed-upon time. 
One NSE-traded REIT that falls in this category is the Stanlib Fahari I-REIT, and the other is Acorn ASA I-REIT.
2. D-REITs (Development REITs)
D-REITs allow investors to invest in development land, and the portfolio incorporates commercial and residential land development projects. Investors make money from capital gain (profits from buying and selling the property). 
One REIT that falls in this category is the Acorn Student Accommodation Development REIT (famously Acorn D-REIT). Acorn D-REIT is the company setting up Qwetu.
Note:
Some countries have Islamic REITs, but we don't have them in Kenya today. 
Why Invest in REITs?
Are REITs a good investment? That's what most people ask when they learn about REIT investments for the first time. Well, REITs are worth considering because of these advantages:
Long-term return – REITs promise competitive dividend-based income for the long term, depending on the asset's performance and the market forces.
Consistent income – REITs typically distribute 80% of their after-tax profit to their unit holders or investors as dividends at an agreed-upon time. In that case, REITs promise predictable income annually. 
Liquidity – REITs offer unit holders the freedom to buy and sell units/shares at will. That means you can cash in anytime you think it's right. 
Tax benefits – REITs are exempted from a few taxes such as stamp duty, capital gain tax, value-added tax, and even income tax (apart from payments or withholding tax on dividend and interest income).
Portfolio diversification – REITs invest in various real estate investments, from shopping complexes and offices to industrial and residential projects.
Professional management – REITs are managed by professionals who understand the market and know how to manage real estate projects wisely. For example, the project manager oversees the construction project while the REIT manager offers real estate management services. The trustee, on the other hand, assesses the investment's feasibility. 
Transparency – REITs have a clear structure of running things and are CMA regulated, thus transparent.
Affordability – It doesn't take a lot to buy REIT units. For example, you need a minimum of Ksh 700 to buy Fahari IREITs, making the investment affordable.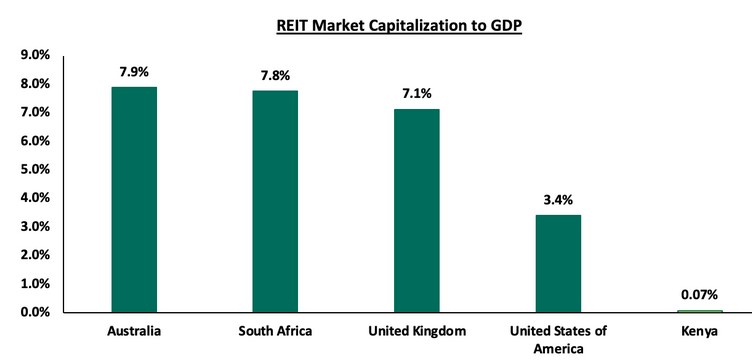 The Drawbacks of REITs in Kenya
As promising as REITs are, there are a few drawbacks that come with these investments, and they are:
Inconsistency – The rental income may be inconsistent due to lease termination, failure to renew leases, and inability to get tenants in time. And as a result, the earnings you receive as an investor can be inconsistent too. 
Instability – Like every other real estate investment vehicle, REITs are not immune to inflation. Once the economy depresses, the REIT property market depreciates. 
Tax changes – Though REITs are exempted from some taxes, you cannot predict what will happen in the future. Tax reforms could mean additional taxation, and that reduces the dividend. 
Overconcentration – Some REITs only concentrate on a single property line which exposes it to an economic downturn. For example, a REIT that only invests in commercial rental may find it hard to stand against an economic tide, as in 2020. 
How Do You Invest in REITs in Kenya?
Generally, you can invest in REITs in Kenya by buying the units/shares through any of the following:
Nairobi Securities Exchange (NSE) – You can buy REITs on NSE in the same fashion as buying shares. 
Broker – Visit a local broker and ask about REITs, especially the Stanlib REIT. 
Mutual fund – Look for a mutual fund interested in real estate investment or an option with REIT in its portfolio and ask about REITs. 
How to Buy REITs in Kenya?
Given the availability of the three best REITs in Kenya (Fahari IREIT, Acorn ASA D-REIT, and Acorn ASA IREIT), you can easily buy REITs and become a unit holder, and here's how to go about them:
ILAM Fahari IREIT
To buy Fahari IREITs, you require a CDSC account (similar to what you use to buy shares), and you can set one up with the help of a certified stockbroker.
The minimum number of units/shares you can buy from ILAM is 100, which costs about Ksh 700.  The ILAM Fahari IREIT is the only NSE-traded REIT in Kenya. 
Acorn D-REIT and Acorn I-REIT
Acorn Holdings Limited issues both Acorn D-REIT and Acorn I-REIT. They are listed on the Unquoted Securities Platform (USP), a less-known NSE section.
As a result, you can't trade them like you do ILAM Fahari REITs. Instead, contact the relevant USP participating agents, and they include:
Faida Investment Bank
Standard Investment Bank 
Sterling Capital Ltd 
Waanzilishi Capital Ltd 
Kestrel Capital Ltd
Liaison Financial Services Group
Acorn Investment Management Ltd (AIML) developed VUKA to allow investors to sign up for an account and start investing. You can therefore register on-site and start trading Acorn ASA I-REIT or Acorn ASA D-REIT on the VUKA platform.
The lowest package for investors (the Silver Package) only costs Ksh 998, whereby 50% of the amount is the joining fee while the other 0% is the annual fee. So, basically, it's easy to invest on ASA D-Reit and ASA i-Reit on the VUKA platform.
Closing Thought
Above is everything to know about REITs in Kenya. REITs are worth investing in because of their advantages, such as long-term returns, liquidity, consistent income, tax advantages, and portfolio diversification. 
After all, it doesn't take much money to do it, and it's the perfect opportunity to become a real estate investor without physically holding a real estate property. 
But before you do, you may want to talk to a real estate expert. You can also reach us on social media, and we'll gladly address your concerns. 
Also Read: