As an investor, you want your money to work for you, bring higher returns, and have a low-risk profile. That's what the Sanlam Money Market Fund and many other Money Market Funds (MMFs) in Kenya promise.
Established in 2014, the Sanlam Money Market Fund is one of Kenya's fastest-growing Money Market Funds. It currently has a portfolio size of Ksh 15.3 billion and is known to allocate most assets to cash and bank deposits (61%), while treasury securities and corporate debt take 22% and 17%, respectively.
The Sanlam MMF is a massive attraction due to its minimum investment amount of Ksh 2,500 and impressive annual yield rate, which, the last time I checked, was 9.53%. They also have a smaller yearly management fee (1.2%), no initial fee, and enjoy a monthly income distribution frequency.
Overall, there's so much to know about Sanlam and its Money Market Fund, which I'll share here.
But first, let me explain what a Money Market Fund is, how it works and why you should choose Sanlam as your next Money Market Fund partner.
Join our non-conforming tribe of financial warriors here: Instagram, Facebook, YouTube, Twitter and LinkedIn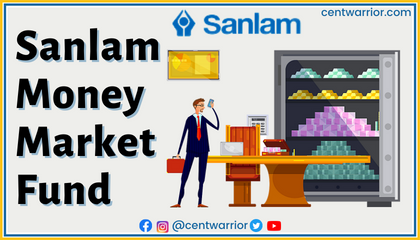 In a rush? Check out the fact sheet below that outlines the basics of the Sanlam MMF.
Sanlam Money Market Fund Fact Sheet
| | |
| --- | --- |
| Launch Date | November 18th 2014 |
| Portfolio Size | Ksh 5.3 billion |
| Initial Fee | Nil |
| Minimum Investment | Ksh 2,500 |
| Minimum Top-Up | Ksh 1,000 |
| Effective Annual Yield | 9.53% (as of 27th November 2022) |
| Annual Management Fee | 1.2% |
| Income Distribution | Monthly |
| Risk Profile | Conservation |
| Asset Allocation | 61% (cash and bank deposits), 22 % (treasury securities), and 17% (corporate debt) |
| Fund Manager | Sanlam investments East Africa Ltd |
| Custodian | Stanbic Bank Kenya (Tier-1 Bank) |
| Corporate Trustee | Stanbic Bank Kenya |
| Auditor | PWC |
What Is a Money Market Fund?
A Money Market Fund (shortened as MMF) is a type of Unit Trust where pooled funds are invested in short-term investment instruments such as treasury bonds, bank deposits, and treasury bills through a licensed fund manager.
The fund manager, which in the case of Sanlam is Sanlam Investments East Africa Limited, is licensed by the Capital Market Authority (CMA).
I know I've mentioned three terminologies: Unit Trust, pooled funds, and investment instruments which can be confusing.
Let me explain the three so that you can have a better understanding of what the Money Market Fund is.
What Are Pooled Funds?
Pooled funds refer to money that two or more people invest with the help of a money manager.
What's A Money Market Investment?
A money market investment involves the Unit Trust issuing money in exchange for interest or periodic cash flow. But once the investment (cash deposit) reaches maturity, the Unit Trust gets the principal invested.
Sometimes, money market instruments are known as investment securities, and examples are:
Fixed deposits
Treasury bonds
Corporate bonds
Treasury bills
Commercial; papers
Bank deposits
What's A Unit Trust?
Before I can explain what a Unit Trust is, let me explain the term Collective Investment Scheme (CIS).
A Collective Investment Scheme is an entity that allows a professional fund manager to invest and manage pooled funds on behalf of its investors.
One type of CIS is the Unit Trust, but we also have others, such as mutual funds and Employee Share Ownership Plans (ESOP).
Now back to Unit Trust;
A Unit Trust is a type of CIS where pooled funds are invested in equities and money market instruments (mentioned earlier).
Hoping that the term Money Market Fund is clear, let's discuss how it works, its benefits, and its risks.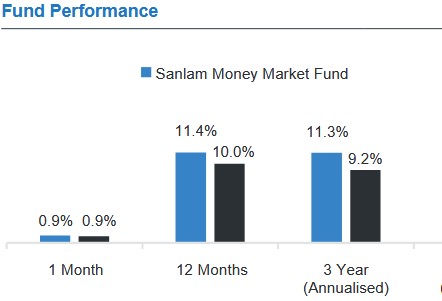 How Does the Sanlam Money Market Fund Work?
Like every Money Market Fund, the Sanlam MMF assembles a portfolio of short-term investment securities such as cash and bank deposits, treasury securities, and corporate bonds and sells the shares to its investors. The investors, in turn, earn capital gains and income from their investments.
But Is Sanlam a Good Investment?
Here are why you should choose Sanlam as your Money Market Fund investment option.
Interest Compounding – Sanlam calculates the interests daily and distributes them monthly, but that's not all. They also allow you to earn interest from previous months.
Fast withdrawal – Sanlam allows you to access your funds within three days upon an email notice or request through the online portal.
Investible – The minimum investment amount is Ksh 2,500, there's no initial fee, and you only incur 1.2% in the annual management fee. That makes the Sanlam MMF investible (cheap to invest).
Easy top-up – Not only is Sanlam MMF cheap to invest in, but the top-up also doesn't take much. The minimum amount is Ksh 1,000.
Reasonable rates – As I mentioned, the effective annual yield as of 27th November 2022 was 9.53%, which is pretty decent. I'll share the rates later to help you understand the progression.
Investment security – Though there's always the risk of losing your investment, Sanlam's primary goal is capital preservation. They strive to protect your investment by making the right investment decision.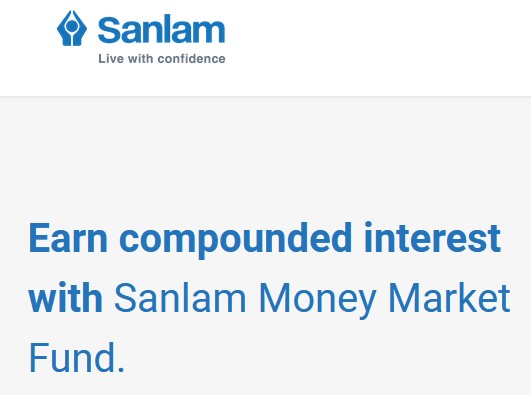 What Are the Risks of the Money Market Fund by Sanlam?
The biggest risk in Money Market Funds is Credit Risk, and Sanlam MMF is no exception. Though the fund enjoys a conservation risk profile, it's not government-insured.
Given how volatile the money market is, there's no guarantee that you won't lose your money.
But, as I mentioned, Sanlam strives to make investment decisions that protect your money, which is why the risk is lower. Of course, some things are beyond their control, such as the weakening shilling, which as of November 2022, weakened by 0.8%.
The other risk is that the Money Market Fund interest rates are rarely predictable. They vary from time to time (sometimes even between days), which makes it hard to determine how much you'll receive.
Of course, when the rates go up, you earn more. The concern is when they go down. Let's share more about the rates next.
Sanlam Money Market Fund Interest Rates
As of 27th November 2022, the effective annual yield rate by Sanlam MMF was 9.53%. Note, however that past performance does not always indicate future performance.
For example, the annual yield for 2021 was 9.30%, and if you go back three years (2018 – 2021), the average yearly yield was 9.17%. Here is a table overview of the rates in recent years.
| | |
| --- | --- |
| Period | Annual Yield |
| 2022 (as of 27th November) | 9.53% |
| 2018 – 2021 | 9.17% |
| 2016 – 2021 | 8.95% |
How to Join Sanlam Money Market Fund?
Let's now talk about the sign-up process. Sanlam allows you to join their Money Market Fund online, and here are the steps for securing a members account.
Step 1 – Download the Sanlam Money Market Fund Application Form
Sanlam allows you to download any of these application forms:
Individual application form
Joint application form (for up to3 applicants)
Corporate application form (for companies and organizations).
We'll use the individual application form as a reference in this sign-up process.
Step 2 (Fill Out the Application Form)
The individual application form has different sections that you need to fill out, such as:
Investor details – (such as the title, name, date of birth, ID/passport no, gender, nationality, residence, county, KRA PIN, mobile number, marital status, postal address, code, and town, among others)
Source of fund (where the options include salary, sales of shares, loan, dividend, rental, or property sale)
Customer bank details (such as the bank account name and number and the bank name and branch)
Investment details (where you indicate how much you want to invest but keep in mind that the minimum is Ksh 2,500)
Payment method (the options are check deposits, direct transfers, direct cash, and MPESA)
Beneficiaries (where you list up to 3 beneficiaries and their relevant details)
General details (where you mention if you have previously invested in the company Unit Trust or if you are a Sanlam employee, among others)
Tax status (where you answer tax-related questions)
Other details (such as residential address inquiry and risk assessment)
Step 3 (Append Your Signature)
Once you fill out the application form, you'll need to add your signature and declare that you understand the terms and conditions. So, append your signature to all relevant sections and include your name and date.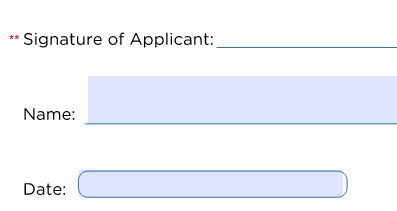 Step 4 (Attach The Relevant Documentation)
You'll need to accompany your application with several documents copies which include the following:
KYC (know your client) documents, which include a copy of your ID passport, Pin certificate and tax exemption certification (optional), and a passport-size photo
Bank copy (ATM card, an original canceled cheque, or bank statement)
Investment proof (MPESA transaction number, RTGs, or cheque)
Step 5 (Make A Deposit)
There are a couple of ways to deposit to Sanlam for your account opening. One way is through the Sanlam Unit Trust account number (0100003738118), where the account name is Sanlam Unit Trust, the Bank is Stanbic bank, the branch is Kenyatta Avenue, and the swift code is SBICKENX.
Alternatively, you can use Sanlam MMF's pay bill number 888111 and pay to account number 0100003738118.
Step 6 (Submit The Application)
Lastly, send your application to Sanlam with the proof of payment using the email address clientservice@sanlameastafrica.com.
Speaking of proof payment, it can be any of these:
A screenshot of a bank transfer
MPESA transaction message with reference number, date, and time
Signed cheque
Cash deposit slip copy
How to Withdraw Money from Sanlam Money Market Fund?
Sanlam allows you to withdraw your funds through their online portal or by sending them an email. It usually takes up to 3 days to process your funds.
Remember to input your name, member number, and the amount you want to withdraw when requesting a Sanlam Money Market Fund withdrawal via email.
Sanlam Money Market Fund Contacts
For more information, you can contact Salam using any of these ways:
Email – info@anlameastafrica.com
Tel – +254 (20) 4967000
Mobile +27 (20) 791 067 000
Instagram, Facebook, Twitter, and LinkedIn – @sanlaminvestemntsEA
Alternatively, you can download the Sanlam Unit Trust application to access your account on your mobile phone, check your balance, make withdrawal requests, and download statements.
Closing Remarks
Above are the basics of the Sanlam Money Market Fund. Undeniably, Sanlam offers some fantastic offers for someone looking for a low-risk investable Money Market Fund or Unit Trust. That includes a decent annual yield, low fees, and fast withdrawal.
So, while several Money Market Funds exist, such as the CIC Money Market Fund, Zimele Money Market Fund, and Britam Money Market Fund, and they promise different perks, Sanlam offers something different and attractive, and that's what I have covered in this review.
Also Read: