Every mutual fund investor wants a low-risk, high-yield investment vehicle, and that's where the CIC Money Market Fund (MMF) comes in. According to a Cytonn Report, the CIC MMF enjoys the largest mutual fund market share in the county (at about 41.4%) and ranks 5th nationwide in the annual rate, which currently stands at 8.7%.
Another report by the Capital Markets Authority shows that CIC Asset Management Limited, the fund manager, enjoys a 40.46% Unit Trust market share, which is the largest. Evidently, the Money Market Fund by CIC is something worth giving a thought of as an investor.
This article will help you understand how CIC Money Market Fund works, why it should be your mutual fund investment vehicle, and how to join it.
But first, let's look at what a Money Market Fund is. Here we go!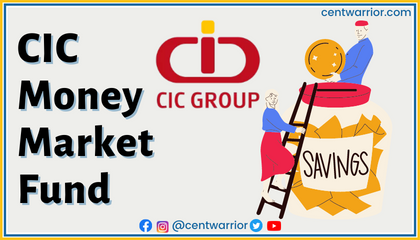 In a rush? See below a CIC MMF fact sheet that outlines the fund's basics.
CIC Money Market Mutual Fund Fact Sheet
| | |
| --- | --- |
| Launch | 11th June |
| Fund Manager | CIC Asset Management Limited |
| Custodian | Co-op Custodian Services |
| Trustee | Kenya Commercial Bank |
| Auditors | PWC |
| Risk Profile | Low risk |
| Initial Fee | Zero |
| Minimum Investment | Ksh 5,000 |
| Minimum Top-up | Ksh 1,000 |
| Effective Annual Yield | 8.71% |
| Annual Management Fee | 2.0 % |
| Distribution | Monthly |
BEFORE YOU CONTINUE…
Allow me to show you how I reclaimed my financial life from drowning in a sea of debt and trapped in a never-ending cycle of financial despair with over Ksh 3.5 million weighing me down.
Every day was filled with sleepless nights, anxiety, and constant fear of losing everything I had.

But then, against all odds, I discovered a life-changing path to freedom which helped me shatter the chains of debt in just 1.5 years, created a solid financial foundation and started building wealth.
And now, I have packaged all this knowledge in this SIMPLE e-book called Cent Warrior 10-Steps to Financial Freedom for you because I want you to WIN with money and change your family tree.
🟢 Get It here for FREE and change your life forever.
👉⏩ I WANT IT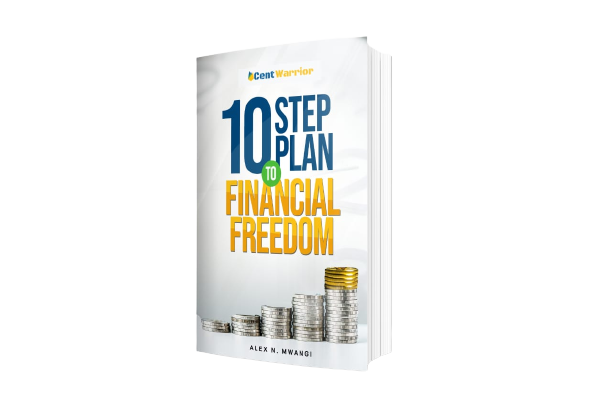 What's a Money Market Fund?
A Money Market Fund (MMF) is a mutual fund that invests in short-term, low-risk, highly liquid securities such as cash, cash-equivalent securities, and short-term debt-based securities.
MMFs generally offer investors high liquidity while enjoying a low risk, and they have short-term maturity. Money Market Funds are sometimes known as Money Market Mutual Funds (MMMFs).
Though these securities are not as highly safe as cash, they enjoy a lower risk than other mutual funds and, thus, a good savings plan.
How Does CIC Money Market Fund Work?
The CIC Money Market Fund is ideally a savings plan, and like every savings fund, you've to deposit some money (minimum of Ksh 5,000), pay an annual maintenance fee (of 2%), and wait to earn a yearly interest (8.71% at the time of writing).
What's more, the minimum you can top up to your member's account is Ksh 1,000. CIC allows you to make withdrawals once a month on short notice, and they take 2 – 4 days to credit your bank account.
The company normally calculates the interest daily, which it credits at the end of the month. Overall, the more the investment (or deposit), the more competitive the rates.
Why CIC Money Market Fund?
As the largest Money Market Fund by market share, CIC MMF promises the following:
High liquidity – CIC allows you to withdraw your fund on short notice. It usually takes 2 – 4 days to have your money.
Low-risk investment – No mutual fund is risk-free. However, the risk rate regarding CIC MMF is pretty low.
Flexible transfer – The CIC MMF allows you to easily transfer your money to another mutual fund, something you don't get from some mutual funds.
Good yield – At the moment of creating the article, the annual yield rate was 8.71% which is pretty decent.
Low investment limit – CIC allows you to invest a minimum of Ksh 5,000 and make a minimum top-up of Ksh 1,000.
Lower fees – CIC doesn't charge an initial fee. So, it's zero. They, however, have a yearly management fee of 2%.
Professional management – CIC has a team of seasoned mutual fund professionals who are there to walk with you all the way.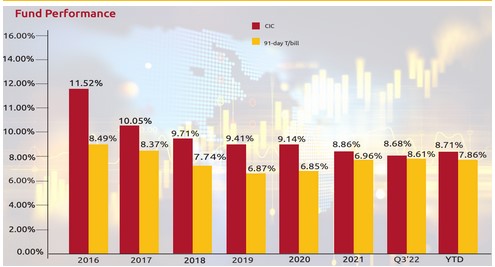 How to Join CIC Money Market Fund? (Signup)
Generally, here's how to open A CIC Money Market Fund:
Step 1 (Download the investment application form)
CIC offers three types of investment application forms on its website for the following groups of investors:
Individuals
Joint members (up to 3)
Corporates (companies, SACCOs, partnerships, societies, NGOs, Trust Funds, and associations)
Step 2 (Fill out the application form)
After downloading the investment application, you should fill it out. For example, here is the critical information to include in the individual application form:
Personal data of the applicant (title, name, gender, date of birth, ID/passport number, marital status, mobile number, KRA PIN, email, town, code, and nature of business)
Source of funds (whether its salary, savings, inheritance, gift, loan, shares sale, or property disposal)
Customer bank details (bank name, account number, account name, branch name, and whether it's a savings or current account).
Investment details (indicate how much you'll be investing, keeping in mind that the minimum investment amount is Ksh 5,000)
Payment method (indicate whether it's by cheque, MPESA, direct transfer, or cheque deposit/direct cash)
Preferred mode of getting statements and correspondence (choose if it's by email or post) post correspondence will cost you Ksh 50, but the email correspondence is free.
Beneficiaries' information (indicate their name, date of birth, ID, relationship, and preferred share)
Other details – They include general information, residential details, and risk assessment details
Step 3 (Append your signature)
You'll need to append a signature under personal details, customer bank details, and declarations. Ensure the signatures match for easy account processing.
Step 4 (Attach the necessary documentation)
You'll need to accompany the application form with the following documents:
ID/passport copy
KRA pin copy
Bank statement, ATM card, or any other bank copy
Passport picture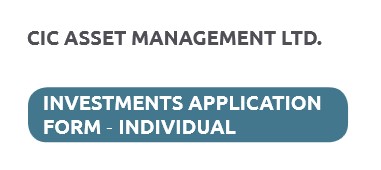 Step 5 (Send the application to CIC
You can then forward the application form with the documentation to CIC using the email CIC.asset@CIC.co.ke and wait for the membership number.
Step 6 (CIC Money Market Fund Deposit)
Depending on how much you indicated on the investment application form, go ahead and deposit the amount. Remember, this should come after receiving the membership number, which shows your account has been created.
You can use the CIC Money Market paybill number 600118 on the company website.
That's it! Those are the steps for joining the CIC MMF, and if you've any concerns or need clarification, use the following CIC Money Market Fund contacts to reach out:
Email – calls@cic.co.ke
Call – +254 020 282 3000 / 0703 099 120
WhatsApp – +254 722 204 572
Facebook – @CICGroupPLC
Twitter – @CICGroupPLC
LinkedIn – @CICGroupPLC
How Do I Withdraw Money from CIC Money Market?
You can withdraw money from CIC via email. Just email cic.asset@cic.co.ke indicating that you want to withdraw cash and specify the amount.
CIC will then take up to a day to respond to your withdrawal request and process the payment within 2 – 4 days.
However, CIC only allows you to withdraw once per month and maintain a minimum balance of Ksh 5,000. If you withdraw more than once a month, you'll incur an extra charge of Ksh 1,000.
Another note is that you must provide your member number, email (used during registration), and bank account number when making a cash withdrawal request.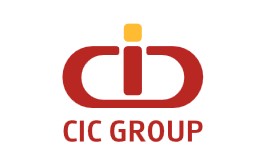 People Also Ask
1. What Is CIC Money Market Fund?
The CIC money market is a mutual fund investment vehicle by CIC for low-risk and highly liquid securities. Even better, it's a savings plan that allows you to earn annual interest on cash investments.
2. Is CIC Money Market Fund Safe?
The CIC Money Market Fund (CIC MMF) is a low-risk mutual fund investment. Though the risk is there like it is on every investment option, it's much lower, but even better, the mutual fund is highly liquid. Thus, the Money Market Fund by CIC is safe because of the high liquidity and the low-risk profile.
3. What Is the Interest Rate for CIC Money Market Fund?
At the time of writing, the annual interest rate for CIC Money Market Funds was 8.71%. Compared to the past few years, the rate is slightly lower, even with other Money Market Funds, indicative of what's happening to the money globally.
4. How Long to Withdraw My Money from CIC Money Market?
CIC usually responds to the withdrawal email request within a day, but it may take 2 – 4 days to have the funds in your bank account.
5. How Do I Pay My CIC Money Market Fund?
You can pay for your CIC Money Market Fund through the MPESA pay bill number 600118, which CIC provides on their website and write to them indicating the deposit details.
6. Does Money Market Funds Pay Dividends?
Yes, Money Market Funds pay dividends that reflect short-term interests.
7. Is Money Market Fund a Good Investment?
Money Market Fund is low-risk and highly liquid. That's a big advantage over most mutual fund investments. You also enjoy easy withdrawal on short notice, flexible transfers, reasonable interest rates, and low minimum investment limits.
8. Who Owns CIC Money Market Fund?
The CIC Money Market Fund Manager is CIC Asset ManagementLlimited, while the custodian and trustee are Co-Op Custodian Services and Kenya Commercial Bank, respectively.
Closing Remarks
Above is everything to know about the CIC Money Market Fund. It is evident from the Cytonn Report and the Capital Markets Authority Report that the CIC MMF is one of the best Money Market Funds in the country.
So, for someone looking for a low-risk, highly liquid investment vehicle, the Money Market Fund fits the bill. However, it's essential to know how things work and familiarize yourself with the various fees, rates, and minimum investments, that the above guide provides.
Note that the shared rates were as of the time of creating their spots. They might have changed slightly now, so it's important to confirm first from the CIC website.
Also Read: