We all have financial goals that force us to save. It could be an emergency fund, college fees, mortgage, land deposit, a wedding, or business capital, and that's where the Britam Money Market Fund comes in.
You can look at this fund as a saving plan, but it's more than that. As a type of unit trust, the Britam Money Market Fund invests in low-risk, high-yield investments with a short-term maturity period (less than 12 months).
Today, the Britam MMF is among the top 5 largest Money Market Funds in Kenya by asset size, according to Cytonn Report. The fund promises an annual yield rate of 8 – 10 %, a minimum investment of Ksh 1,000, and a quick withdrawal (up to 48 hours) with the option of bank and MPESA transfers.
The question, however, is, is Britam the right Money Market Fund for you? And if it is, how does it work, and how do you join?
Those are among the questions I'll answer here. But before I do, let me explain a Money Market Fund.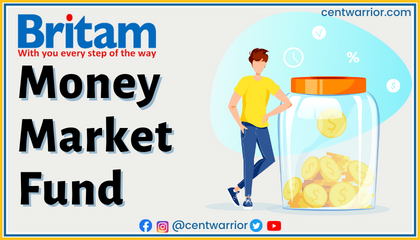 In a hurry? Below is a Britam MMF fact sheet to enlighten you about the Money Market Fund.
Britam Money Market Fund Fact Sheet
| | |
| --- | --- |
| Fund Manager | Britam Asset Managers |
| Trustee | Kenya Commercial Bank |
| Custodian | Standard Chartered |
| Annual Interest | 8 – 10 % |
| Minimum Investment | Ksh 1,000 |
| Minimum Top-Up | Ksh 1,000 |
| Initial Fee | Nil |
| Management Fee | 2% per annum |
| Maturity | Less than 12 months |
| Interest compounding | Daily |
| Auditor | Deloitte & Touché |
BEFORE YOU CONTINUE…
Allow me to show you how I reclaimed my financial life from drowning in a sea of debt and trapped in a never-ending cycle of financial despair with over Ksh 3.5 million weighing me down.
Every day was filled with sleepless nights, anxiety, and constant fear of losing everything I had.

But then, against all odds, I discovered a life-changing path to freedom which helped me shatter the chains of debt in just 1.5 years, created a solid financial foundation and started building wealth.
And now, I have packaged all this knowledge in this SIMPLE e-book called Cent Warrior 10-Steps to Financial Freedom for you because I want you to WIN with money and change your family tree.
🟢 Get It here for FREE and change your life forever.
👉⏩ I WANT IT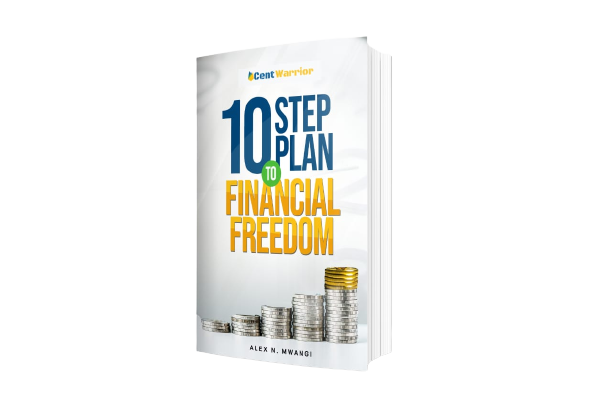 What's a Money Market Fund?
A Money Market Fund (MMF) is a type of unit trust that invests in a low-risk investment with a stable return, such as a commercial bond, treasury bill, fixed deposit account, or bank deposit.
Money Market Funds have a short-term maturity which in the case of Britam is less than 12 months.
Having mentioned that a Money Market Fund is a type of unit trust, what is a unit trust?
Well, a unit trust is a mutual fund framework where pooled money by unit holders or investors is managed by a professional fund manager and invested to attain specific returns.
Now, let's talk about how the Britam MMF works.
How Does Britam Money Market Fund Work?
The Britam Money Market Fund's goal is to achieve high-level current income while protecting the investors' capital. It does so by investing the pooled money (one that the investors contribute) in short-term money market securities with higher returns and immediate liquidity, such as bank deposits, fixed deposit accounts, treasury bills, and commercial bonds.
The income the investment earns (or interest) accrues daily, though it's compounded monthly. The minimum that you can invest is Ksh 1,000, which earns an annual interest of 8 – 10%.
Several parties regulate the Britam's Money Market Fund to ensure its legality and investment protection. First, we have the fund manager (Britam Assets Manager), whose job is to develop the investment portfolio and invest the money.
The fund manager, however, does not have access to the investors' money. The one that does is the custodian (Standard Chartered).
Custodian holds the pooled money on behalf of the fund's investors and releases it for the fund manager to invest in low-risk investments or money markets instruments such as bank deposits, fixed deposits, and commercial bonds.
The other key players are the trustees (Kenya Commercial Bank) and auditors (Deloitte & Touché). The trustee looks after the investors' interests, holds the custodian and money manager accountable, and plays the whistleblower role in case they suspect malpractice.
On the other hand, the auditor reviews the financial statements and uses them to assess the funds' performance.
Britam lets you withdraw the funds anytime, but the processing takes up to 48 hours, and you can transfer to MPESA or a bank.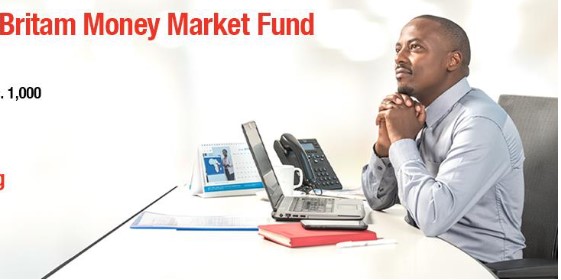 Benefits of The Britam Money Market Fund
Here are the primary reasons to consider Britam as your Money Market Fund investment solution.
Attractive interest – The average annual Britam Money Market Fund interest rates are about 8 – 10 %, which is pretty appealing.
Low-risk investment – With the Britam MMF, you cannot lose your principal amount. Even better, the investment grows monthly. The yield rate (interest) may fluctuate depending on the market, but your principal is protected.
Interest compounding – The Money Market Fund earns you compound interest instead of simple interest. Unlike simple interest, which is only based on the principal amount, compound interest is earned on the principal plus the interest earned.
High liquidity – Britam allows you to withdraw your money within 48 hours or at most three days which enables you to attend to financial emergencies.
Easy MPESA/bank transfers – Once you withdraw your money, you can conveniently transfer it to a bank or MPESA.
Low investment amount – You only need a minimum of Ksh 1,000 to invest in Britam MMF. That's unlike the CIC Money Market Fund and Sanlam Money Market Fund, which require at least Ksh 5,000 and Ksh 2,500, respectively.
Savings-tracking – You can track your savings online via the app or portal.
Professional investors – A team of professionals invests the pooled funds to protect the investment and ensure optional returns.
Anytime top-up – You can top up your investment anytime at a minimum of Ksh 1,000.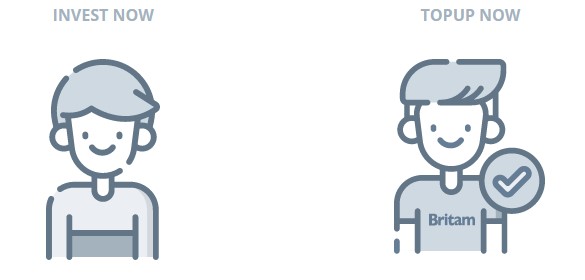 What Can You Use the Britam Money Market Fund for?
You are probably asking what you can achieve with the Britam MMF. Well, take it as your savings plan, which you can use for any of these financial goals:
Emergency fund – You can save money for financial emergencies; the best part is that it earns interest daily.
Mortgage or land deposit – The Britam MMF allows you to save up for mortgage or land projects and withdraw the funds when ready to start the project.
Construction project – You can save up for a building or any other construction project.
Investment fund or Chama – The fund makes saving up for your Chama or investment fund easy.
School fees saving – How about you save up for your kids' college? That's possible with the interest-earning Britam MMF.
Car deposit – Saving up for a car purchase is easy with the Money Market Fund by Britam.
Wedding planning – You can save up for a wedding with Britam, and the Money Market Fund provides a better way to do it.
Vacation planning – A vacation arrangement is easy with Britam, and you can start as early as possible.
Family welfare or staff welfare – You can also save for family and start welfare like burials and weddings.
Risks of Joining the Britam Money Market Fund
All Money Market Funds face three types of risks, and the Britam MMF is no exception. The risks are as follows:
Credit risk – A credit risk involves either a default risk (where the issuer defaults on repaying securities) or a downgrade risk (where the issuer's credit rating is downgraded). So far, Britam has not suffered any of these risks, but there are no guarantees that it may never happen.
Interest risk – While it's easy to assume that an increase in interest rate equals an increase in the MMFs investment value, that's not the case. The value of the investment decreases with an increase in the interest rate.
Liquidity risk – The money market may become volatile, and when it does, the fund may be compelled to sell its securities below market price. But by creating a diverse investment portfolio, Britam strives to mitigate liquidity risk.
Britam Money Market Fund Registration (How to Join the Britam Money Market Fund)
Britam allows you to join the Money Market Fund using any of these three ways:
1. Using the USSD *778#
Here's how to go about it:
Dial *778# on your mobile and choose Money Market Fund
Enter your personal information (ID/passport number, residential address, KRA pin, and occupation)
Accept the issuer's terms and conditions and wait for an OTP (one-time-passwords) via SMS
Dial *778# once again and use the sent OTP to log into the system and reset the pin
Choose Money Market Fund once again and specify how you came to know about Britam
Enter the amount you wish to invest (minimally Ksh 1,000)
Wait for a confirmation SMS from Britain to confirm a successful sign-up.
2. Via MyBritam
You can get MyBritam from Google Play and the App Store and use it to sign up for the Money Market Fund.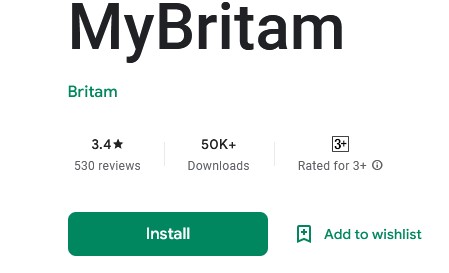 3. Via Britam Portal
You can also join the Money Market Fund online through the customer portal (customerconnect.britam.com). The portal lets you sign up for an account and fill out an application form.
Generally, Britam offers two forms: one for individuals and another for corporates.
These forms will require you to fill them with the essential investor, occupation, and contact details. Additional details include the source of funds, CRS declaration, and bank information, and you'll need to append your signature and attach essential documents.
The documents include copies of your ID/passport, utility bill, proof of banking, personal identification number certificate, and birth certificate (in case of minors), among others.
Britam Money Market Fund Deposit
Generally, Britam allows you to pay the deposit amount and top-ups using any of these options:
Britam Money Market Fund paybill number 500005
Bank account number 0105016761600 (under bank name Britam Money Market Fund inflow account and branch name CSC Head Office)
Britam Money Market Fund Withdrawal
Britam allows you to withdraw funds through the MyBritam app or online portal, and the processing takes 48 hours. After that, you can transfer the funds to MPESA or your bank account.
Britam Money Market Fund Contacts
You can reach Britam to inquire about the Money Market Fund using any of these ways:
Email – info@Britam.com or clientservicesbaam@britam.com
Tel – +254 703 094 000 / +254 703 094 091
Portal Address – 30375 – 00100, Nairobi
Mobile – +254 796 962 837
Head Office – Britam Centre, Mara/Ragati Road Junction, Upper Hill
Closing Remarks
There's no doubt that the Britam Money Market Fund is one of Kenya's best savings-driven Money Market Funds. Its 8 – 10% annual interest and fast withdrawal are exciting, and the fact that the interests are compounded monthly and the risk is lower, the Money Market Fund is worth trying.
You can do it to save up for an emergency fund, buy land or a car for a mortgage, or just about any other financial goal, and we, as the Cent Warrior family, can help you get started!
Also Read: