Are you 13-19 years and do not know how to use your holidays and weekends better? How about you look for a kid-friendly job or side hustle? If interested, I'll share how to make $200 as a kid.
You can make $200 as a kid by taking on paid chores, pet sitting or dog walking jobs, or babysitting jobs. You can also do it by selling stuff online, teaching a skill, freelancing, tutoring other kids, blogging, or starting a YouTube channel or local side hustle.
Once you identify one trade that you can pursue, you should be able to start making money. In some cases, it may take a day or two to make $200; in others, it may take a week or more or up to a month.
What's essential, nonetheless, is that you find something you enjoy doing and get started, and this guide will help you. We'll examine the ten money-making opportunities and how much you can expect to make hourly, daily, weekly, or monthly.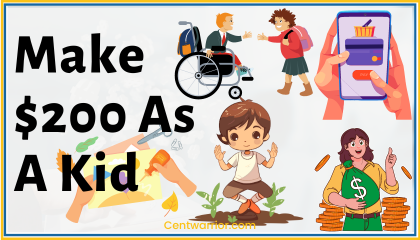 But before that, let's see why it's a good idea to get a job as a kid
In a hurry? Consider the summary below, highlighting the ten ways you can make $200 as a kid and the applicable average earnings.
10 Ways to Make $200 a Kid
| | | |
| --- | --- | --- |
| – | What to Do | Average Earnings |
| 1. | Odd jobs or paid chores in the neighborhood | $20-$50 a day |
| 2. | Pet sitting or dog walking | $10-$20 an hour |
| 3. | Babysitting | $10-$20 an hour |
| 4. | Sell stuff online | – |
| 5. | Teach a skill online | Up to $20 an hour |
| 6. | Online freelancing | $10-$20 an hour |
| 7. | Tutor other kids | $10-$20 an hour |
| 8. | Blogging | $200 or more per month |
| 9. | YouTube channel | $200 or more per month |
| 10. | Local side hustle | $200 or more per week |
BEFORE YOU CONTINUE…
Allow me to show you how I reclaimed my financial life from drowning in a sea of debt and trapped in a never-ending cycle of financial despair with over Ksh 3.5 million weighing me down.
Every day was filled with sleepless nights, anxiety, and constant fear of losing everything I had.

But then, against all odds, I discovered a life-changing path to freedom which helped me shatter the chains of debt in just 1.5 years, created a solid financial foundation and started building wealth.
And now, I have packaged all this knowledge in this SIMPLE e-book called Cent Warrior 10-Steps to Financial Freedom for you because I want you to WIN with money and change your family tree.
🟢 Get It here for FREE and change your life forever.
👉⏩ I WANT IT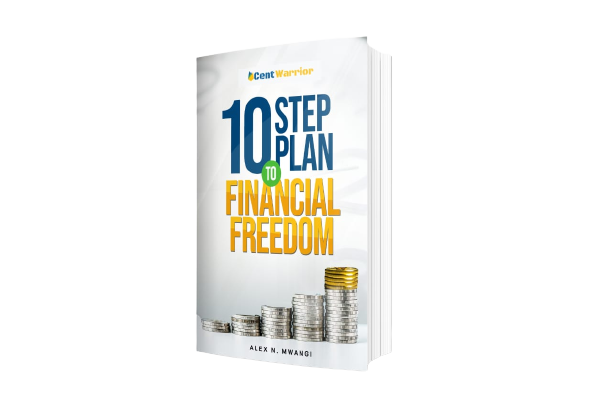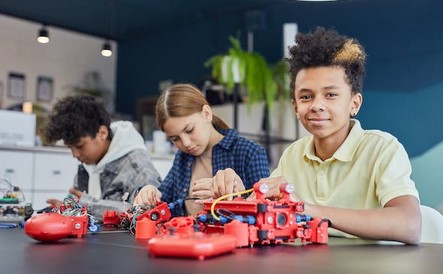 Why Get a Job as a Kid?
Though no one expects you to get a job as a kid, no one can fault you for doing it if it doesn't interfere with your studies. Here are the reasons why a job is a good idea, especially over the holidays and on weekends:
Skill development – By getting a job young, you can hone a vital skill you may use in the future. For example, starting a blog as a kid makes it easy to continue blogging at a higher level as you grow.
Make money on the side – This is perhaps the biggest motivation. A job allows you to make money on the side, even if it's not a lot. In that case, you don't have to be over-reliance on your parent or guardian for allowance.
Learn to be financially responsible – By working and getting paid, you become more aware of your spending. Since you've worked for the money, you can't spend it on unnecessary stuff, as it makes you a careful and responsible spender.
Help your folks financially –Though you are not obliged to as a kid, you can chip in financially when your parents are broke or need a slight financial boost. It just feels right helping around whenever you can!
Better use of time – Instead of tagging along with bad company, getting overwhelmed by peer pressure, and succumbing to depression, a job keeps your hands and mind occupied. In that case, you get to use your time better.
10 Smart Ways on How to Make $200 As A Kid
Now that you know why you need a job as a kid, here are smart and easy ways you can make up to $200 or more:
1. Do Odd Jobs or Paid Chores Around the Neighborhood
You can't miss someone in your neighborhood who needs some help doing chores and is willing to pay for it, especially the old folks or busy young couples. It could be that they need help with any of the following chores or odd jobs:
House cleaning and vacuuming
Laundry and clothes folding
Yardwork
Washing cars
Pulling our weeds
Grocery delivery
Newspaper delivery
With such odd jobs, you can $20-$50 a day, which means you need to work at least four days if the daily earning is $50 to make $200. However, you may work more days if the daily earning is less than $50.
So, why don't you walk around the neighborhood to ask about these jobs? You can walk door to door. Alternatively, use a job search engine like Indeed to find these jobs near you.
2. Pet Sitting or Dog Walking
Few folks with dogs have the time to walk or look after them. They'll need someone to do that on their behalf and pay them.
So, are you an animal fan? Then you should give dog walking or pet sitting a chance. You can even do both at alternating times and make $10-$20 an hour at the very least.
Let's say you walk two dogs at a time and make $20 per dog per hour;
That'll earn you $40 an hour, and you only need to do it for 5 hours to make $200. If the rate per dog is $10, you'll need 8 hours.
You can ask around the neighborhood for these jobs or walk to pet owners you know and talk to them. But if you've no idea where to start, you can visit Rover.com, Care.com, SitterCity.com, and Indeed to find these jobs.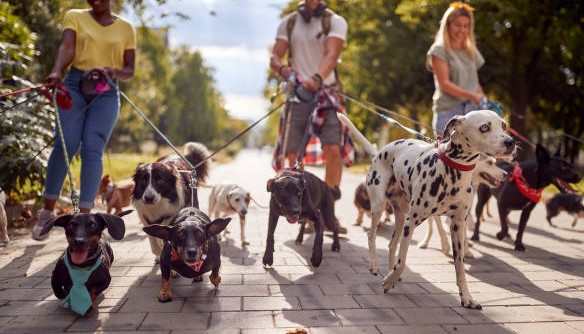 3. Babysit for $200
Perhaps you don't fancy pets but have a soft spot for younger ones. How about you babysit the kids in your neighborhood for a small pay?
You can do this during the holidays and earn $10-$20 an hour.
Let's say you've five kids to look after; then it'll take 2-4 hours to make $200, something doable within a day.
You can ask around your neighborhood for these jobs, talk to parents who you know may need some help babysitting, or use job search engines like Care.com, SitterCity.com, Babysits.com, or ZipRecruiter.com.
4. Sell Stuff Online
If you are handy, you can make crafts like beaded jewelry, paintings, home decor, mats, and others and sell them online. You can do it on social media or in person around the neighborhood during school breaks.
Depending on the stuff you sell, you could make $200 daily or per week.
5. Teach A Skill Online
You don't have to be an adult to teach others, especially kids your age or younger, a skill you know. It could be that you play a musical instrument very well, know how to draw skillfully, or can play soccer better.
It could also be that you are a skillful baker or cook or are good at skating or making home decor or jewelry. Whatever it is that you can do better than most people, teach others, and have them pay for it.
You can advertise on Indeed, ZipRecruiter, YouTube, LinkedIn, or any other notable platform and let the clients find you. You could charge up to $20 an hour per student, making $200 in a day or two possible.
6. Become an Online Freelancer
There is a lot to do online during your school breaks and weekends. A platform like Fiverr allows you to sign up for freelance work starting from 13 years, while Upwork needs you to be at least 18 years.
Here are some online jobs you can try to do depending on interest or skill:
Freelance writing
Online proofreading and editing
Online transcription
Graphic design
Web design
Data entry
Overall, you can make $10-$20 an hour freelancing online, which means it's possible to hit $200 within a week or two, depending on your availability to do the job.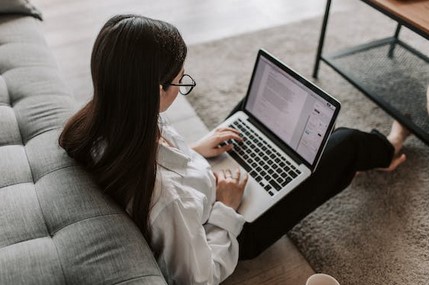 7. Tutor Other Kids
Are you good with math, science, languages, or other fields? You could help the kids in your neighborhood during your free time and earn from it.
If you want, you can do it online and help kids outside your locality, and you can find such jobs on PrePly, Upwork, or VIPKid. In most cases, you only need to be 18 to sign up, and you can make $10-$20 an hour – making it possible to hit $200 within a week.
8. Start A Kids-Focused Blog to Make $200 a Month
You can start blogging as young as 13, and you wouldn't have to look for another job at 16. Don't expect to make much at the beginning, as it takes time to gain authority on Google, but it's possible to make $200 a month within 6-12 months of launching your blog.
If interested in blogging, sign up for a domain name and web hosting on Bluehost, NameCheap, or any other notable web hosting service. Remember, you can blog about anything – ranging from your fun experience and adventures to sharing a skill or knowledge.
9. Launch A YouTube Channel to Make $200 a Month
If writing blog posts is not your thing, perhaps you can try writing YouTube scripts and posting video clips on YouTube. YouTube allows you to post educational, entertaining, or informative content at any age, making it an ideal side hustle for kids.
Depending on the quality of your video content and how viral it spreads, you could easily make $200 or more monthly on YouTube. And remember, it's free to set up your channel.
10. Start A Local Side Hustle to Make $200 a Week
Lastly, you can try setting up a side hustle in your local area on weekends and school breaks, which could earn you up to $200 or more per week. Here are some ideas on how to make money fast as a kid to get you started:
Lemonade Stand
Bike repair and washing services
House painting services
Carpet cleaning services
Grocery store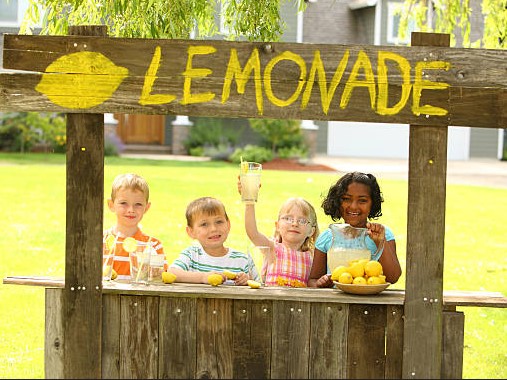 How to Make Money as A Kid at Home
You can make money as a kid at home using any of these ideas:
Blogging
Running a YouTube channel
Selling things online
Tutoring other kids online
Sharing a skill online
Freelancing online
Babysitting
Pet sitting or dog walking
How to Make $200 Dollars in One Day as A Kid
Though it's not easy to make $200 a day as a kid, it's not impossible. For example, you can babysit, dog walk, or pet sit if you have more than one client. You can also do it by doing side odd jobs or side gigs in your neighbor, tutoring online, or selling something.
Concluding Thoughts:
Now you know how to make $200 as a kid. You can choose any of the ten ideas or even multiple of them and pursue them on school breaks and during weekends. It's important to pursue something you are interested in or skilled in to give it your best and perfect the skill.
Also Read: