For those who have tried the new MPESA App, we can agree that the mobile application is just sensational. It's feature-rich, and every feature has an incredible job, which makes the whole experience of transacting via MPESA seamless.
With the MPESA App, you can pay bills, buy airtime, withdraw cash, send money outside the country, track your expenses, and share receipts, among many other advantages I'll share here.
Even better, you don't have to avoid using the mobile application just because you don't have bundles; you can switch to offline mode.
And when you don't feel like switching your line on but want to access MPESA, or perhaps you've lost your sim card, you only need to connect to Wi-Fi, and you can seamlessly access the app.
This app was recently updated. So, there might be a few updates you aren't familiar with, and I'll help you get up to speed.
So, let's dive in!
Here's what I'll cover about this impressive Safaricom App:
What is the MPESA App?
MPESA App's core features
Other features and capabilities
How to get the MPESA app?
Questions people ask about the MPESA app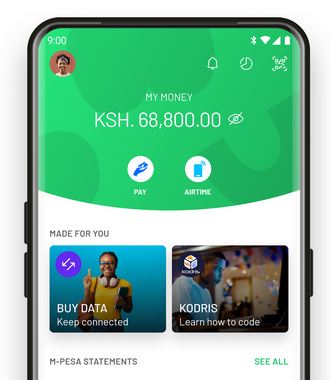 In a rush? Below is an overview of the new MPESA mobile application:
MPESA App Overview
| | |
| --- | --- |
| Launch | 28th May 2021 (on Google Play) |
| Last Update | 21st September 2023 (on Google Play) |
| Offered By | Safaricom Limited |
| Availability | Google Play and App Store |
| Download Size | 68MB on Google Play and 174MB on the App Store |
| Star Rating | 4.7 both on Google Play and App Store |
| Number of Downloads | 5 million + |
| Device Version Preference | Android 6.0+ and iOS 11.0+ |
What's the MPESA App?
The MPESA App is a mobile application by Safaricom Limited that allows MPESA users access to various MPESA services. That includes the following:
Send Money (Where you can send money to other MPESA users)
Buy Airtime (Where you can buy airtime for yourself or others)
Buy Goods (Where you can pay for goods purchased via MPESA)
Pay Bill (Where you pay for services via MPESA)
Funds withdrawal (Where you withdraw funds at an agent or ATM)
MPESA Global services (Where you can send money to Tanzania, Uganda, or Rwanda or banks across the globe and Western Union, withdraw or top up via PayPal, or withdraw at an agent in Tanzania)
FULIZA, M-SHWARI, KCB M-PESA, Pochi La Biashara, and other MPESA-related services
Core Features
Here's what to know about the new MPESA application once you launch the app and log in.
At the Very Top – Next to Your Name and Initials
1. Notification Bell
The notification bell lets you access the most recent MPESA/Safaricom-related notifications. It's more like your inbox while on the app.
2. My Spend
The My Spend tab beside the notification bell lets you view and track your monthly MPESA expenses. It lists the expenses orderly to enable you to keep tabs on your spending, more like an expense tracker.
3. QR Code
This icon lets you quickly scan QR codes and make payments, withdraw funds, or send money to MPESA users.
Just After the Top
4. MPESA Balance
You'll notice the 'MPESA Balance' tab after the top part. This tab lets you view your current MPESA balance with your FULIZA limit or balance. If you want, you can hide the balance.
5. Send & Request
The 'Send & Request' tab offers many options for sending money and requesting payments. Here are the notable services under this tab:
Send Money – Which I mentioned, allows you to send MPESA to other people within the country
Request Money – This serves as an invoice option that lets you request payment via MPESA
MPESA Global – MPESA Global allows you to transact with MPESA outside the country
Another Network – This option allows you to send money to other networks outside Safaricom
Scan QR – The option enables you to send money by scanning the recipient's QR code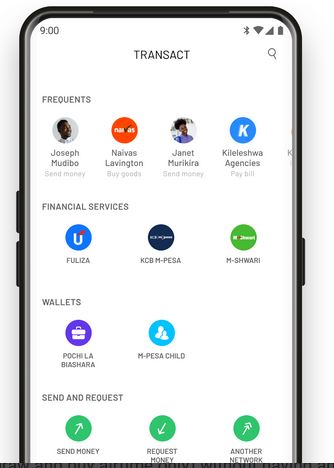 6. Pay
The Pay tab allows you access to these MPESA-related services:
Pay Bill
Buy Goods
Pochi La Biashara
Global Pay
Scan QR
7. Withdraw
The 'Withdraw' tab allows you to withdraw at an agent or ATM and scan a QR code.
8. Airtime
The 'Airtime' tab provides you with these options:
Buy airtime for my number
Buy airtime for other numbers
Buy bundles
9. MPESA Statement
The 'MPESA Statement' option lets you view, filter, export, and download MPESA statements. You can even sort the statements according to the start date, end date, and type of transaction. The date range should, however, be less than six months.
At the bottom of the Homepage
10. Home
The 'Home' tab allows you to return to your home page.
11. Transact
The 'Transact' tab displays the following information:
Frequents – These are people or companies you frequently transact with
Financial Services – This includes FULIZA, KCB MPESA, and MSHWARI services
Wallets – Where you have the Pochi La Biashara option
Send & Request – Where you can send money, request money, MPESA Global, among other services
Pay – Where you have options like Pay Bill, Buy Goods, Pochi La Biashara, and Global Pay
Withdraw from an agent or ATM
Airtime – Where you can 'Buy for My Number' or 'Buy for Other Number.'
12. Services
The 'Services' option at the bottom of the Homepage offers you access to the MPESA services I shared earlier.
13. Grow
The 'Grow' tab allows you to set your money goals and track them.
Other Features and Capabilities
In addition to the services and features I've shared about the MPESA App, the mobile application also offers these options:
Receipts – This feature allows you to download and share receipts after an MPESA transaction using the app.
Favorites – This feature allows you to save the people you want to transact with.
Frequents – This feature automatically selects your most frequent contacts
Popular Bills – This option offers you popular pay bill numbers such as those of KPLC, NHIF, Go TV, Startimes, HELB, and KRA
Offline Mode – This mode enables you to operate the mobile app without data
Biometric Authentication – This option lets you use fingerprint or face recognition to access the mobile app
Due Bills – This option informs you of pending and due bills
Send Money with GIF/Description – This option allows you to attach a GIF or description to MPESA payments
Send money with Profile Pic – This option lets recipients download the sender's profile picture and see it.
Mini Apps – This feature allows you to access lifestyle, utility, and travel apps within the MPESA application without downloading.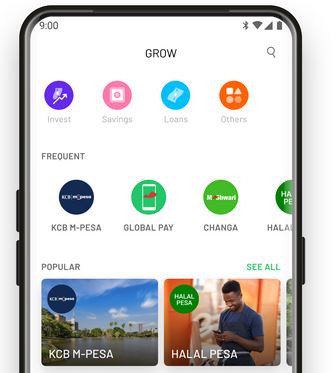 How to Get the New MPESA App Apk?
The MPESA application is available for download on Google Play and App Store. That means you can do it with an Android device (Version 6.0 and above) and iOS (version 11.0 and above).
Once you are through with the MPESA app download, install it, launch it, and log in using your MPESA PIN. Alternatively, you can use biometrics (fingerprint or face recognition) to log into the app.
You can, after that, add any other relevant information and accept the terms and privacy policy before using the app.
People Also Ask
1. How Do I Download The MPESA App?
You need an Android (Version 6.0 or above) or iOS device (version 11.0 or above) to download the MPESA mobile app on your phone. This app is available either on Google Play or the App Store.
2. How Do I Register for the MPESA App?
You must first register for MPESA before registering for the app. Once you do that, you should download and install the app on your phone. Once you sign into the app using your MPESA pin or biometrics, the registration is complete.
3. Why Can't My Phone Install MPESA App?
If your phone doesn't install the MPESA APP, you likely have the wrong Android or iOS version. The app requires Android 6.0 or above or iOS 11.0 or above to install. So, you may need to upgrade your phone if that's not the case.  
4. Can the MPESA App Be Used Offline?
Yes, you can use the MPESA App offline. In fact, the app has an offline mode. Just tap on your name and then select setting to see the offline mode. You need to select it, and that's it.
5. Can the MPESA App Work Without a SIM card?
Yes, the MPESA app can work without a SIM card, provided you can connect it to Wi-Fi. Once connected to Wi-Fi, you can use the app for any MPESA-related transaction.
6. What Are the Advantages of MPESA App?
The MPESA mobile app has many advantages. First, it's faster than the STK option, especially when accessing the internet. Secondly, the app keeps your frequent and favorite records to allow you to repeat transactions without memorizing or writing down their contacts.
Thirdly, the MPESA application allows you to track your spending, download and share receipts, and send money to users outside the country. That's in addition to the various MPESA services such as Buy Goods, Pay Bill, and Buy Airtime.
7. What Are the Disadvantages of MPESA App?
The most significant disadvantage of the MPESA app is that you may lose your cash if someone who knows your MPESA pin manages to get hold of your phone.
The other disadvantage, though not mighty, is that the offline mode is slightly limited and can be slow. So, you need data or Wi-Fi access to fully enjoy the app's benefits.
Also, sometimes the app hangs, and you may have to restart it or use the STK method, which can be frustrating.
8. Does the MPESA App Require Data?
Not really. The MPESA app can work with or without data. The offline mode lets you use the mobile application without data. Its only downside is that it can be slow and doesn't offer as many capabilities as when using data.
9. How Much Can MPESA App Hold?
The MPESA app can hold as much money as your MPESA wallet. Currently, MPESA wallets can hold up to Ksh 500,000, allowing a maximum transaction limit of Ksh 250,000. That also applies to the MPESA application.
Concluding Thought:
We've shared all the essential information and updates about the MPESA App. So, now you know what to expect from this new Safaricom app regarding its services and capabilities. If you want more information or clarification, you can talk to us on social media, and we'll surely get back to you.