There's a lot you can do with 100k. For instance, you can start your own business, pay down a considerable debt, build an emergency fund, or take up an investment, to name a few. With that in mind, I'll share how to make 100k a year in 12 intelligent ways.
You can make $100k a year through a high-paying job, an 'own' business, a side hustle, hobby monetization, an investment, and renting out extra space.
Other ways include getting a new skill, or another degree, moving to a high-paying state, broadening your income streams, changing industries, and negotiating a higher salary.
I'll not just highlight the 12 strategies, but I'll also give relevant examples to inspire you to get started on your new money-making adventure. The bottom line is that it's possible to make $100,000 annually, and you need to be smart about it.
Some strategies may involve some form of investment, while others don't require any, the choice is yours, and here we go.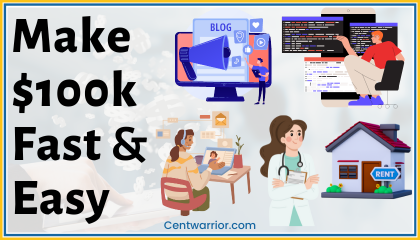 In a rush? Below is a quick list of the 12 ideas and what to do precisely in each case to make $100k.
12 Ideas How to Make 100k A Year
| | | |
| --- | --- | --- |
| – | Money Making Idea | Examples (What to Do) |
| 1. | Get a high-paying job | General dentist, software engineer, data scientist, optometrist, pharmacy manager, or any other high-paying profession |
| 2. | Start an 'own' business | Profitable blog, YouTube channel, Dropshipping business, Amazon FBA business, website flipping business, Etsy online store, or any other high-return business |
| 3. | Begin a side hustle | Doggy daycare, child daycare, delivery driver, dog walking, babysitting, handyman work, ridesharing, or any other lucrative side hustle |
| 4. | Monetize your hobby | Writing, photography, graphic design, social media. Art drawing, baking, driving, or any other |
| 5. | Take up an investment | Money market funds, dividend stocks, government bonds, mutual funds, or any other |
| 6. | Rent out extra space | Extra room, apartment, parking space, storage, office space, or backyard space |
| 7. | Get a new skill | Project management, Artificial Intelligence, software/app development, cloud computing, web development, data analysis, or any other |
| 8. | Get another degree | – |
| 9. | Move to a high-paying state | Massachusetts, New York, Washington, California, New Jersey, or any other high-paying state |
| 10. | Broaden your income streams | Two or more business investment ideas or side hustles |
| 11. | Change industries | Healthcare, engineering, finance, information technology, legal sector, or any other high-paying job sector |
| 12. | Negotiate a higher salary. | Convince the employer why you deserve a raise. |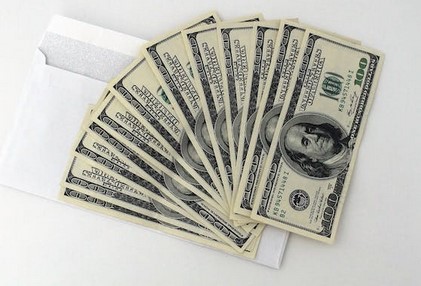 12 Ways to Make 100k in A Year
While there are many ways to make 100k a year (most of them are illegal), below are the 12 best legal ways to do it:
1. Get A High Paying Job
Jobs don't pay the same. Some pay better than others, and if you want to average $100k a year, consider getting a high-paying job.
Below are some of the highest-paying jobs in the United States and the corresponding nation's average salaries per year:
General Dentist ($207,668)
Senior Software Engineer ($169,098)
Data Scientist ($145,358)
Software Engineering Manager ($142,256)
Optometrist ($141,602)
Nurse Anesthetist ($139,970)
Podiatrist ($137,104)
Pharmacy Manager ($135,061)
Corporate Lawyer ($118,514)
Engineering Manager ($118,338)
Physician Assistant ($117,385)
User Experience Manager ($110,547)
2. Start an 'own' Business
Nothing is more satisfying than running your own business. It feels nice to be called a business owner; if you play your cards right, you could easily make $100k or more yearly.
Interestingly, you don't require so much to start your own business that could make you $100,000 or more yearly.
Here are some low-investment business ideas you can consider:
Run a profitable blog
Start a YouTube channel
Start a Dropshipping business
Join the Amazon FBA selling program
Flip websites for profit
Launch an online store on Etsy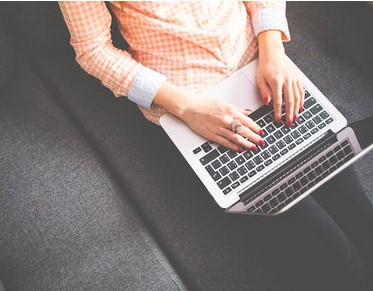 3. Begin A Side Hustle
How about you look for something to do to supplement your current job or business? Overall, there's so much you can do online and offline for the extra buck, and before you know it, you'll be averaging $100k a year.
Offline, you can try the following side hustles:
Run a doggy daycare
Strat a child daycare
Serve as a delivery driver
Walk dogs
Babysitting
Become a handyman
Ridesharing
And from home, you can pursue any of these online jobs:
Tutor online on platforms like VipKid, Preply, Tutor.com, or any other
Freelance online on Upwork or any other freelancing site
Start a podcast
Offer music lessons online
4. Monetize Your Hobby
Hobbies pay nowadays, and you can make as much as $100k yearly if you monetize your hobby well.
For example, if your hobby is writing, you can sign up on a freelance site like Upwork or PeoplePerHour.com to do copywriting, SEO, technical, content, or eBook writing, which pays well.
And if your hobby is photography, you can do wedding photography, stock image photography, photojournalism, product photography, or even start a photography course and get to make money.
Other exciting hobbies you can monetize are graphic design, social media, art, drawing, baking, comedy, knitting/sewing, video gaming, dog walking/pet sitting, gardening, driving, craft making, and travel.
5. Take Up an Investment
Taking up an investment is a good idea if you choose right, especially when you don't have the time or enough money to start and run your own business.
Of course, every investment is a risk that you have to weigh carefully and, if possible, consult the right people.
Here are some top recommendations:
Real estate
Government bonds
Exchange-traded funds (ETFs)
Certificate of Deposits (CDs)
Mutual funds
6. Rent Out Extra Space
There's no need to keep an unused space when you can make money. This usually is a passive way to earn income since three little jobs on your part. Here are some ideas that could help you make $100k yearly:
Extra room or apartment – Rent it out on Airbnb
Parking space – Rent it out on JustPark, ParkMe, SpotHero or Neighbor.com
Storage space – List it for renting on Nieigbhor.com, StoreAtMyHouse or Stashbee
Extra office/work space – List it for renting out on PeerSpace
Attractive and spacious Backyard – Rent it out for events on PeerSpace or ShareMySpace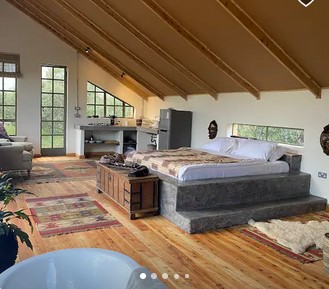 7. Get A New Skill
Employers and clients pay for skills. They want the most skilled people to work for them. How about you get a new skill or perhaps perfect what you already have?
Rome of the most in-demand skills that could easily earn you $100k per year includes project management, artificial intelligence, software app development, cloud computing, web development, data analysis, sales leadership, user experience, SEO, copywriting, and digital marketing.
8. Get A New Degree
It doesn't hurt to invest in your education. 'An investment in knowledge pays the best interest,' American Polymath Benjamin Franklin once advised.
By getting another degree or perhaps upgrading to a master's degree, you enhance your employability and marketability. It becomes easier to negotiate for higher pay and get a promotion.
Of course, there are no guarantees that the more learned you are, the bigger your paycheck. Thus, call it a risk but one with better prospects.
9. Move to A High-Paying State
States don't pay the same. Some pay better than others, depending on the demand, cost of living, wage rate, and other factors.
How about you move to another state with the best wage rate? Here are the top 10 best-paying states in the United States and their corresponding average yearly salaries:
Massachusetts ($72,940)
New York ($70,460)
Washington ($68,740)
California ($68,510)
New Jersey ($67,120)
Connecticut ($66,130)
Maryland ($65,900)
Alaska ($63,480)
Colorado ($62,900)
Virginia ($62,330)
10. Broaden Your Income Streams
The truth is that sometimes it may not be possible to make $100k on one job or run one business. You may need several to do it, especially if looking at consistency.
So, how about you consider two of the business ideas or side hustles I have shared above? As American Business Magnate Warren Buffet advises, the more income streams you create, the less you rely on a single source.
11. Change Industries
Some industries pay better than others, and so if you want to make $100k per year, you may have to change industries. It may mean a career turn, but it may be worth it in the long term.
This is, however, possible if you are only starting your career course or are perhaps thinking of joining college and do not know what careers pay best.
Some of the best-paying industries include healthcare, engineering, finance, information technology, the legal sector, energy, marketing, and mining.
12. Negotiate A Higher Salary
Sometimes all you've to do to earn $100K a year, especially when you are close to it, is to prove to your employer why you deserve a raise. This is, however, easier when joining a new company.
Here are some negotiation tips that can help you get a salary raise:
Know your market value (research how others in your position are paid in other places)
Mention necessary added benefits like paid time off (PTO), parental leave, better insurance benefits, signing bonuses, and work-related reimbursement for travel and education.
Craft your negotiation (rehearse it if you must)
Stay confident but kind in your negotiation)
Start high as you negotiate down
Be firm but have room for flexibility
People Also Ask
1. What Careers Pay 100K A Year?
Many careers can pay you $100k a year. The most popular ones include being a cardiologist, psychiatrist, physician, orthodontist, anesthesiologist, software engineer, data scientist, podiatrist, financial planner, midwife, midwifery, attorney, engineer, or judge.
2. How Can I Make 100K A Year from Home?
There are many ways you can make 100k a year from home. For one, you can take up a side hustle like starting a blog or YouTube channel, work as a freelancer or offer online classes.
You can also work remotely, and some of the best-paying remote jobs include copywriting, virtual assistance, business development, web design, and graphic design.
3. How Can I Make 100K A Year Without a Degree?
You don't need a degree to make 100k a year. As a matter of fact, some high-paying jobs don't require a degree, and they include web developer, real estate broker, head chef, air traffic controller, and construction manager jobs.
You can also make 100k pursuing side hustles like blogging, YouTube, freelance services, and real estate investment which don't require a degree.
Closing Thought On How to Make 100k A Year
Now you have 12 clever ways to make $100,000 a year and what to do exactly to make that much. You can thus try any of the ideas or, better, try two or more. Who knows, you could succeed in multiple ways, which will only improve your chance of making 100k faster and more consistently. 
Also Read;