As of 8th March 2023, Safaricom shares closed the day at Ksh 20.95! Though it's not the highest by the tech giant, it explains why it's worth knowing how to buy Safaricom shares. After all, not many stocks have been as consistent as Safaricom.
Generally, you can buy Safaricom shares through a verified stock broker or online on the Nairobi Securities Exchange. If you opt for a stock broker or online, you can pay via bank, MPESA, or Bonga points.
But first, you'll need to meet the minimum requirements, which include having enough funds to buy the minimum shares and make monthly contributions, which I'll share in a few.
You also need to sign up for a Central Depository and Settlement (CDSC) account, which you'll use to buy and sell Safaricom shares. That's another thing I'll walk you through, among many others.
Here are the things I'll talk about:
How do Safaricom shares work?
Why invest in Safaricom shares?
How do you buy Safaricom shares?
How do you sell Safaricom shares?
How much are Safaricom shares?
How do you check your Safaricom shares?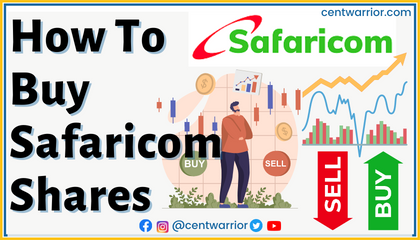 Let's dive into it!
How Does Safaricom Shares Work?
The Safaricom shareholding structure consists of the following:
35% Kenyan government
35% Vodacom
25% free float
5% Vodafone
Free float refers to the shares available to the public that are traded on the NSE. So, if you are interested in buying Safaricom shares, these are the shares that you can buy and sell when you like.
And as far as making money is concerned, Safaricom shares earn profit which is distributed among shareholders, what we call dividends. As of 2022, the Safaricom dividend rate per share was Ksh 0.75; by 28th February 2023, the interim dividend was Ksh 0.58, as reported by the NSE.
That may not be much for someone with a few shares, but it is worth much more for someone with more shares.
Besides dividends, you can make money as a Safaricom stocks investor by selling your shares. However, you'll need a stock broker's help to recoup your money and get some profit.
Why Invest in Safaricom Shares
It's normal to ask if buying shares from Safaricom is a viable investment idea. To answer that, here are the benefits of buying Safaricom shares:
Dividend eligibility – As a Safaricom shareholder, you earn dividends. Though the dividends are not guaranteed, Safaricom shares have been performing well lately.
Opportunity to sell at a higher price – No one decides for you where you should sell your Safaricom shares, not even your broker. What you've to do is watch the market and pounce on any opportunity to sell high.
Leverage when procuring a loan – You can use your Safaricom shares to apply for a loan. Lenders will most likely lend you if the shares are at least the amount you are asking for.
High liquidity – You can cash out on your Safaricom shares anytime. Provided you are convinced about the timing, you can sell. What's more, the shares earn dividends which are distributed yearly.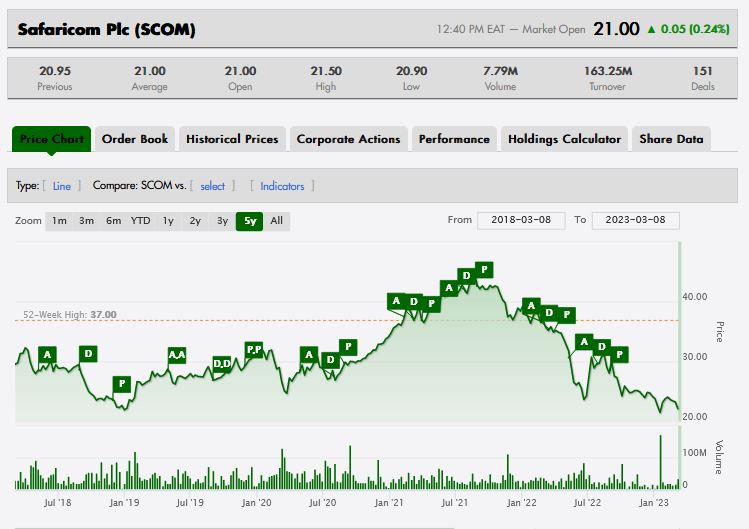 How to Buy Safaricom Shares in Kenya
Below are three crucial steps that are critical in buying Safaricom shares:
Step 1 – Meet the Minimum Requirements
Individual Requirements
Individual investors should meet these minimum provisions:
Pay a non-refundable registration amount of Ksh 10,000
Be willing to buy at least 500 shares
Be ready to pay Ksh 3000 monthly (monthly contributions)
Provide a copy of ID/passport, proof of payment, and KRA pin
Group/Chama Requirements
Groups/Chamas should meet these provisions before buying Safaricom shares:
Be a registered group
Commit a non-refundable registration amount of Ksh 25,000
Be willing to contribute Ksh 15,000 monthly
Be ready to buy at least 1,500 shares
Step 2 – Open A CDSC Account
To buy Safaricom shares online, you need a virtual trading account called a Central Depository & Settlement Account (CDSC). You can open this account via bank, USSD, or a shares-trading app.
a) How to open a CDSC account via bank?
Just visit your bank or any nearest bank with an ID/passport, passport-size photo, and a utility bill or bank statement and ask to open a CDSC account. You'll need an original incorporation certificate to purchase stocks for a group.
The bank will then issue you with a CDS1 form for you to fill out once they ascertain the documents. You'll then receive a CDSC number that you'll need to use to buy shares.
b) How to open a CDSC account via USSD?
Just dial *543# on your Safaricom number and follow the relevant prompts until you receive your CDSC login details.
Remember to select and open a new trading account, which will be fine.
c) How to open a CDSC account via a shares-trading app?
Using a verified shares trading platform like AIB Digi Trader App, you can sign up for a CDSC account. Remember, you can also use this app to trade (buy and sell) the Nairobi stock exchange Safaricom shares.
So, install and launch the app on your phone and sign up to receive your CDSC login details.
Step 3 – Buy The Shares Online or Via a Stock Broker
How to Buy Safaricom Shares Online
You generally have three options for paying for Safaricom shares, and they are:
Option 1 – Bank (Cooperative bank)
If you hold a Cooperative Bank account, consider using it to pay for your Safaricom shares. Just remit the amount that represents the number of shares you want to buy to:
Account number – 01120150100700
Account name – Safaricom Investment Cooperative (SIC)
Branch – Westlands
Option 2 – Lipa Na MPESA (how to buy Safaricom shares via MPESA)
Use the Lipa Na MPESA pay bill number 163163 to pay for the number of Safaricom shares you want to hold. The account number, in this case, is your name or that of your Chama/group.
Option 3 – Bonga Points
Safaricom also allows you to buy stocks using Bonga points. Just follow these steps:
Dial *126# and select Lipa Na Bonga Points
Choose pay bill and enter your preferred broker, pay bill number
Input your CDSC number as your account number
Input the amount you wish to deposit into your CDSC account
Sign in to your CDSC account to make the purchase
You can also use the MySafaricom app to buy Safaricom shares using Bonga Points. Remember, 5 points equals 1 Ksh.
How to Buy Safaricom Shares Via Stockbroker
You can also buy Safaricom shares from a verified stock broker. Get the complete list of NSE-certified stock brokers (also known as online trading platforms here).
Here's how to purchase the shares:
Deposit a given amount into your CDSC account to allow you to buy a certain number of shares
Ask for an order form from your stockbroker and fill it out
Submit the order form and wait a few days (about 2) for the transaction to show on your CDSC account.
How to Check Safaricom Shares Online
After buying Safaricom shares, you may want to confirm your investment status. To do that, you must log into your CDSC account and verify anything.
How to Sell Safaricom Shares Online
As mentioned earlier, Safaricom shares are highly liquid. You can cash in anytime as long as the price is favorable.
Here's how to go about it:
Confirm the prevailing prices for Nairobi stock exchange Safaricom shares here
Alert your stock broker if you think the price is reasonable for you to sell your shares
Wait for a willing buyer to buy the shares, and once that happens, you'll receive the funds in your account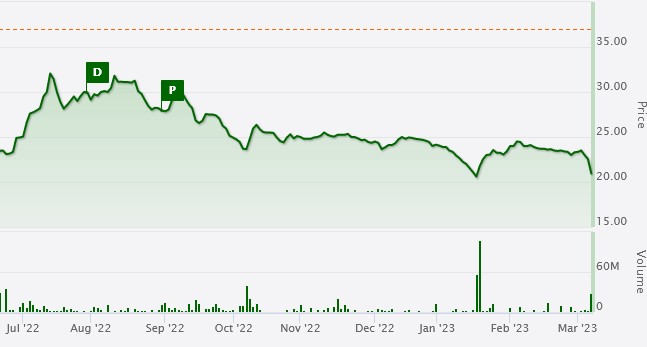 How Much is Safaricom Shares?
Safaricom shares prices keep changing daily, so you must check the prevailing prices if you plan to buy or sell the shares. Here's an overview over the last five business days:
| | | | |
| --- | --- | --- | --- |
| Date | Volume | Opening Price (Ksh) | Closing Price (Ksh) |
| 08/03/2023 | 28,703,400 | 22.55 | 20.95 |
| 07/03/2023 | 2,794,600 | 23.00 | 22.55 |
| 06/03/2023 | 4,611,000 | 23.60 | 23.00 |
| 05/03/2023 | 404,700 | 23.60 | 23.45 |
| 02/03/2023 | 2,949,200 | 23.50 | 23.50 |
People Also Ask
1. Can I Buy Safaricom Shares?
Yes, you can buy Safaricom shares. Safaricom has a 25% free float share allocation available to the public. You only need to meet the minimum requirements, which include at least 500 shares for individuals, Ksh 10,000 registration fee, and Ksh 3,000 monthly contribution.
2. What Is the Current Safaricom Share Price?
As of 08/03/2023, the Safaricom share opening price was Ksh 22.55, and the closing price was Ksh 20.95. The price changes by the day and so confirm from the Safaricom or NSE website before investing.
3. How Much Does It Cost to Buy Safaricom Shares?
As an individual, you need to buy at least 500 shares to become a Safaricom shareholder. For example, it would have cost you Ksh 10,475 to buy 500 shares (at Ksh 20.95) on 08/03/2023. Groups, however, need to buy at least 1500 shares, totaling Ksh 31,425 as per the prevailing prices.
4. Are Safaricom Shares Profitable?
Safaricom share prices are not predictable. There is no doubt about the tech giant's dominance in Kenya, which means the shares are profitable. However, it's not always that they'll be making a profit. Sometimes the tech giant records losses, though it doesn't happen often. The secret, however, is to study the market and cash in when the time is right.
5. How Much Does Safaricom Pay Per Share?
As of 28th February 2023, Safaricom recorded an Interim Dividend of Ksh 0.58 per share. However, the payout per share as of 2022 was Ksh 0.075, which means a slight drop.
6. How Much Is Safaricom Per Share?
Safaricom share prices keep on changing. Over the last few days, however, from 02/03/2023 to 08/03/2023, the price per share has averaged Ksh 20.95 – Ksh 23.60.
7. Who Has the Highest Shares in Safaricom?
The Kenyan government and Vodacom have the highest shares in Safaricom, each 35%. The other shareholders are the general public at 25% and Vodafone at 5%.
Closing Remarks
Above is how to buy Safaricom shares in Kenya today. You can do it via a stock broker or online and pay via bank, Lipa Na MPESA, or Bonga Points. What's important is that you choose a reliable trading partner or broker and know when to cash in. And if you need clarifications, reach out to our Cent Warrior team on social media, and we'll be glad to help.
Also Read: