Very few investment funds promise an annual return of above 15%, yet that is what SIB Mansa X, an investment product by the Standard Investment Bank, has averaged since launching in 2019.
Unlike most money market funds in Kenya, Mansa X invests in not only Kenya's stock exchange but also recognizable global trendsetters like the New York Stock Exchange (NYSE), Hong Kong Stock Exchange (HKG), London Stock Exchange (LSE), and Frankfurt Stock Exchange (FSE).
So, its portfolio is widely diversified, explaining the high return rate.
The minimum investment amount is slightly higher than most money market funds, given that you need at least Ksh 250,000 (or $2500) and at least Ksh 100,000 (or $1,000) in top-ups.
There is, however, no initial or redemption fee, and the annual management fee is only 5% pro-rated daily.
Overall, there's so much to know about SIB Mansa X that I'll share. Here's what ill cover about the Standard Bank Investment Mansa X funds: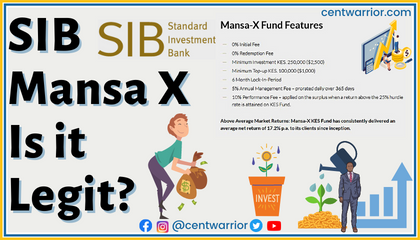 What is Mansa X?
Who owns Mansa X
what are Mansa-X's objectives?
How does Mansa X work?
Mansa X's performance in recent years
Should you invest in Mansa X?
Is Mansa X legit?
Is Mansa X CMA regulated?
How do you invest in Mansa X?
How do you thidraw from Mansa X?
Mansa X contact information
Let's jump into it!
In a hurry? See below the Mansa X Current Fact Sheet, for an overview of the investment fund.
Updated Mansa-X Fund Fact Sheet as of 30th June 2023
–
Mansa-X KES
Mansa-X USD
Inception
January 2019
October 2022
Assets Under Management
Ksh 15.3 Billion
$10.2 million
Base Currency
Kenya Shillings
US Dollar
Custodian
1&M Bank
National Bank
Minimum Investment
Ksh 250,000
$2,500
Minimum Top-Up
Ksh 100,000
$1,000
Hurdle Rate
25%
15%
Money Manager
Standard Investment Bank (SIB)
Trustee
Kingsland Court Trustees
Regulator
Capital Markets Authority
Head Of Global Markets
Nahashon Mungai
Annual Management Fee
5% pro-rated
Initial Fee
0%
Redemption Charge
0%
Financial Service Charge
5% pro-rated annually
Above Average Market Returns
17.2%
Lock-In Period
6 months
Fund Withdrawal Period
3 working days
BEFORE YOU CONTINUE…
Allow me to show you how I reclaimed my financial life from drowning in a sea of debt and trapped in a never-ending cycle of financial despair with over Ksh 3.5 million weighing me down.
Every day was filled with sleepless nights, anxiety, and constant fear of losing everything I had.

But then, against all odds, I discovered a life-changing path to freedom which helped me shatter the chains of debt in just 1.5 years, created a solid financial foundation and started building wealth.
And now, I have packaged all this knowledge in this SIMPLE e-book called Cent Warrior 10-Steps to Financial Freedom for you because I want you to WIN with money and change your family tree.
🟢 Get It here for FREE and change your life forever.
👉⏩ I WANT IT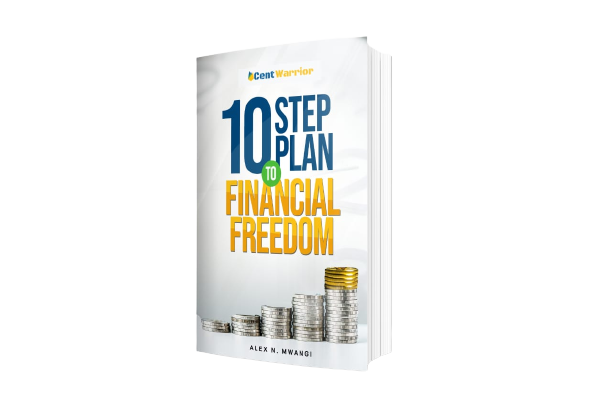 What Is Mansa-X?
Mansa X is a CMA-certified multi-asset strategy fund that invests in local and international money markets. The fund is a product of Standard Investment Bank (SIB), a CMA-certified financial service firm in Kenya. So, yes, Mansa X is certified by the Kenya Capital Markets Authority (CMA).
The Standard Investment Bank has been one of Kenya's leading investment firms since its founding in 1995, but it only launched Mansa X in 2019.
Locally, Mansa X focuses on NSE Equities, Cash & Cash Equivalents, NSE derivatives fixed income, and Exchange-Traded Funds (ETFs). And globally, the investment fund invests in single stocks, stock indices, currencies, commodities, fixed income, derivatives, and precious metals.
Agreeably, they have such a diversified portfolio.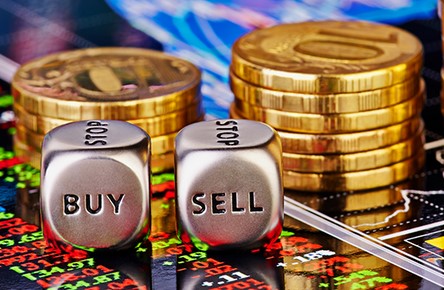 Who Owns Mansa-X?
Mansa X is owned by the Standard Investment Bank (SIB) Global Markets Division, and its founder is James Wangunyu. Mr. Wangunyu is a veteran businessman with a wealth of experience in the commercial banking sector, spanning over 24 years.
His rich experience in the industry and passion for helping investors make the right investment call pushed him to establish the Standard Investment Bank or SIB, as we popularly know it.
In 2007, Mr. Wangunyu successfully secured a license for its trust funds, and in 2018, he helped the investment firm secure its first-ever license as an Online Forex Trading Money Manager.
Mr. Wangunyu has rich knowledge in the Capital Markets sector, which has seen him steer SIB and all its subsidiaries to greater heights. Previously, he was the chairman of Pacis Insurance Company Kenya and a vice chairman and chairman at the Nairobi Securities Exchange.
Today, he is a director at not only SIB but also several other businesses in the country. James graduated from the University of Nairobi and is a member of the Institute of Certified Investment and Financial Analysts (ICIFA).
The Mansa-X Leadership
Currently, the Mansa-X leadership comprises the following:
Nahashon Mungai – Head of Global Markets
Joseph Kahinda – Senior Portfolio Analyst
Jesse A'rurwa – Portfolio Analyst
Gerry Kiruthu – Portfolio Analyst
Dan Murage – Portfolio Analyst
Martin Kirimi – Sovereign Debt Analyst
Let me briefly discuss the Global Markets Executive Director, Mr. Nahashon Mungai.
Mr. Mungai joined the Standard Investment Bank in 2018 to run the company's and the country's first Online Forex FX Trading Money Manager. His brilliance and expertise in investment banking saw him build an expansive team of experts in the inter-bank trading sector.
He created the Global Markets department, which he currently heads, at the Standard Investment Bank. He is tasked with reviewing the Mansa-X strategy for the 1st half of 2023, plus the lucrative positions Mansa-X took advantage of the previous quarter.
From now on, Mr. Mungai will provide the performance outlook for Mansa-X.
Before joining SIB, Mr. Mungai worked as the Head of Treasury at the Bank of Africa, as a Corporate Dealer at I&M Bank, as a Forex Interbank Dealer at Equity Bank, and as a Swap Dealer at KCB Bank. So, he's a man with a wealth of experience in the commercial banking sector – 16 years plus.
Nahashon is a member of the Financial Market Association and CISI (Chartered Institute for Securities & Investment) UK and holds an Actuarial Science Degree from Jomo Kenyatta University of Agriculture and Technology.
Mansa-X Objectives
Mansa-X has three primary objectives as follows:
Capital preservation – Mansa-X aims to protect its investments' monetary value and asset purchasing power to prevent potential loss.
Capital growth – Mansa-X resolves to increase the investment and asset value over time. With them, capital appreciation is a crucial delivery.
Access to liquidity – Mansa-X allows you easy access to funds after the 6-month lock-in period. A typical withdrawal takes 3 working days after request.
How Does Mansa-X Work?
Mansa X works like any other investment fund where you and other investors pool funds, and the money manager (in this case, the Standard Investment Bank), buys, holds (for as long as necessary), and sells investments.
The fund manager makes money through the annual management fee (currently 5% pro-rated daily) and a performance fee (10% above the hurdle rate).
And as an investor, you earn through dividends (quarterly company profit payouts) and capital gain (profit from stock sales). Mansa X requires you to make a minimum investment of at least Ksh 250,000 within the first six months, and after that, you can start enjoying the dividends.
As an investor, you are allocated units or shares equivalent to your investment. As per the fund's policy, the minimum top-up is Ksh 100,000.
As I mentioned, Mansa X invests locally and globally. Locally, they invest in the following assets:
Fixed income
Cash & Cash equivalents
NSE equities
NSE derivatives
Exchange-Traded Funds (ETFs)
And globally, the fund manager invests in the following:
Currencies
Commodities
Single stocks
Stock indices
Fixed income
Derivatives
Precious metals
In addition to the investment options mentioned above, Mansa-X allocates a part of its Assets Under Management (AUM) to the global markets, which Nahashon Mungai spearheads to give an edge over other local funds and guarantee consistent alpha returns to investors.
Mansa-X Performance Since Inception
Mansa X is one of the highest-yielding ruins in the region. The multi-asset strategy fund, for example, registered an 87% growth in Asset Under Management (AUM) to about Ksh 12.4 Billion as of December 31st, 2022.
Irrefutably, the jump is quite huge, given that the fund's AUM the previous year was only Ksh 6.6 billion. According to its portfolio manager Nahashon Mungai, a large part of the growth is improved participation by local investors.
Investors, especially those who invested early, have a reason to smile following the fund's performance in the last four years.
For instance, someone who had invested Ksh 1 million on January 2019 when the fund was launched saw his investment yield a profit of Ksh 467,286.72 by December 31st, 2020, and Ksh 959,473.35 by December 31st, 2022. Mark you, that was after deducting the fees.
In this case, someone who invested a million shillings during the fund's launch has earned about 100% return. So, while there are no return guarantees like it is for every investment fund, the brief history that Mansa X has enjoyed proves that the prospects of a higher return are higher. The company, however, still insists that past performance doesn't guarantee future results.
Below is a table breakdown of Mansa X's annualized return and asset growth over the past four years they've been in business.
| | | | | |
| --- | --- | --- | --- | --- |
| – | 2019 | 2020 | 2021 | 2022 |
| Gross Return | 24.01% | 23.75% | 20.45% | 20.59% |
| Net Return | 19.01% | 18.75% | 15.45% | 15.59% |
| Growth Of A Ksh 1 Million Investment By Year End (After Fees) | – | Ksh 1,467,286.72 | – | Ksh 1,959,473.35 |
| Assets Under Management (AUM) | – | Ksh 3.1 billion | Ksh 6.6 Billion | Ksh 12.36 billion |
SIB's Mansa X Half-Year Return Since 2019
Mansa X has shown tremendous growth since 2019. In 2019, the fund closed half of the year with a 7.97% return rate, and the following year, the rate slightly dropped to 7.63%.
2021 was undeniably the worst-performing year by the fund, having recorded a 6.80% return rate at the end of June. The multi-asset strategy fund, however, saw the yield rate improve significantly the following financial year as it ended half of 202 with a 7.93% yield rate. That amounts to a 1.13% improvement.
In 2023, Mansa X closed the half of the year with an 8.69% yield rate, the highest by the fund since 2019. Here's a table breakdown of the fund's performance between the end of June 2019 and the end of June 2023.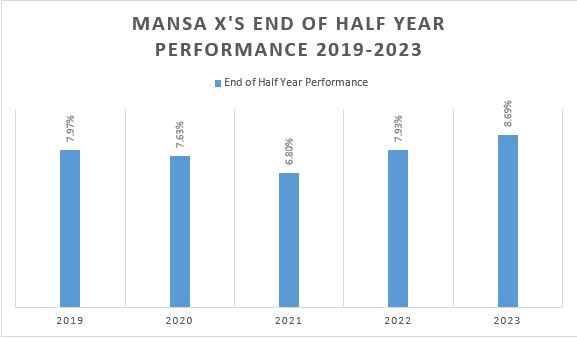 | | |
| --- | --- |
| Term Ending | Return Rate |
| June 2019 | 7.97% |
| June 2020 | 7.63% |
| June 2021 | 6.80% |
| June 2022 | 7.93% |
| June 2023 | 8.69% |
While speaking to the Business Daily, the Head of Global Markets, Nahashon Mungai, argued that according to the 2023 outlook, the 2022 stocks underperformance trend was not to continue in 2023 as companies were more equipped to handle the turbulent surroundings of the money market and the elevated interest rates.
Evidently, companies started outperforming their earnings estimates at the start of 2023, and Mansa X was among them. The multi-asset strategy fund positions itself to considerably reap from the impressive government bonds, having seen its top 10 holdings evolve in recent months.
Among its top 5 holdings is the Eurobonds, about 22.2% of Mansa X's Ksh 15.3 billion AUM (Assets Under Management). That's about Ksh 3.4 billion.
Mansa X Performance as of H1' 2023 (1st Half of 2023)
Mansa-X Fund KES
Mansa-X KES delivered a 4.7% actual net return in the 2nd quarter of 2023, bringing the performance for the 1st half of the year to 8.69%. The annualized net return for the year's first half was 17.38%.
Meanwhile, the Assets Under Management grew by Ksh 1.99 billion in the second quarter of 2023 and closed the half of 2023 at Ksh 15.3 billion.
Mansa-X Fund USD
As for the Mansa-X USD, the actual net return for the 2nd quarter of 2023 was 4.7%, bringing the 1st half-year performance for 2023 to 6.19%. The annualized net return for the 1st quarter of the year was 12.38%. On the other hand, the Assets Under Management grew by $3.94 million in the 2nd quarter of 2023 and ended the 1st half of the year at $10.2 million.
Should You Invest in The Mansa-X Fund?
So many factors go into choosing an investment fund, such as the risk, return rate, minimum investment, and company reputation, among others. As far as Mansa X Standard Investment Bank online trading goes, below are its pros and cons:
The Pros
Mansa X promises these benefits to its investors:
Diversified portfolio – Mansa X's investment portfolio features more than 200 assets. They invest in local financial instruments and global assets, which gives them an edge over other funds.
Higher yield – Since launching in 2019, Mansa X has averaged an annualized net return of above 15%, making it one of the highest-yielding funds in the world. For example, as of December 31st, 2022, the net return rate was 17.2%, which is impressive.
High liquidity – Investors can access their returns or capital gains within 48 – 72 hours of requesting. So, you don't have to wait long to be liquid, as the Mansa X withdrawal is pretty fast.
24-hour trading – Since Mansa X trades globally, they have access to trades in Sydney, Nairobi, New York, Hong Kong, New York, and Tokyo which are in different time zones and therefore requires them to run 24 hours.
Short-term and long-term trading opportunities – Mansa X employs short- and long-term trading models, enabling it to make short-term and long-term funds.
Dollar value return – Mansa X invests its funds in USD, giving it a superior return to the Kenya Shilling.
Low risk – Mansa X features a team of knowledgeable and experienced investors who study the money market in Kenya and globally and take calculated risks in every investment they make. So, the risk is small.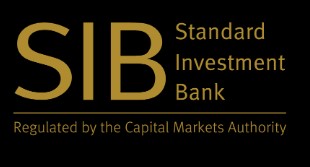 The Cons
On the downside, Mansa X comes with these few concerns:
Higher investment amount – Currently, the Mansa X minimum investment is Ksh 250,000. Not many Kenyans can raise such an amount even if you give them up to 6 months.
Higher top-up limits – This is another area where Mansa X seems unaffordable to most Kenyans. The minimum top-up is Ksh 100,000, which can be too high for many willing Kenyan investors.
The return unpredictability risk – Though Mansa X has been performing well since its inception, there are no guarantees that the curve will stay upward next year or in five years. So, even though the risk is lower, it's still a risk you must take.
Verdict – Is Mansa X Worth It?
Mansa X is worth investing in despite being too expensive and having a return unpredictability risk. It's highly liquid, low risk, high yielding, diversified, and even promises a dollar return and 24-hour trading. What else can you ask from an online trading partner?
As Cent Warrior, we advocate investing in Mansa-X as part of our 10th step to financial freedom, which you can use to create passive income that equals your monthly expenses.
Is Mansa-X Regulated by CMA?
Yes, Mansa X is regulated by the Kenya Capital Markets Authority (CMA). In fact, Standard Investment Bank is Mansa X's fund manager and was the first recognized online trading fund manager by the Capital Markets Authority.
Is Mansa X Legit?
Yes, Mansa X is 100% legit. Standard Investment Bank, one of Kenya's most trusted investment firms, owns the fund. Besides, it is certified by the Capital Markets Authority (CMA) and has a physical address at JKUAT Towers, 16th Floor, along Kenyatta Avenue, Nairobi.
How Do You Invest in Mansa X?
You can join Mansa X today as an investor by following these steps:
Step 1 – Contact Mansa X via the website email (clientservices@sib.co.ke) or call (+254 777 333 000) and request an application form.
Step 2 – Fill out the application form and submit the requested know your client (KYC) documentation.
Step 3 – Make payments using the instruction on your registration form. Remember, it's Ksh 250,000 minimum within the first six months.
Step 4 – Wait for a business confirmation from Standard Investment Bank (SIB) upon receiving your payment.
Mansa-X Fund Funds Withdrawal
Mansa-X Fund is highly liquid. They pay out withdrawal requests by investors within 3 business days. Call or email them using clientservices@sib.co.ke to make a withdrawal request, and you'll be provided with the necessary instructions.
If you'd like to invest with Mansa X, contact us and we'll direct you.
Head Office – JKUAT Building, 16th Floor, Kenyatta Avenue, Nairobi
Website – www.sib.co.ke
Email – centwarriors@gmail.com
Mobile – +254 703 472 299
WhatsApp – +254 703 472 299
Closing Remarks
Above is everything you should know about SIB Mansa X. As a multi-asset strategy fund, Mansa x has some tremendous advantages as shared, but that doesn't make it risk-free.
So, you should weigh its pros and cons to decide if the investment fund is worth it. And if you want some clarification, join the Cent Warrior family on social media; we'll be happy to help.