Very few investment funds promise an annual return of above 15%, yet that is what SIB Mansa X, an investment product by the Standard Investment Bank, has averaged since launching in 2019.
Unlike most money market funds in Kenya, Mansa X invests in not only Kenya's stock exchange but also recognizable global trendsetters like the New York Stock Exchange (NYSE), Hong Kong Stock Exchange (HKG), London Stock Exchange (LSE), and Frankfurt Stock Exchange (FSE).
So, its portfolio is widely diversified, explaining the high return rate.
The minimum investment amount is slightly higher than most money market funds, given that you need at least Ksh 250,000 (or $2500) and at least Ksh 100,000 (or $1,000) in top-ups.
There is, however, no initial or redemption fee, and the annual management fee is only 5% pro-rated daily.
Overall, there's so much to know about SIB Mansa X that I'll share. Here's what ill cover about the Standard Bank Investment Mansa X funds: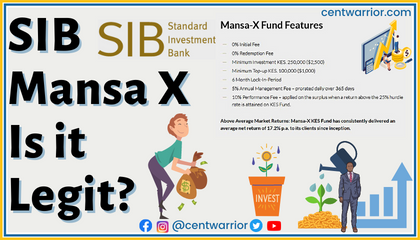 What is Mansa X?
Who owns Mansa X
How does Mansa X work?
Mansa X's performance in recent years
Should you invest in Mansa X?
Is Mansa X legit?
Is Mansa X CMA regulated?
How do you invest in Mansa X?
Mansa X contact information
Let's jump into it!
In a hurry? See below the Mansa X fact sheet as of December 31st, 2022, for an overview of the investment fund. 
SIB Mansa-X Fact Sheet
| | |
| --- | --- |
| Fund Type | Multi-Asset Strategy Fund |
| Launch | January 2019 |
| Base Currency | Kenya shillings |
| Assets Under Management | Ksh 12.36 billion |
| Minimum Investment | Ksh 250,000 |
| Minimum Top-Up | Ksh 100,000 |
| Average Net Return Rate | 17.2% per annum |
| Initial Fee | 0% |
| Redemption Fee | 0% |
| Annual Management Fee | 5% pro-rated daily |
| Hurdle Rate | 25% |
| Performance Fee | 10% above the Hurdle Rate |
| Regulator | Capitals Markets Authority (CMA) |
| Money Manager | Standard Investment Bank |
| Portfolio Manager | Nahashon Mungai |
| Primary Custodian | I&M Bank |
| Lock-In Period | 6 Months |
What Is Mansa-X?
Mansa X is a CMA-certified multi-asset strategy fund that invests in local and international money markets. The fund is a product of Standard Investment Bank (SIB), a CMA-certified financial service firm in Kenya. So, yes, Mansa X is certified by the Kenya Capital Markets Authority (CMA).
The Standard Investment Bank has been one of Kenya's leading investment firms since its founding in 1995, but it only launched Mansa X in 2019.
Locally, Mansa X focuses on NSE Equities, Cash & Cash Equivalents, NSE derivatives fixed income, and Exchange-Traded Funds (ETFs). And globally, the investment fund invests in single stocks, stock indices, currencies, commodities, fixed income, derivatives, and precious metals.
Agreeably, they have such a diversified portfolio.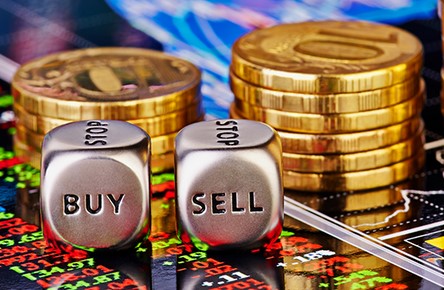 Who Owns Mansa-X?
Mansa X is owned by the Standard Investment Bank (SIB) Global Markets Division, and its founder is James Wangunyu.
How Does Mansa-X Work?
Mansa X works like any other investment fund where you and other investors pool funds, and the money manager (in this case, the Standard Investment Bank), buys, holds (for as long as necessary), and sells investments.
The fund manager makes money through the annual management fee (currently 5% pro-rated daily) and a performance fee (10% above the hurdle rate).
And as an investor, you earn through dividends (quarterly company profit payouts) and capital gain (profit from stock sales). Mansa X requires you to make a minimum investment of at least Ksh 250,000 within the first six months, and after that, you can start enjoying the dividends.
As an investor, you are allocated units or shares equivalent to your investment. As per the fund's policy, the minimum top-up is Ksh 100,000.
As I mentioned, Mansa X invests locally and globally. Locally, they invest in the following assets:
Fixed income
Cash & Cash equivalents
NSE equities
NSE derivatives
Exchange-Traded Funds (ETFs)
And globally, the fund manager invests in the following:
Currencies
Commodities
Single stocks
Stock indices
Fixed income
Derivatives
Precious metals
Mansa-X Performance Since Inception
Mansa X is one of the highest-yielding ruins in the region. The multi-asset strategy fund, for example, registered an 87% growth in Asset Under Management (AUM) to about Ksh 12.4 Billion as of December 31st, 2022.
Irrefutably, the jump is quite huge, given that the fund's AUM the previous year was only Ksh 6.6 billion. According to its portfolio manager Nahashon Mungai, a large part of the growth is improved participation by local investors.
Investors, especially those who invested early, have a reason to smile following the fund's performance in the last four years.
For instance, someone who had invested Ksh 1 million on January 2019 when the fund was launched saw his investment yield a profit of Ksh 467,286.72 by December 31st, 2020, and Ksh 959,473.35 by December 31st, 2022. Mark you, that was after deducting the fees.
In this case, someone who invested a million shillings during the fund's launch has earned about 100% return. So, while there are no return guarantees like it is for every investment fund, the brief history that Mansa X has enjoyed proves that the prospects of a higher return are higher. The company, however, still insists that past performance doesn't guarantee future results.
Below is a table breakdown of Mansa X's annualized return and asset growth over the past four years they've been in business.
| | | | | |
| --- | --- | --- | --- | --- |
| – | 2019 | 2020 | 2021 | 2022 |
| Gross Return | 24.01% | 23.75% | 20.45% | 20.59% |
| Net Return | 19.01% | 18.75% | 15.45% | 15.59% |
| Growth Of A Ksh 1 Million Investment By Year End (After Fees) | – | Ksh 1,467,286.72 | – | Ksh 1,959,473.35 |
| Assets Under Management (AUM) | – | Ksh 3.1 billion | Ksh 6.6 Billion | Ksh 12.36 billion |
Should You Invest in The Mansa-X Fund?
So many factors go into choosing an investment fund, such as the risk, return rate, minimum investment, and company reputation, among others. As far as Mansa X Standard Investment Bank online trading goes, below are its pros and cons:
The Pros
Mansa X promises these benefits to its investors:
Diversified portfolio – Mansa X's investment portfolio features more than 200 assets. They invest in local financial instruments and global assets, which gives them an edge over other funds.
Higher yield – Since launching in 2019, Mansa X has averaged an annualized net return of above 15%, making it one of the highest-yielding funds in the world. For example, as of December 31st, 2022, the net return rate was 17.2%, which is impressive.
High liquidity – Investors can access their returns or capital gains within 48 – 72 hours of requesting. So, you don't have to wait long to be liquid, as the Mansa X withdrawal is pretty fast.
24-hour trading – Since Mansa X trades globally, they have access to trades in Sydney, Nairobi, New York, Hong Kong, New York, and Tokyo which are in different time zones and therefore requires them to run 24 hours.
Short-term and long-term trading opportunities – Mansa X employs short- and long-term trading models, enabling it to make short-term and long-term funds.
Dollar value return – Mansa X invests its funds in USD, giving it a superior return to the Kenya Shilling.
Low risk – Mansa X features a team of knowledgeable and experienced investors who study the money market in Kenya and globally and take calculated risks in every investment they make. So, the risk is small.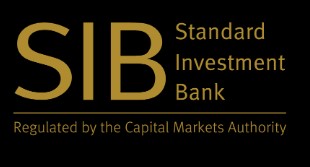 The Cons
On the downside, Mansa X comes with these few concerns:
Higher investment amount – Currently, the Mansa X minimum investment is Ksh 250,000. Not many Kenyans can raise such an amount even if you give them up to 6 months.
Higher top-up limits – This is another area where Mansa X seems unaffordable to most Kenyans. The minimum top-up is Ksh 100,000, which can be too high for many willing Kenyan investors.
The return unpredictability risk – Though Mansa X has been performing well since its inception, there are no guarantees that the curve will stay upward next year or in five years. So, even though the risk is lower, it's still a risk you must take.
Verdict – Is Mansa X Worth It?
Mansa X is worth investing in despite being too expensive and having a return unpredictability risk. It's highly liquid, low risk, high yielding, diversified, and even promises a dollar return and 24-hour trading. What else can you ask from an online trading partner?
Is Mansa-X Regulated by CMA?
Yes, Mansa X is regulated by the Kenya Capital Markets Authority (CMA). In fact, Standard Investment Bank is Mansa X's fund manager and was the first recognized online trading fund manager by the Capital Markets Authority.
Is Mansa X Legit?
Yes, Mansa X is 100% legit. Standard Investment Bank, one of Kenya's most trusted investment firms, owns the fund. Besides, it is certified by the Capital Markets Authority (CMA) and has a physical address at JKUAT Towers, 16th Floor, along Kenyatta Avenue, Nairobi.
How Do You Invest in Mansa X?
You can join Mansa X today as an investor by following these steps:
Step 1 – Contact Mansa X via the website email (clientservices@sib.co.ke) or call (+254 777 333 000) and request an application form.
Step 2 – Fill out the application form and submit the requested know your client (KYC) documentation.
Step 3 – Make payments using the instruction on your registration form. Remember, it's Ksh 250,000 minimum within the first six months.
Step 4 – Wait for a business confirmation from Standard Investment Bank (SIB) upon receiving your payment.
Contact Information
Head Office – JKUAT Building, 16th Floor, Kenyatta Avenue, Nairobi
Website – www.sib.co.ke
Email – clientservices@sib.co.ke
Mobile – +254 777 333
WhatsApp – +254 793 333 000
Closing Remarks
Above is everything you should know about SIB Mansa X. As a multi-asset strategy fund, Mansa x has some tremendous advantages as shared, but that doesn't make it risk-free.
So, you should weigh its pros and cons to decide if the investment fund is worth it. And if you want some clarification, join the Cent Warrior family on social media; we'll be happy to help.