If you're looking for a great lucrative business idea; a business to start with 50k in Kenya, that is easy to start, profitable and scalable, you have come to the right place.
With Ksh 50,000, you can start a fast food joint, a movie shop, farming, dropshipping, digital marketing agency, milk bar, mini importation, egg distribution, mobile money agent or freelance business.
In this piece, I'll take you through different investment opportunities you can start with Ksh 50,000, what you need to start these businesses, how competitive each idea is, profitability of each business and its scalability.
As centwarrior, our aim is to help you get the best small business to increase your income helping you navigate life in abundance, stay debt free and achieve financial freedom.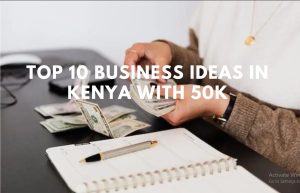 Let's get started!
10 Best Business To Start with 50k in Kenya.
In a hurry? Here is a quick walk through of the businesses you can venture into with 50k in Kenya. 
| | | | |
| --- | --- | --- | --- |
| | Business | Startup Capital | Expected Monthly Return |
| 1 | Farming | Kshs 35,000 and above | Kshs 30,000 and above |
| 2 | Digital Marketing Agency | Kshs 40,000 – Kshs 200,000 | Kshs 30,000 – Kshs 300,000 |
| 3 | Egg Distribution | Kshs 20,000 and above | Kshs 20,000 – Kshs 50,000 |
| 4 | Movie Shop | Kshs 50,000 | Kshs 45,000 |
| 5 | Mobile Money and POS Agent | Kshs 50,000 and above | Kshs 8000 per dealer |
| 6 | Milk Bar | Kshs 50,000 – Kshs 800,000 | Kshs 40,000 and above |
| 7 | Fast Food Joint | Kshs 50,000 – Kshs 80,000 | Kshs 40,000 and above |
| 8 | Freelance | Kshs 50,000 | Kshs 30,000 and above |
| 9 | Mini Importation | Kshs 50,000 and above | Kshs 50,000 and above |
| 10 | Dropshipping | Kshs 10,000 – Kshs 100,000 | Kshs 30,000 and above |
1. Start Farming Business With 50K
(Starting Capital Kshs 35,000 and above)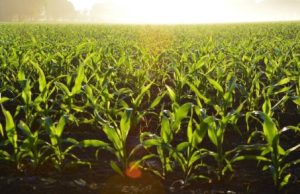 Farming is one of the most lucrative businesses not only in Kenya but also globally. The demand for food products exists daily and will never be filled. Hence, you're constantly facing a need to supply vegetables, cereals, or fruits.
Typically, a farmer makes an average of Kshs 30,000 and above each month, depending on various factors. To improve your profit margins, you can use the right measurements for fertilizer, insecticides, among other farming products. You should also maximize your farm size for more harvest.
When starting farming, a key step to pay attention to is researching and finding the right farm and matching plants for the area. This will help you establish a successful farming business.
2. Set Up a Digital Marketing Agency
(Starting Capital Kshs 40,000 and Kshs 200,000)
Digital marketing is a fast-growing business in Kenya since social media has taken the globe by storm. As a result, numerous businesses are rushing to Google My Business, Facebook, TikTok, Instagram, and Twitter to make their brand known to the masses.
Unfortunately, they cannot accomplish this without a digital marketing expert. If you're familiar with how the different digital platforms work and can maneuver through them to provide profitable results to companies, you can venture into this space and make big bucks.
Typically, you can make between Kshs 30,000 and Kshs 100,000 when working for one client. And with more clients coming in, this figure can stretch to Kshs 200,000. The good thing is that you are not limited to how much you can make because with business expansion comes more income.
3. Start an Egg Distribution Business With Less Than 50k In Kenya
(Starting Capital Kshs 20,000 and above)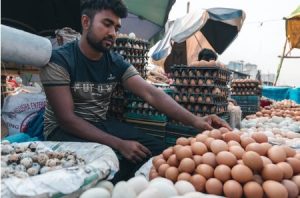 From bakeries and shops to homes, eggs are a staple in our country. This means they will never run out of demand as they are used as side dishes and for pastry. Even in the current state where eggs are costly, people are still consuming them.
Which is the most profitable business to start in Kenya?
Egg distribution is among the most lucrative ventures as long as you have a constant demand and supply to ensure the business runs efficiently. You can earn an income of Kshs 20,000 to Kshs 300,000 per month, depending on how many supplies you make daily.
But how do you accomplish this? Getting orders from hotels, bakeries, and kiosks will allow you to make maximum sales and obtain high profits.
4. Open a Movie Shop
(Starting Capital Kshs 50,000)
Not everyone can afford Netflix, and not every film is on Netflix. With movies going for as low as Kshs 30, people have turned to movie shops for entertainment as it is cheaper than monthly streaming subscriptions.
Establishing a movie shop in a strategic location allows you to serve numerous customers, selling up to Kshs 2500 in a day. Hence, every month, you will make up to Kshs 75,000, which after paying bills might come down to Kshs 45,000, depending on your shop rent and bills.
5. Become a Mobile Money and POS Agent
(Starting Capital Kshs 50,000 and above)
A mobile money agent is the best business to start with 50k in Nairobi. This venture allows you to maximize the different mobile money options in the country. When you secure a shop in a strategic position, you're likely to serve many customers in a day.
Moreover, you can become a Prospective agent, popularly known as a Super agent. This will allow you to earn more commission from the agents under your company, garnering maximum profit.
Typically, as a regular agent, you will get a monthly average income of Kshs 8,000 per dealer. So the more the dealers, the more the profit.
6. Open a Milk Bar
(Starting Capital Kshs 50,000 and Kshs 800,000)
If your area does not have a milk supplier, opening a milk bar business can see you minting tens of thousands monthly. And with consistent expansion, you will realize more returns, allowing you to optimize on business growth.
Depending on your shop's size, you can expect to earn between Kshs 40,000 and Kshs 300,000 every month.
Succeeding in the milk supply business relies heavily on your milk's quality and the hygiene level in your milk bar. So, ensure you test or source milk from the best farmers and maintain cleanliness in your shop.
7. Start a Fast Food Joint
(Starting Capital Kshs 50,000 – Kshs 80,000)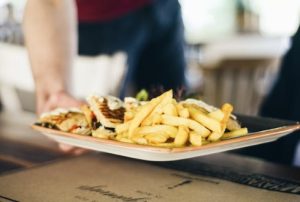 If you're situated near a higher learning institute or an urban city like Nairobi, fast food joint is the best venture to try out. In these places, people are always looking for something to bite before continuing their daily routines, and fast food is their top solution.
As a result, establishing a fast food joint in a strategic location will help you attract numerous customers, garnering huge profits. You can also set up a few seats to serve those that prefer eating from your joint and acquire quality packaging materials for takeaways.
Another great tip to keep your customers coming is having discount days while ensuring it doesn't affect your figures significantly. This will help you maximize sales, earning Kshs 40,000 and above.
8. Start a Freelance Business
(Starting Capital Kshs 50,000)
The corporate world shift in 2021 led to countless remote job openings. Thanks to freelancing, individuals got hired, and companies continued running regardless of the movement barriers. You can leverage this opportunity to establish a successful freelance business depending on the skill you've mastered.
Some top freelance opportunities you might venture into include Content Writing, Transcription, Translation, Virtual Assistance, Tutoring, Game development, and graphic design.
Typically, when you start a freelance business, you will efficiently serve the most comfortable number of clients you can attend to. Then as your business grows, you can hire other freelancers to complete the tasks. This will allow you to expand your customer base, earning you more income.
When starting, you will earn around Kshs 30,000. And as you increase the number of clients, you can maximize your return with no limits.
9. Establish a Mini Importation Business
(Starting Capital Kshs 50,000 and above)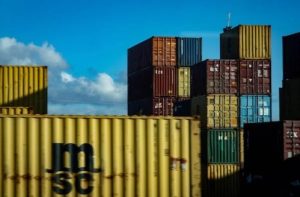 Mini importation is one of the unique business ideas in Kenya with high profits. The common knowledge states that you must have around Kshs 100,000 and above to start importing goods. However, this is not true, as mini importation allows you to obtain goods from overseas and sell them for just Kshs 50,000.
The first step to establishing a mini-importation business is to decide which product you will deal in. Usually, you can choose a product by researching the market and the gaps. Once you identify the product in high demand, find a reliable supplier such as Alibaba. This will ensure you're not a victim of fraud.
So, what income should you expect in this business? Generally, the importation business earns an average income of Kshs 50,000 and above.
10. Start Dropshipping
(Starting Capital Kshs 10,000 – Kshs 100,000)
Do you have access to stable internet?
Dropshipping can help you earn a high income. Typically, your main duty is to find demand for products and suppliers of the same, then get paid by the buyer. After which you send the payment to the supplier and keep the profit.
You can earn Kshs 30,000 and above every month, depending on your negotiation skills. And with more clients coming in, you will enjoy higher earnings. The best way to go about this business is to create a good rapport with suppliers and source for clients needing those products.
For instance, you can establish relationships with factory owners needing machines. Then source them from the best suppliers to retain them for future business and referrals.
Start Your 50k Business in Kenya Today!
Identifying the best business to start with 50k in Kenya can be an uphill struggle. Regardless of the economic challenges, you can thrive in farming, movie shop, freelance, fast food, importation, and dropshipping business.
Nevertheless, you must create a strategic plan and follow the business requirements to realize good profit margins. In addition, you can consult professionals to help you run your business efficiently.
Which of the above businesses will you start?