Finding it difficult to cope with the current economic status? You can find a profitable business to start with 100k and increase your income to cater to all your needs.
With 100k, you can start an advertising agency, Airbnb, bakery, bodaboda, salon, bookshop, cybercafe, wines and spirits, electronics, or freelancing business.
In this piece, you will learn
The top lucrative business ideas in Kenya with 100k
The starting capital and profit of the business
The requirements to start the business
How to gain a competitive advantage over your rivals
Whether you're a first-time entrepreneur or not, you will find a suitable option.
Let's take an inside look!
Top Business Ideas with 100k in Kenya
In a rush? Here is a summary of some of the most lucrative businesses you can start with 100k in Kenya.
| | | | |
| --- | --- | --- | --- |
| | Business | Initial Capital in Kshs | Monthly Return in Kshs |
| 1. | Airbnb Business | 50,000 and above | 50,000 – 200,000 |
| 2. | Electronics Shop | 100,000 – 400,000 | 60,000 – 150,000 |
| 3. | Wines and Spirits | 100,000 – 500,000 | 40,000 – 300,000 |
| 4. | Bakery | 100,000 – 800,000 | 60,000 – 360,000 |
| 5. | Bodaboda Business | 60,000 – 110,000 | 30,000 and above |
| 6. | Small Salon | 50,000 – 100,000 | 20,000 and above |
| 7. | Online Business | 13,000 – 100,000 | 50,000 and above |
| 8. | Bookshop | 100,000 and above | 80,000 – 150,000 |
| 9. | Cybercafe | 100,000 – 200,000 | 30,000 – 150,000 |
| 10. | Freelance Business | 30,000 – 100,000 | 30,000 – 500,000 |
BEFORE YOU CONTINUE…
Allow me to show you how I reclaimed my financial life from drowning in a sea of debt and trapped in a never-ending cycle of financial despair with over Ksh 3.5 million weighing me down.
Every day was filled with sleepless nights, anxiety, and constant fear of losing everything I had.

But then, against all odds, I discovered a life-changing path to freedom which helped me shatter the chains of debt in just 1.5 years, created a solid financial foundation and started building wealth.
And now, I have packaged all this knowledge in this SIMPLE e-book called Cent Warrior 10-Steps to Financial Freedom for you because I want you to WIN with money and change your family tree.
🟢 Get It here for FREE and change your life forever.
👉⏩ I WANT IT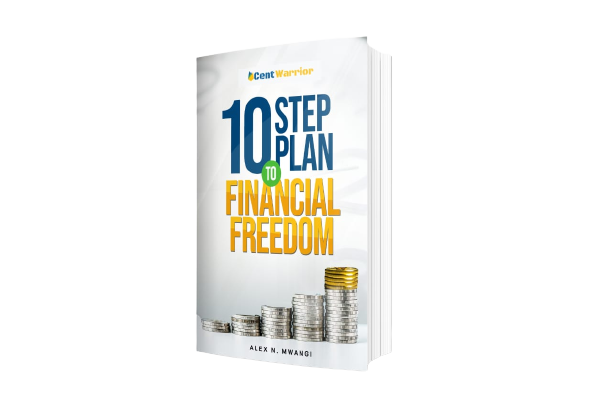 1. Venture into Airbnb Business
(Initial Capital Kshs 50,000 and above)
With more people looking for executive spaces to spend their weekends and holidays, Airbnb is gaining track swiftly. The best part about this business is that it never goes out of season, so Airbnb business persons are making a kill of between 50k and 200k.
Airbnb Business Requirements:
To start an Airbnb business, you will need
One-off application costing Kshs 1,000
License fee costing Kshs 26,000 per unit
Business permits costing upto Kshs 10,000 for the medium trader category
NEMA license fee
Home insurance
Rent
Furnishing
Once you've set up your studio or one-bedroom for Airbnb, it's important that you market it online. This will allow you a greater reach, unlike word of mouth.
Moreover, with first-rate services, your clients will refer you and leave good reviews for your business, inviting even a larger clientele.
Another thing to note is pushing your online visibility from Google My Business profile to social media platforms such as Facebook, TikTok, and Instagram. They will help you boost your business fast.
2. Open an Electronic Shop
(Initial Capital Kshs 100,000 – Kshs 400,000)
From bulbs, black tapes, and sockets to extensions, electronic products are in high demand, especially now that more Kenyans are concentrating on construction.
So why electronics and not any other small business idea in Kenya? The construction market size of Kenya hit $17.3 billion last year, increasing the demand for electronic products.
Electronic Shop Requirements:
To open an electronic shop, you will need
Licenses and permits costing Kshs 10,000
Display shelves costing Kshs 5,000 to Kshs 10,000
Rental space
Initial stock
With 100k, you should find an affordable rental space to maximize the amount for purchasing initial stock.
With a decently stocked electronics shop, you can expect to earn around Kshs 60,000, which is scalable with expansion to Kshs 150,000.
Branding and selling top-quality electronics will help you market your shop. In addition, you should set up your business in a strategic shop where people can access you easily.
3. Open a Wines and Spirits Store
(Initial Capital Kshs 100,000 – Kshs 500,000)
Unlike in the past when beer or alcohol was reserved for weekends or special occasions, they've become a vibe for any day.
As a result, wine and spirits owners are raking in huge returns of between Kshs 40,000 to Kshs 300,000 per month, depending on the location and stock.
Wines and Spirits Requirements
To start a wine and spirits business, you need
Business registration costing Kshs 1000 for sole proprietorship
Kenya Revenue Authority Pin
A liquor license costing Kshs 6000
County business permit
Furnishing
Rental space
Initial stock
Once you've set up your place, you can launch your business with a small discount margin to appeal to the clients in that area. Also, stock up on new brands of alcoholic drinks that are popular in the area as you expand your business.
4. Start a Bodaboda Business
(Initial Capital Kshs 60,000 – Kshs 110,000)
The bodaboda business is in high demand from residents and business people who need their luggage carried to their premises.
Typically, a bodaboda business will see you earning between Kshs 1,000 to Kshs 3,000 a day, depending on your location and clientele base.
Bodaboda Business Requirements
A small business in Kenya like Bodaboda requires a few things to initiate, including
A motorcycle costing Kshs 60,000 to Kshs 90,000
Protective jacket and helmet
Insurance
Fuel
A valid license
Once you have acquired all the essentials, you must find a good bodaboda base. This must be a strategic location for easy access to customers.
To maintain a high demand throughout all seasons, you should be reliable, dress well, and network with passengers and other riders.
5. Open a Bakery Business
(Initial Capital Kshs 100,000 – Kshs 800,000)
Parties are incomplete without a cake, making bakeries important to every community. In addition, bakeries provide daily snacks such as bread, cookies, and muffins.
The bakery business allows you to earn between Kshs 60,000 and Kshs 360,000, depending on the size of your shop.
Bakery Business Requirements
Starting a bakery business requires
Business name registration costing Kshs 1000
Single business permit costing Kshs 5,000 annually
Medical certificate costing Kshs 600
Fire safety certificate costing Kshs 3000
Food hygiene certificate costing Kshs 300
Baking utensils around Kshs 30,000
Furniture costing Kshs 20,000
Ingredients costing Kshs 6000
Rental space
With all these set up, you can begin to make the most popular pastry products on demand in your area.
6. Open a Salon
(Initial Capital Kshs 50,000 – Kshs 100,000)
Are you looking for a small business idea in Kenya with minimal costs and maximum profit? A salon business is ideal for you if you're passionate about hairstyling.
Unlike other one-time services, the salon provides frequent services that garner a monthly income of Kshs 20,000 and above, depending on the salon's size, location, and service options.
Salon Business Requirements
Styling chairs between Kshs 650 and Kshs 2000
The hairdryer and blowdryer cost Kshs 9000 to Kshs 40,000
Permits and licenses costing Kshs 10,000
Miscellaneous costing around Kshs 5000
Hairsttyling station usually around Kshs 20,000
Rental space
To increase your business profitability, you should maintain a high level of hygiene and provide top-quality services.
Social media also serves hairdressers exceptionally, with numerous customers requesting their services. All you need to do to benefit from these platforms is take excellent shots and post your work.
7. Become an Online Entrepreneur
(Initial Capital Kshs 13,000 – Kshs 100,000)
Online entrepreneurship is a lucrative business to start with 100k in Kenya from home as it offers exceptional versatility and easy reach of customers.
Depending on the products you decide to sell, you can expect to earn Kshs 50,000 and above monthly. The income also varies based on how many hours you allocate to the business daily.
Online Entrepreneur Requirements
Business registration costing kshs 1000
Business branding to give your business a name and a logo (usually optional)
Website and social media platforms for marketing it's free
Online payment options like Mpesa or Paybill
Products like baby clothes, handbags, or wigs
To succeed in this business, you should invest in online visibility. This way, you will acquire a larger clientele base. You should also hire a marketer to help you maximize your profitability.
8. Open a Bookshop
(Initial Capital Kshs 100,000)
With the new curriculum, school supplies are quite in demand for all levels of education. This makes a bookshop a suitable small business to start with 100k in Kenya.
Typically, bookshop owners earn between Kshs 80,000 and Kshs 150,000 in a month. With continued expansion, you can expect to increase your profit margins.
Bookshop Business Requirements
To open a bookshop, you need
Bookshelves costing around Ksh 10,000
Business name registration at Kshs 1000
Single business permit costing Kshs 3,000
A fire clearance certificate usually Kshs 5,000
The national booksellers and stationers membership (initial fee of Kshs 12,000 and renewable at Kshs 5,000 annually)
Initial stationery stocks costing Kshs 50,000
To thrive in this business, you should station your shop in a strategic position and network with reliable suppliers. In addition, you should incorporate CBC items to boost your daily sales.
9. Start a Cybercafe Business
(Initial Capital Kshs 100,000 – Kshs 200,000)
Cybercafe is a lucrative business to start with 100k in Nairobi and other cities. Reason?
These places have a high population, with some seeking employment and others processing important documents for banking or government issues. Hence, you'll collect a lot of cash from such customers.
You can also add several computers for surfing the internet and earn more. Generally, the income varies between Kshs 30,000 and Kshs 150,000, depending on your location. And with cities, this amount can scale with no limits.
Cybercafe Business Requirements
To set up a cybercafe, you will need the following
The county government license costs Kshs 10,000 to Kshs 12,000 annually
Rental space
Good internet and network connectivity, usually between Kshs 2,000 to Kshs 5,000
Printers and computers
Furniture
You can also find an apprentice to help you operate the cybercafe. They should be well-equipped with graphic design and basic skills such as binding and scanning.
10. Become a Freelancer
(Initial Capital Kshs 30,000 – Kshs 100,000)
Freelancing has been the in thing, especially after the COVID-19 hit. Companies overseas sourced their talent from third-world countries like Kenya.
The rush for affordable and top-quality labor is still high as more companies try to cut costs and increase profits.
Why become a freelancer? Freelancing allows you to shop for different career opportunities, depending on your interests and educational background. Some of the top freelance opportunities include
Content writing
Mobile app development
Graphic design
Web development
Video editing
Social media management
Translation
Transcription
Blogging
To start your journey as a freelancer, you will need
To acquire atleast one skill
A laptop
Reliable internet
Digital tools such as Grammarly software, Canva, SEO tools, and others.
You can expand your freelancing business by expanding into an agency and earn from Kshs 30,000 to Kshs 500,000 monthly.
Frequently Asked Questions
1. What Business Make You a Lot of Money in Kenya?
The most profitable businesses in Kenya include social media management, digital marketing, personal training, business consultation, app development, online courses, and freelance business.
2. What Sells Most in Kenya?
Mobile accessories, kids' toys, women's clothing, consumer electronics, oral products, eyewear and accessories, and security have the leading sales in the country.
3. What Kind of Business Can I Start With 50k in Kenya?
Mobile money agents, freelance, mini importation, dropshipping, fast food joints, movie shop, egg distribution, and digital marketing agencies are profitable businesses to start with 30k in Kenya.
Over To You, Cent Warrior!
Now that you've explored the top business to start with 100k in Kenya, you can establish a profitable venture depending on your passion, skills, and financial goals.
Read the exhaustive step-by-step guide to help you accomplish financial freedom!